Weekly report: May 31-June 7, 2015
May 31, 2015:
Iranian deputy FM: Differences with powers still in place
Iran's senior negotiator Seyed Abbas Araqchi announced that the meeting between Foreign Minister Mohammad Javad Zarif and his US counterpart couldn't settle the differences over a final nuclear deal.
"During (the one-day) meeting (in Geneva on Saturday) the Iranian foreign minister and US state secretary (Mohammad Javad Zarif and John Kerry) fully reviewed all issues but the differences still remain," Araqchi told Iran's state-run TV on Saturday.
Velayati: Iran determined to continue nuclear talks
Advisor to Supreme Leader of Islamic Revolution for International Affairs Ali-Akbar Velayati, said in Tehran on Sunday that the Islamic Republic of Iran is determined to continue nuclear talks, hoping highly that the talks will produce positive and favorable results.
Zanganeh appointed as head of expert session in OPEC intl. seminar
Iran's Oil Minister Bijan Namdar Zangeneh has been appointed as head of the expert session on crude oil global market stability during the 6th OPEC International Seminar.The Organization of the Petroleum Exporting Countries (OPEC) will host its 6th International Seminar at the Hofburg Palace in Vienna, Austria, on 3−4 June 2015, IRNA reported.
June 1, 2015:
Zangeneh attending OPEC seminar
Iranian minister of petroleum Bijan Zangeneh will attend the Sixth OPEC International Seminar which is due to be held on 3rd and 4th June in Vienna and will take the chairmanship of a specialized session named Oil Market Stability.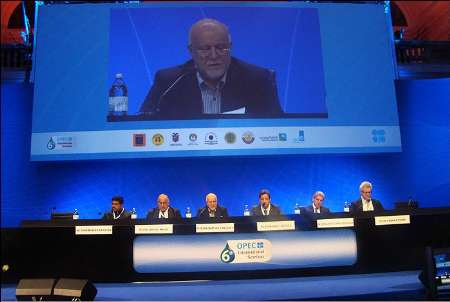 Mowlaverdi: Iran to allow women in sports stadiums
"The document that allows women in sports stadiums has been signed," said vice president for Women and Family Affairs in an interview with Shargh daily on Monday.
In an interview with Shargh newspaper, Shahindokht Mowlaverdi, vice president for Women and Family Affairs said that the document that allows women to attend stadiums has been signed by Representatives of the Police, the Interior Ministry and the Ministry of Sports and Youth but it has not been notified by the Minister of Sports and Youth yet.
Ranking Iranian negotiator: Inspection of military sites no required by additional protocol
Director General for Political Affairs at the Iranian Foreign Ministry and nuclear negotiator Hamid Baeidinejad underscored that the Additional Protocol to the Non-Proliferation Treaty (NPT) doesn't require inspection of military sites or interrogation of nuclear scientists.
Iran volleyball squad loses to host US
Iran's volleyball team lost to US 3-1 in the second match of the 2015 FIVB Volleyball World League in Galen Center of Los Angeles.
The second match of the 2015 FIVB Volleyball World League between Iran's national volleyball team and the US took place on Monday at 3:30 AM Tehran time in Galen Center of Los Angeles.
June 2, 2015:
Iran must be included in Paris talks over ISIL: Australian FM
Australia's Foreign Minister Julie Bishop has called for the inclusion of Iran in ongoing talks in France on how to deal with the Takfiri ISIL terrorist group.
Construction to begin at Iran's Bushehr Nuclear Plant in Fall: Rosatom
The head of Russia's nuclear agency Rosatom, Sergey Kirienko, said that work on equipping the second and third units of Iran's Bushehr Nuclear Plant will begin in the fall of 2015.
US to complete Iran nuclear negotiations despite Kerry's Injury
Washington hopes it can complete the Iran nuclear negotiations by the upcoming June 30th deadline despite US Secretary of State John Kerry's leg injury, according to White House spokesperson Josh Earnest.
June 3, 2015:
Iranians will smash sanctions, foil plots: President Rouhani
President Hassan Rouhani said the Iranian nation is determined to resist against unjust pressures, smash sanctions and foil the plots hatched against their country.
He made the remarks addressing a large gathering to mark the demise anniversary of Founder of the Islamic Revolution Ayatollah Seyyed Ruhollah Khomeini at his mausoleum.
Iranians celebrating Imam Mahdi birth anniversary
Millions of Iranians are holding ceremonies to celebrate the anniversary of the birthday of the twelfth and last Shia Imam, Imam Mahdi (Peace Be Upon Him).
Mid-Sha'ban, the fifteenth day of the eighth month of the lunar calendar, marks the joyous occasion.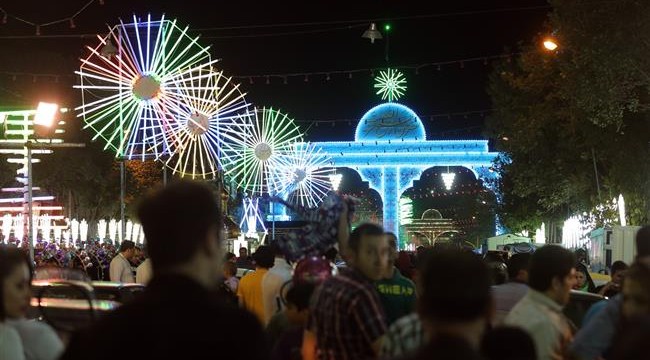 Iran sanctions can't go on forever, Obama tells Israeli media
US President Barack Obama says anti-Iran sanctions cannot continue forever.
In a Friday interview with Israel's Channel 2 aired on Tuesday, Obama said Israel's policies in the region are driven by "fear".
June 4, 2015:
Iran allows controlled access to nuclear facilities: Araqchi
Iranian senior nuclear negotiator Abbas Araqchi said Thursday that as per the Additional Protocol to Non-Proliferation Treaty, Iran would allow controlled access to its nuclear facilities, which he said is fully different from what is known as inspection.
Supreme Leader recalls theoretical standing of Imam Khomeini
Supreme Leader of the Islamic Revolution Ayatollah Ali Khamenei on Thursday recalled theoretical standing of late Imam Khomeini to address the national and international issues.
The Supreme Leader gave major part of his speech he delivers every year to mark anniversary of departure of Imam Khomeini to accounts and events about national economy and Iranian relations with the United States under presidency of Ronald Reagan, the Leader said that the then U.S. president made overture for rapprochement with Iran, but, Imam Khomeini did not trust the US bid.
Tajikistan stability significant for Iran: Zarif
Iranian Foreign Minister Mohammad Javad Zarif has described stability in Tajikistan as reassuring for all its neighbors in Central Asia, and important and strategic for the Islamic Republic.
Speaking in a meeting with his Tajik counterpart Sirojidin Aslov in the Russian capital, Moscow, on Thursday, Zarif said that Tehran attaches significance to the unity and national integrity of Tajikistan.
June 5, 2015:
Iran urges world powers to respect Lausanne understanding
Iranian Foreign Minister Mohammad Javad Zarif called on the Western countries to harness their excessive demands and respect the Lausanne understanding if they really want a deal with Iran.
'If the other side shows respect for what was agreed in Lausanne, Switzerland, and attempts to write the text of the final agreement on the basis of mutual respect, then we can strike a deal by the July 1 deadline,' Zarif told the Lebanese al-Manar TV Moscow on Thursday.
Iran Armed Forces will not allow inspections of military sites: Cmdr.
A high-ranking Iranian commander says the Islamic Republic's Armed Forces will not allow any inspection of the country's military sites.
"We will never allow any kind of visit to military centers, whether it is limited and controlled, or unlimited or in any other form," ISNA quoted Deputy Chairman of the Chiefs of Staff of the Iranian Armed Forces Brigadier General Masoud Jazayeri as saying on Friday.
Iranians commemorate 15th of Khordad uprising
Iranians across the country are commemorating the 52nd anniversary of an uprising against the US-backed former monarchical regime of Pahlavi.
People are marking the day, known as 15th of Khordad on the Iranian calendar, in different parts of the country.
June 6, 2015:
European Parliament delegation in Tehran
A French parliamentary delegation arrives in Tehran on Monday (June 8) to discuss latest regional and international developments.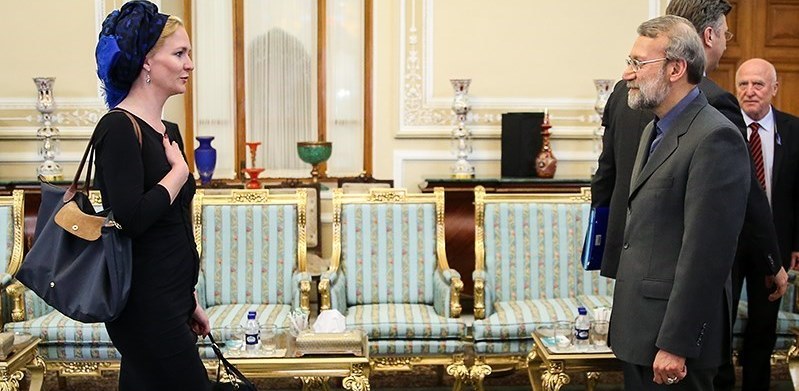 Nuclear talks making slow headway: Iranian negotiator
A senior Iranian negotiator in talks with world powers said the process of drafting a comprehensive agreement on Tehran's nuclear program is making progress, albeit slowly.
Seyed Abbas Araqchi, also a deputy foreign minister, made the comments on Saturday before leaving the Austrian capital of Vienna after two days of diplomatic meetings with his counterparts from the Group 5+1 (Russia, China, the US, Britain, France and Germany).
June 7, 2015:
Gov't attaches great importance to environment: Rouhani
President Hassan Rouhani said here on Sunday that removal of unjust anti-Iran sanctions would lure the investment in all areas, the environment in particular.
President Rouhani made the remarks in the ceremony marking the 10th Iran National Environment Prize.
Washington Post reporter Rezaian to attend 2nd trial session in Iran Monday
Washington Post reporter Jason Rezaian will appear in the court for the second trial session in the Iranian capital, Tehran, on Monday for espionage charges, his lawyer announced.
Leila Ahsan announced that Rezaian will stand trial on Monday.
Poland beats Iran 3-2 in 2015 FIVB World League
World Champion Poland has defeated Iranian volleyball team 3-2 in a Pool B match of the 2015 FIVB World League.
The Iranian squad managed to win two sets against the hosts at the Hala Sportowa arena in the southern Polish city of Częstochowa on Saturday to gain its first point in the current season of the tourney.