Weekly Report: 6-11 July, 2015
July 6, 2015:
P5+1 Foreign ministers hold meeting on Iranian nuclear program
The foreign ministers of the P5+1 group are meeting in Vienna behind closed doors without representatives of Tehran.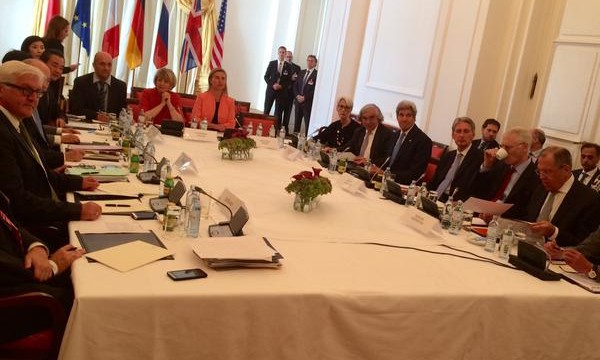 Disputes over missiles and arms embargo hold up Iran talks
A dispute over U.N. sanctions on Iran's ballistic missile program and a broader arms embargo were among issues holding up a nuclear deal between Tehran and six world powers on Monday, the day before their latest self-imposed deadline.
Last few 'tough' nuclear issues in ministers hands: Iran
Only "a few" remaining hurdles need to be cleared to reach an unprecedented deal with Iran curtailing its nuclear programme, an Iranian official said Monday.
Foreign ministers of Iran-G5+1 hold general meeting
Foreign ministers and deputy foreign ministers of Iran and the six world powers began their general meeting in Vienna on Monday afternoon.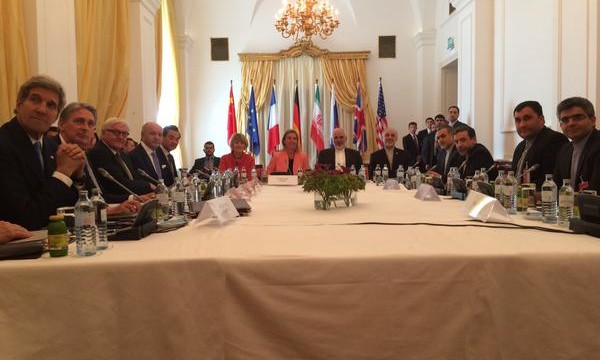 July 7, 2015:
AEOI Spokesman: Iran, IAEA to resolve remaining issues
Spokesman of the Atomic Energy Organization of Iran underlined Iran and the International Atomic Energy Agency (IAEA) have achieved general understanding on the timetable and joint cooperation which is an important step in resolving the remaining issue.
Iran rejects claim that suspect in Jordan tied to Iran group
Iran is rejecting reports by Jordanian state media that a terror suspect arrested in Jordan on suspicion that he planned attacks against the kingdom is linked to an Iranian group.
US says Iran interim deal extended to Friday
The terms of the 2013 interim nuclear deal between Iran and major powers have been extended until Friday, the US said Tuesday, meaning this is the new effective deadline for talks on a final deal.
France FM says 3 obstacles hindering Iran nuclear deal
French Foreign Minister Laurent Fabius says three sticking points in the ongoing negotiations between Iran and the P5+1 group of countries are blocking a final nuclear deal.
Understanding reached on financial, economic sanctions: Iran's Araqchi
A senior Iranian negotiator says an understanding has been reached on the removal of financial and economic sanctions, noting that the P5+1 should make a "political decision" to settle the remaining issues blocking a final deal on Tehran's nuclear program.
Iran nuclear negotiations 'worth continuing' despite delay – White House
Iran's nuclear talks are worth continuing despite a delay in the deadline to reach a comprehensive agreement and despite existing differences, White House spokesperson Josh Earnest said during a press briefing on Tuesday.
July 8, 2015:
Iranians marking martyrdom anniversary of Imam Ali (AS)
Iranians across the country are commemorating the anniversary of the martyrdom of the first Shia Imam, Imam Ali.
Araqchi: Text of Iran-P5+1 agreement almost complete
Deputy Foreign Minister Abbass Araqchi has said the text of final agreement between Iran and the world six major powers is almost complete.
'Never threaten an Iranian', says Iran Zarif to EU Mogherini
'Never threat an Iranian', said Iranian Foreign Minister when EU foreign policy chief threatened to leave the talks following some major disagreements at the plenary session with the P5+1 group of countries on Monday.
Zarif meets Mogherini in Vienna
Iranian Foreign Minister Mohammad Javad Zarif met EU Foreign Policy Chief Federica Mogherini here on Wednesday.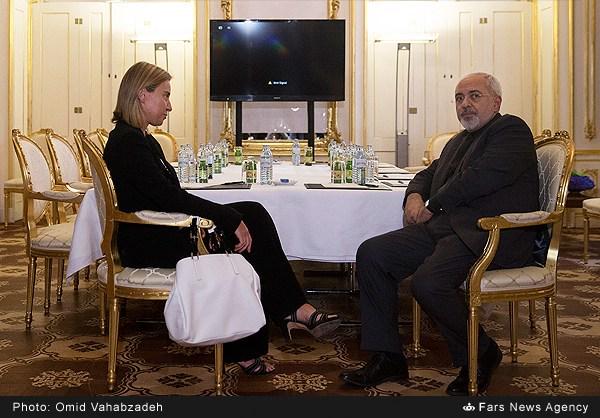 July 9, 2015:
President Rouhani arrives in Russia to attend SCO, BRICS summits
President Hassan Rouhani arrived in the city Ufa, Bashkortostan Republic of Russia, on Wednesday night to attend the summit meetings of the Shanghai Cooperation Organization (SCO) and BRICS there.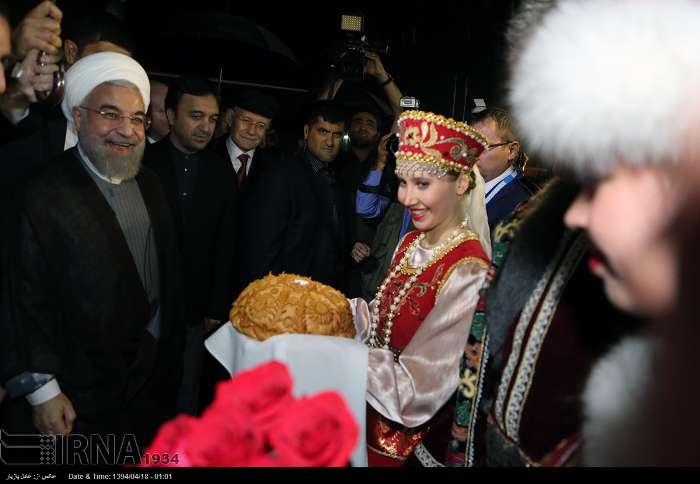 Zarif, Kerry continue nuclear talks to lessen remaining differences
Iranian Foreign Minister Mohammad Javad Zarif and US Secretary of State John Kerry met on Thursday morning to continue talks to lessen differences prior to clinching a comprehensive final deal.
Iran's Zarif warns P5+1 against coercion
Amid intensive nuclear talks between Tehran and the P5+1 group, Iran reminds world powers that they have to choose between coercion and agreement, warning against opting for the former.
Iran's president thanks Russia for work on Tehran nuclear deal
Iranian President Hassan Rouhani said on Thursday he was grateful to Russia for its efforts to secure an agreement at talks between six major powers and Iran on Tehran's nuclear programme.
July 10, 2015:
Iranians observe International Quds Day
Millions of Iranians have taken to the streets across the country on International Quds Day in solidarity with the oppressed Palestinian nation.
Kerry, Zarif resume talks in Vienna
Iranian Foreign Minister Mohammad-Javad Zarif and his US counterpart John Kerry resumed talks in Vienna as experts negotiations are also underway.
P5+1 continues Iran nuclear talks after missing deadline
The P5+1 group of international negotiators and Iran extended nuclear talks for an indefinite period of time and continued the meeting on the Iranian nuclear program Friday.
We've never been so close to Iran deal'
The European Union Foreign Policy Chief Federica Mogherini has said parties involved in the nuclear talks have never so close to deal.
Some outstanding issues 'resolved' in Iran nuclear talks: Kerry
U.S. Secretary of State John Kerry said progress had been made Friday in tough talks with Iran on its nuclear program, praising what he called the "constructive" atmosphere.
Interim Iran nuclear deal extended to Monday: US official
A senior US State Department official says the 2013 interim nuclear agreement between Iran and the P5+1 group of countries will be extended through Monday to provide more time for talks on a final agreement.
July 11, 2015:
Iran, US resume talks in Vienna
Iranian foreign minister and his American counterpart resumed talks on drafting a final deal about Iran's nuclear program in Vienna on Saturday.
US briefs Israel on final Iran nuclear negotiations
The American team negotiating with Iran over its nuclear program has briefed Israel on the state in the talks, a senior US administration official told The Jerusalem Post over the weekend.
'Difficult issues' remain in nuclear talks with Iran: Kerry
US Secretary of State John Kerry says there are still "difficult issues" to be resolved in nuclear talks with Iran.
Iran's Day Bank announced on Saturday that it has officially joined the Society for Worldwide Interbank Financial Telecommunication (SWIFT).
Lavrov, Kerry discuss progress on Iran talks – Russian foreign ministry
Russian Foreign Minister Sergei Lavrov and US Secretary of State John Kerry discussed Iranian nuclear program by telephone, according to the Russian Foreign Ministry.
Even if talks fail, Iran's logical stance will be acknowledged: Rouhani
President Hassan Rouhani said even if the on-going nuclear negotiations fail, the world will acknowledge Iran's logical behavior at the talks.
France says 'decision time' has come in Iran nuclear talks
France's foreign minister appeared to put pressure on the United States and Iran on Saturday to speed up nuclear talks, saying that all issues were now on the table between six major powers and Iran and that the time had to come to make a decision.
July 12, 2015:
Iran says 14 new planes to join its civil fleet by year-end
An official at the Civil Aviation Organization of Iran has announced that the country will add 14 new passenger planes to its civil aviation fleet before the end of the current Iranian calendar year (ends March 20, 2016).
More high-level Iran talks due in Vienna
Iranian Foreign Minister Mohammad Javad Zarif, EU foreign policy chief Federica Mogherini and US Secretary of State John Kerry are scheduled to hold talks in the Austrian capital as part of negotiations between Iran and the P5+1.
US secretary of state 'hopeful' Iran nuke deal near
After days of saying Iranian nuclear talks can go either way, U.S. Secretary of State John Kerry is expressing optimism that a deal can be reached.
France's Fabius says hopes Iran nuclear talks in final phase
France's foreign minister said on Sunday he hoped major powers and Iran have at last entered the final stages of their nuclear negotiations, although work still remained.