By Reuters
(Reuters) – Iran's President Mahmoud Ahmadinejad urged Muslim countries to show greater unity ahead of a summit of Muslim leaders this week expected to focus on the crisis in Syria.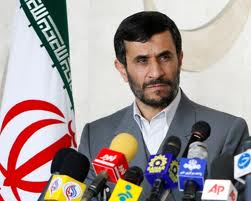 Ahmadinejad, speaking to reporters before he departed for Mecca to meet with leaders of the Organization of Islamic Cooperation (OIC) states, said the emergency meeting would be a chance for Iran to express its opinions, though he did not say specifically which issues Iran would discuss.
Riyadh's King Abdullah invited Ahmadinejad to attend the summit, which takes place on Tuesday and Wednesday, along with leaders of the other OIC member states.
Iran has steadfastly supported Syrian President Bashar al-Assad in his 17-month effort to crush an armed rebellion in his country, and has accused regional powers including Qatar, Turkey and Saudi Arabia of assisting the rebels.
"This meeting is a chance for our country's viewpoint to be explained transparently and for efforts to be made towards the convergence and protection of the interests of Muslim nations," Ahmadinejad was quoted as saying on Monday by the Iranian Students' News Agency.
Tensions between Tehran and Riyadh have run high over their opposing stances on regional uprisings.
Saudi Arabia's Sunni leaders have accused predominantly Shi'ite Iran of stoking what they see as sectarian unrest in the region. Iran has expressed support for Shi'ite-led protests in Bahrain against the ruling Sunni Al Khalifa family, allies of Saudi Arabia.
Ahmadinejad said such differences serve the goals of the "enemies" of Muslim nations.
"A significant portion of the energy of Muslim governments and groups is spent in internal conflicts and damaging each other," Ahmadinejad said, ISNA reported. "Perhaps it would be good for Muslim countries to consult with each other on this issue."
Ahmadinejad did not mention Syria specifically in the published comments, though he appeared to refer to the crisis there and the help Iran believes rebels are receiving from foreign powers to overthrow Assad.
"Extensive developments are taking place, and different groups and currents are involved in these developments," he said.
Ahmadinejad's trip abroad takes place two days after two large earthquakes killed an estimated 300 people and injured 5,000 others in northwest Iran.
Gulf countries including Bahrain and the United Arab Emirates extended their condolences, and the Turkish foreign ministry said it had informed Iran it was ready to help.
Ahmadinejad said he would hold bilateral meetings with various country heads during the OIC summit.
"I am hopeful that God will sway the participants in this meeting towards correct decisions," he said. "…This is an historic test for us to see how to protect the dignity and essential rights of Muslim countries."
The Iran Project is not responsible for the content of quoted articles.