The whereabouts of the 48 Iranian pilgrims, who were kidnapped while on a pilgrimage in the Syrian capital Damascus on August 4, have been identified, said Iran's ambassador to Damascus.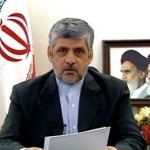 "Based on the information we have received, the whereabouts of the 48 kidnapped Iranian pilgrims have been identified and we are negotiating with the relevant authorities," Jamejam online quoted Iran's ambassador to Damascus Mohammad Reza Raouf Sheibani as saying.
Raouf Sheibani said "with the presence of officials of relevant agencies in Syria, a security political committee has also been established to pursue the issue in a field survey".
He went on to say that in line with efforts to resolve the issue, Iran is monitoring the developments occurring in the region and has held a few meetings in this regard, including the recent meeting between Iranian and Turkish foreign ministers, Tehran times reported.
Forty eight Iranian pilgrims were kidnapped by "armed terrorist groups" from a bus in the vicinity of a shrine near the Syrian capital Damascus on August 4.
Considering several other reports of groups of Iranian pilgrims being kidnapped in Syria in recent months, Iran's ambassador to Damascus called on Iranians to refrain from making individual pilgrimages to Syria, urging them to travel to the country as part of tours supervised by Iran's Hajj and Pilgrimage Organization. He also advised Iranians to avoid making trips to Syria by land.