Iran Front Page – IFP has taken a look at the front pages of Iranian newspapers on Wednesday, August 15, 2018, and picked headlines from 12 of them. IFP has simply translated the headlines and does not vouch for their accuracy.
Newspapers today widely covered the ambiguities regarding the division of the Caspian Sea and Iran's share of the huge lake, which must be shared between five littoral states.
The ongoing clash between Turkey and the US, particularly the decision by Recep Tayyip Erdogan to boycott US-made goods, also received great coverage today.
The above issues, as well as many more, are highlighted in the following headlines and top stories:
Aftab-e Yazd:
1- Don't Lie!
Iran Rejects Remarks Made by Russian Figure about Caspian Sea
Rajab Safarov Not Member of Russian Negotiating Team
---
Ebtekar:
1- Macro Policies of Fight against Psy-War Approved
2- White House on Path of Beginning Cold War
3- $250 Billion Worth of Orders Registered for Importing Goods into Iran in 4 Months!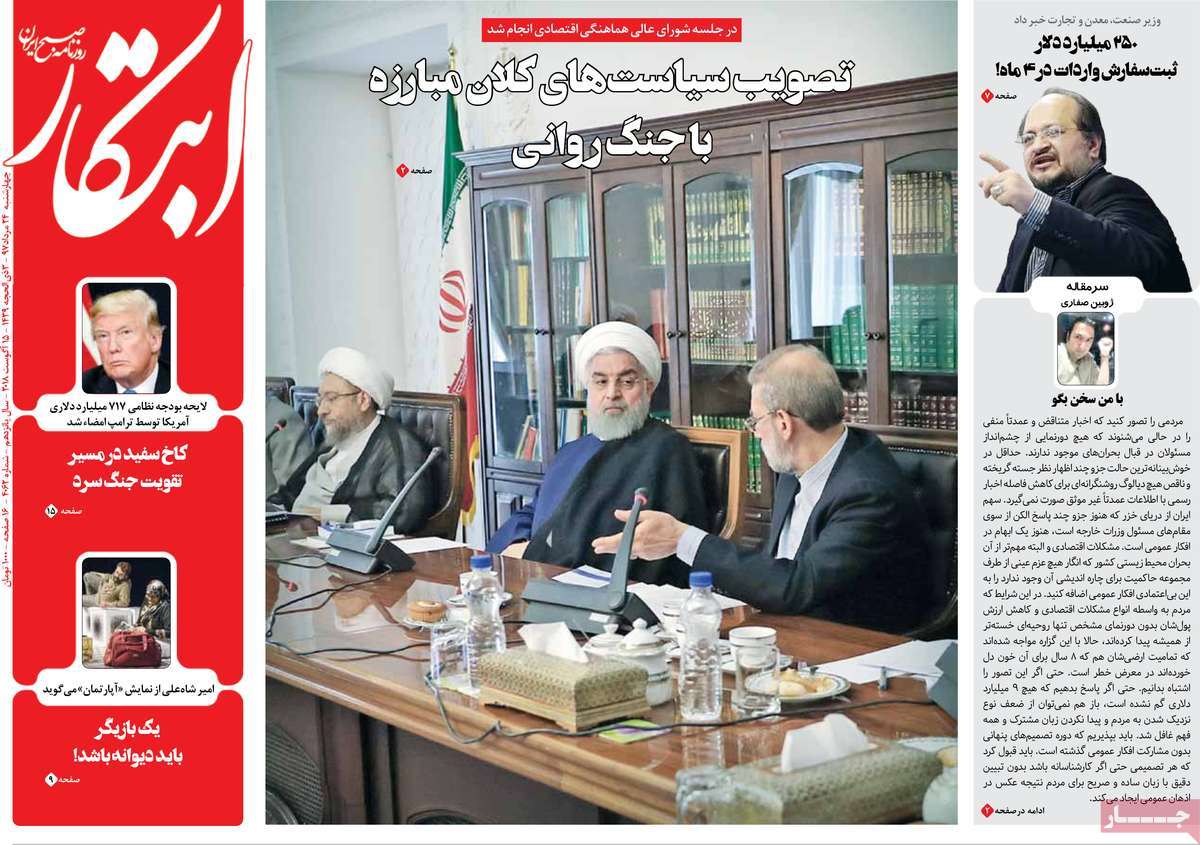 ---
Etemad:
1- Caspian Sea, Victim of People's Distrust of Media
---
Ettela'at:
1- Iran Envoy to UK: Government Prevented Unfair Division of Caspian Sea
2- Erdogan Orders Boycott of All US-Made Electronic Devices
3- Iraqi PM: Baghdad Not to Comply with US Sanctions on Iran
4- Iran Bans Sale of Foreign Stationery in State-Owned Schools, Shops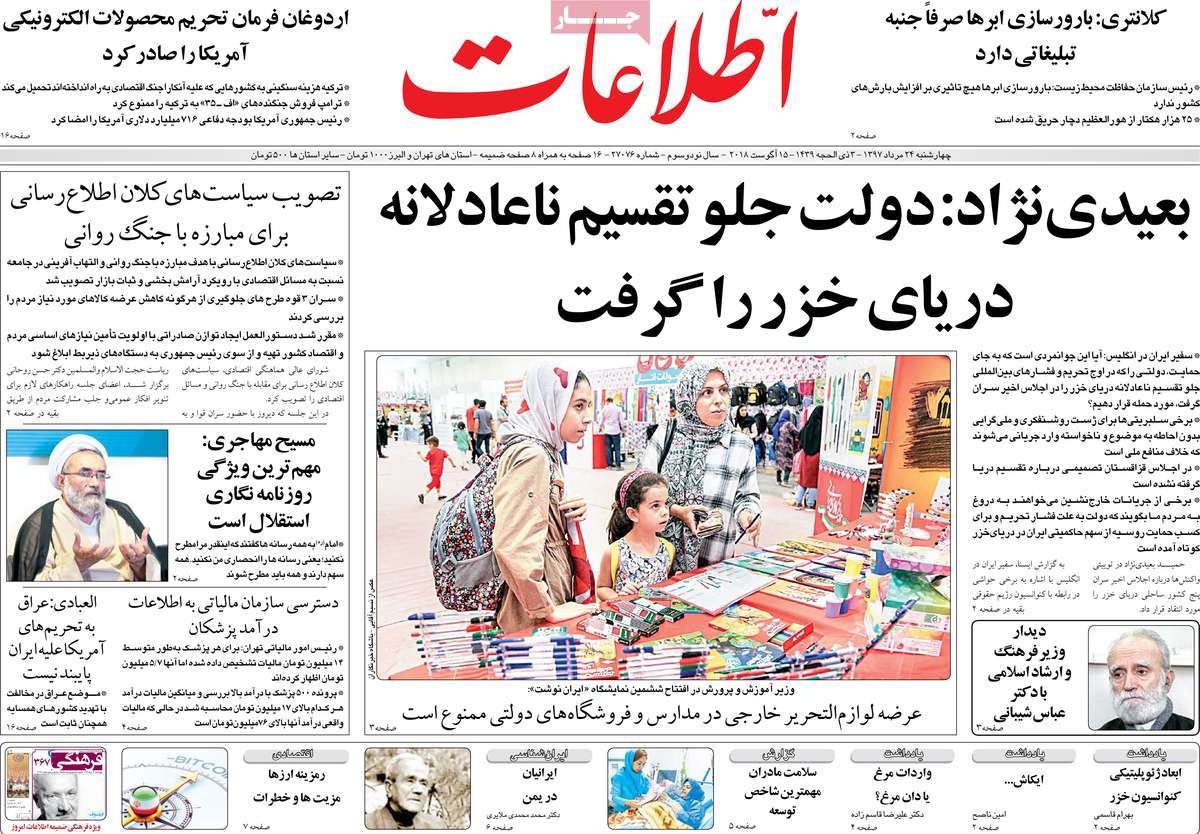 ---
Farhikhtegan:
1- Protector of Republic
Why Iran Leader Believes Calls for Rouhani's Resignation Serve Enemy Plots
2- Experiences of Eight Countries in Fight against Corruption
To Fight Corruption We Won't Need to Reinvent the Wheel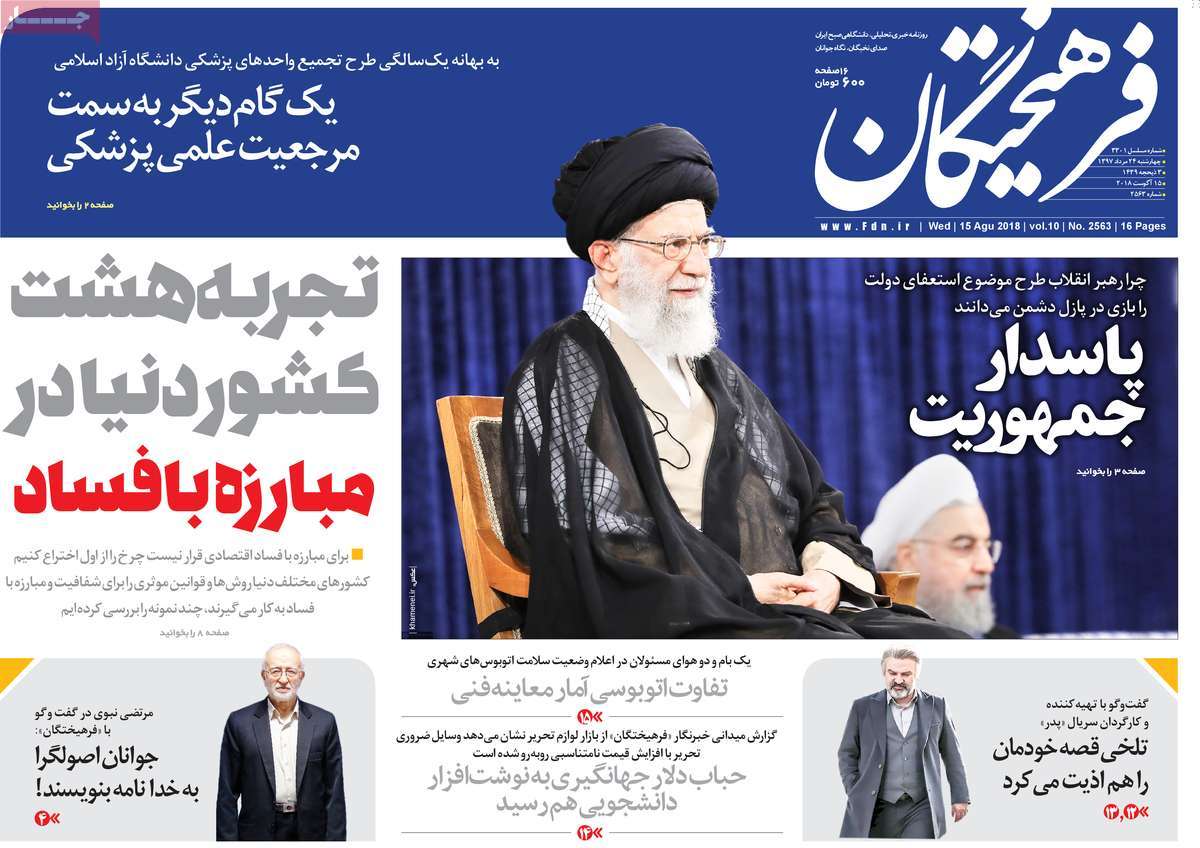 ---
Haft-e Sobh:
1- Trained in Istanbul, Stealing in Tehran
Interview with Skilled Thief Who Steals Luxury Cars
2- World Union Names Maryam Mirzakhani's Birthday as Int'l Day of Women in Maths
---
Hemayat:
1- Int'l Experts Say US Will Be Defeated in Economic War Given Iran's Power, Regional Influence
2- Schoolchildren Must Get Familiar with Legal Issues in Their Books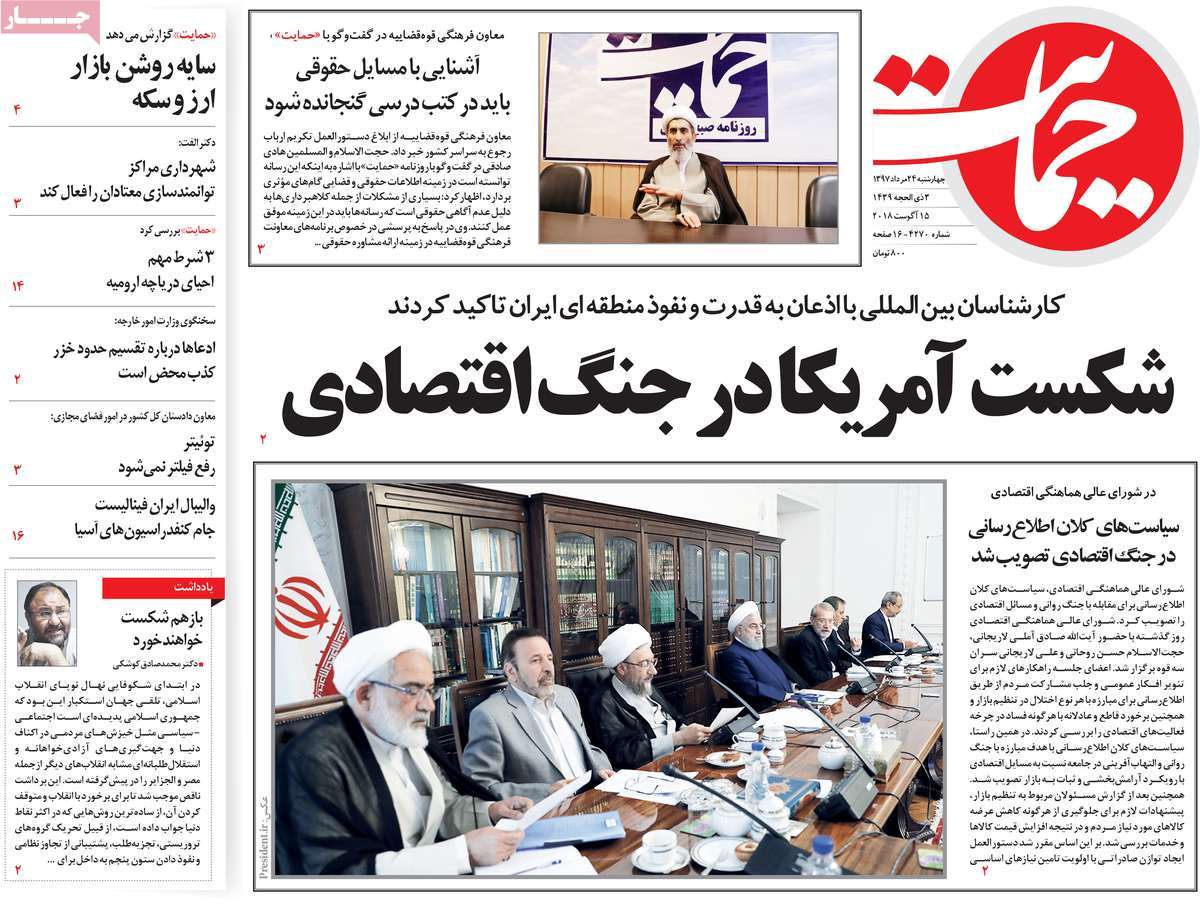 ---
Iran:
1- No University Student Should Be Deprived of Education over Political Issues: Minister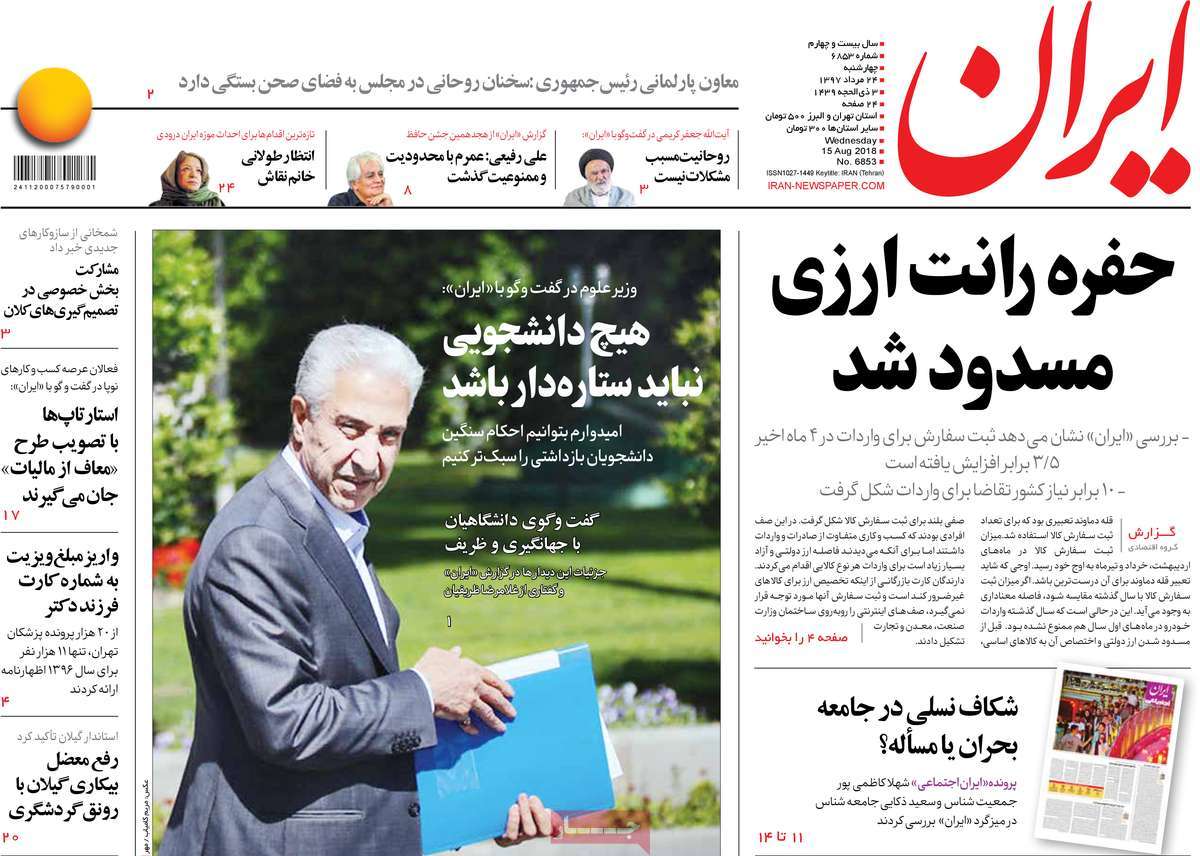 ---
Javan:
1- Number of Orders for Importing Goods 10 Times Higher than Iran's Needs
A Review of Mistake Made by Government
2- Basij Organization Vows to Take Action against Corruption
3- Iraqi PM Backs Off from Cooperating with US on Iran Sanctions
4- US Spends $1 Billion to Encourage Young People to Get Married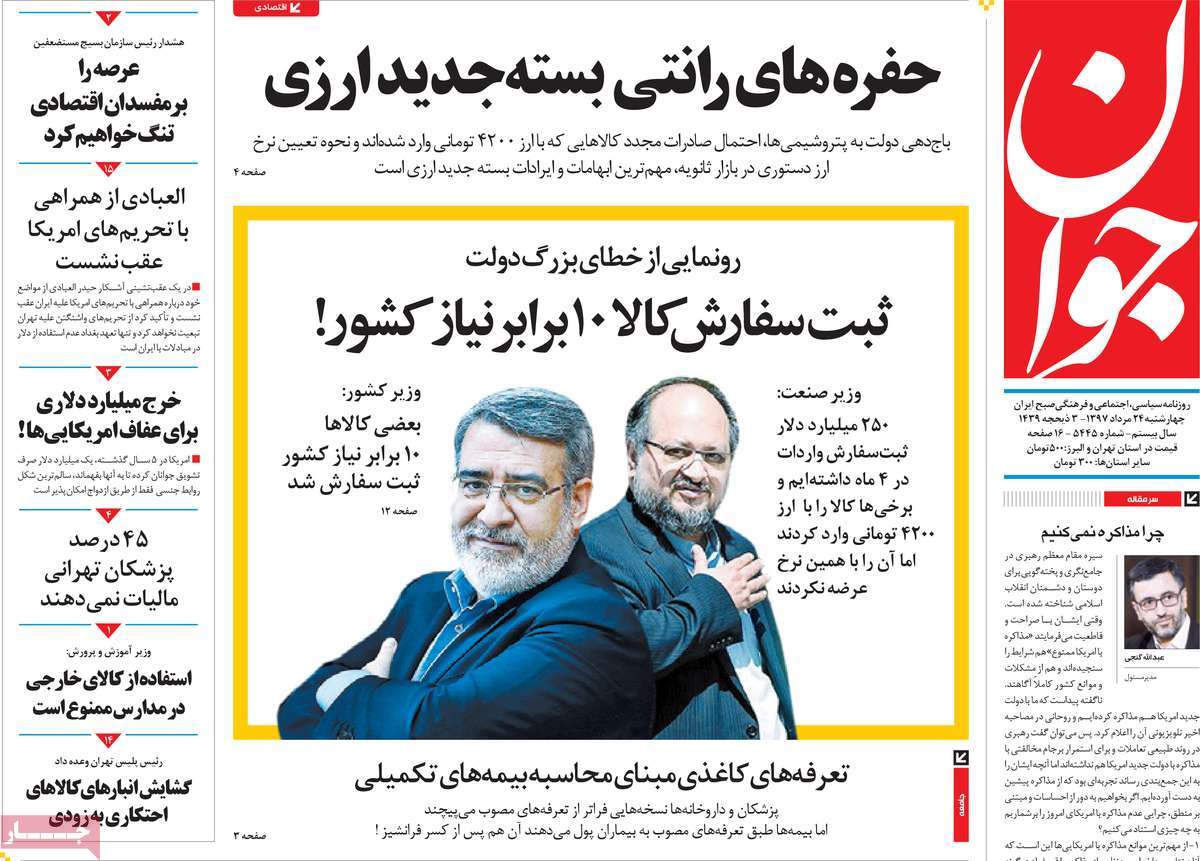 ---
Khorasan:
1- 30 Killed in Italy Bridge Collapse
2- New Chapter in Iran-Pakistan Ties
3- Huge Warehouses of Hoarded Goods Discovered
---
Resalat:
1- Rouhani Must Reshuffle His Cabinet: Conservative Figure
2- Senior Cleric Calls for Public Prosecution of Those Accused of Economic Corruption
---
Shargh:
1- Speculations on Rouhani's Upcoming Speech at Parliament
2- Number of Hoarding Cases 150% Up after Forex Rate Hikes