Iran Front Page – IFP has taken a look at the front pages of Iranian newspapers on Tuesday, August 14, 2018, and picked headlines from 17 of them. IFP has simply translated the headlines and does not vouch for their accuracy.
All newspapers today covered the remarks made by the Leader of Iran's Islamic Revolution Ayatollah Seyyed Ali Khamenei, particularly his criticisms of the Rouhani administration for its poor management of the economic crisis, and the prohibition of talks with the deceitful US.
Several papers also rejected the false claims raised about Iran's "fifty-percent" share of the Caspian Sea, which is said to be based on a deal between Iran and the USSR.
The above issues, as well as many more, are highlighted in the following headlines and top stories:
Abrar:
1- Araqchi: Europe Still Strongly Committed to Preserving JCPOA
2- Iran Unveils New Generation of Missiles with Pinpoint Accuracy
3- AEOI Spokesman: Europe Won't Fight US over Iran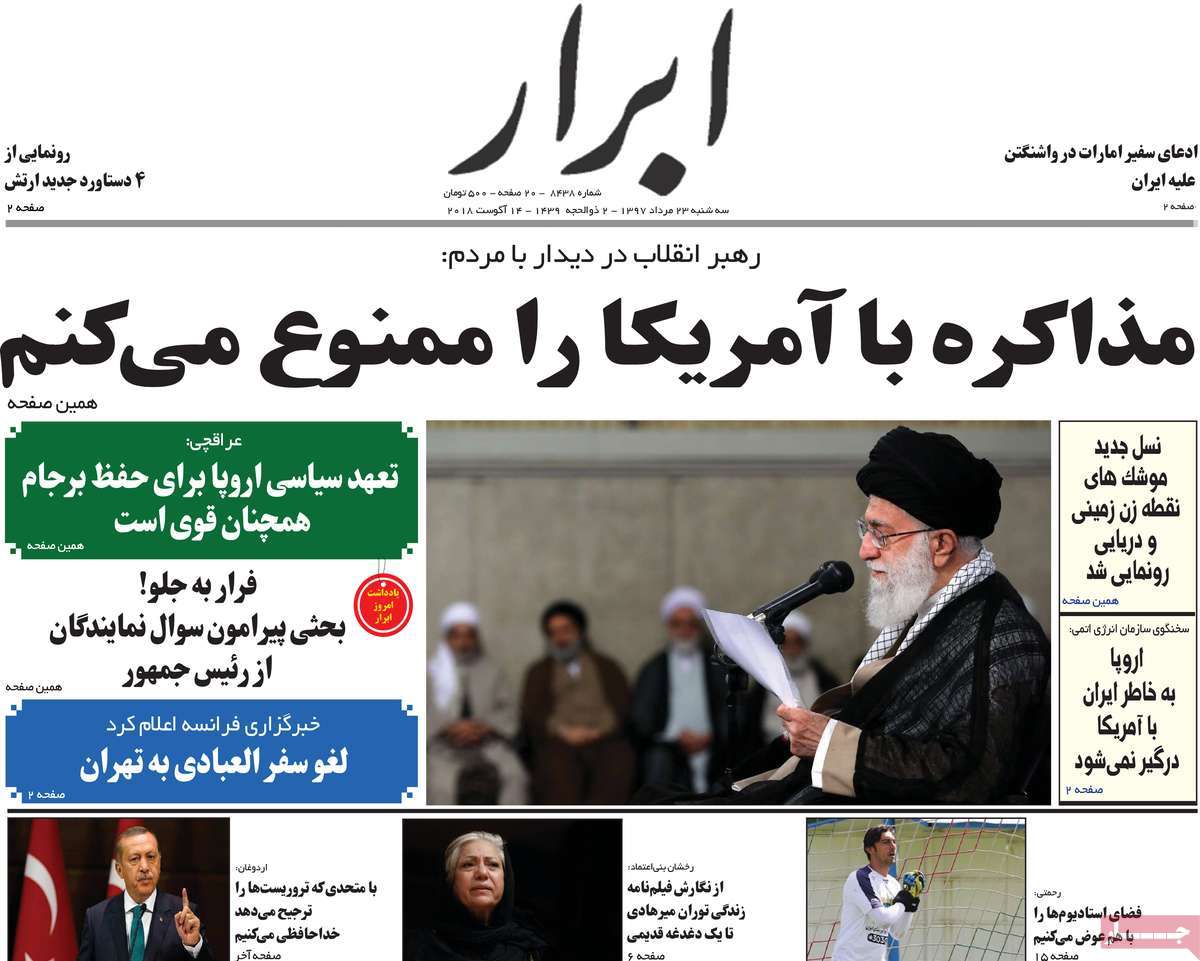 ---
Afkar:
1- Iran DM: We Reinforce Our Defensive Capabilities on Daily Basis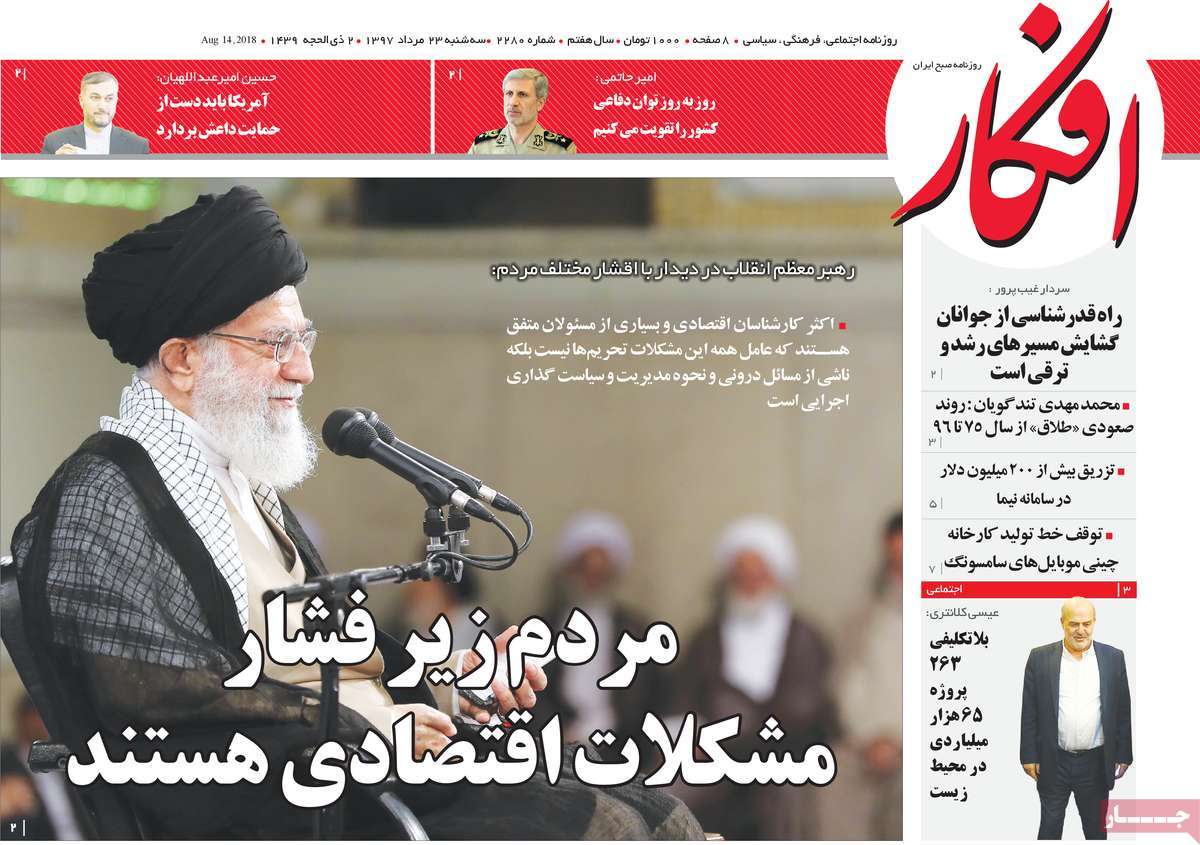 ---
Aftab-e Yazd:
1- Iran Leader: Negotiation with US Prohibited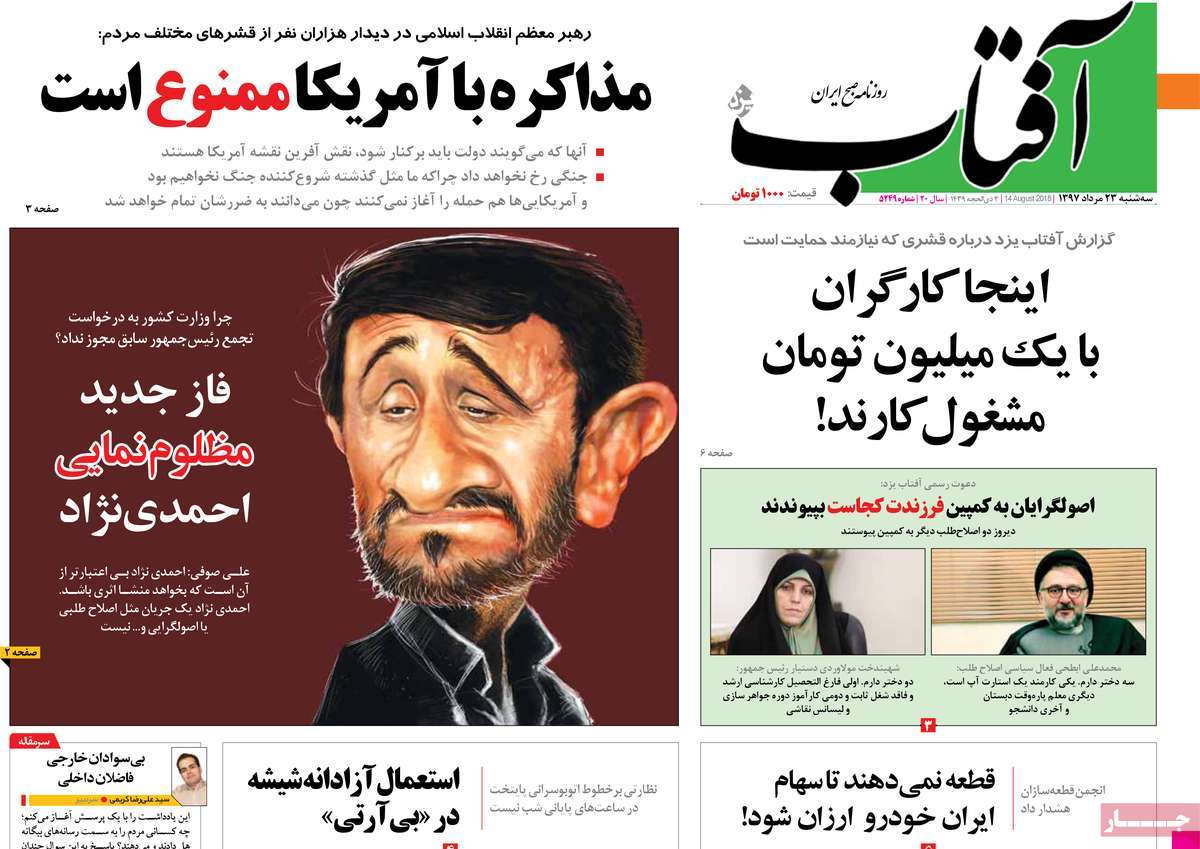 ---
Arman-e Emrooz:
1- Middle-Class People Now Emmigrating from Iran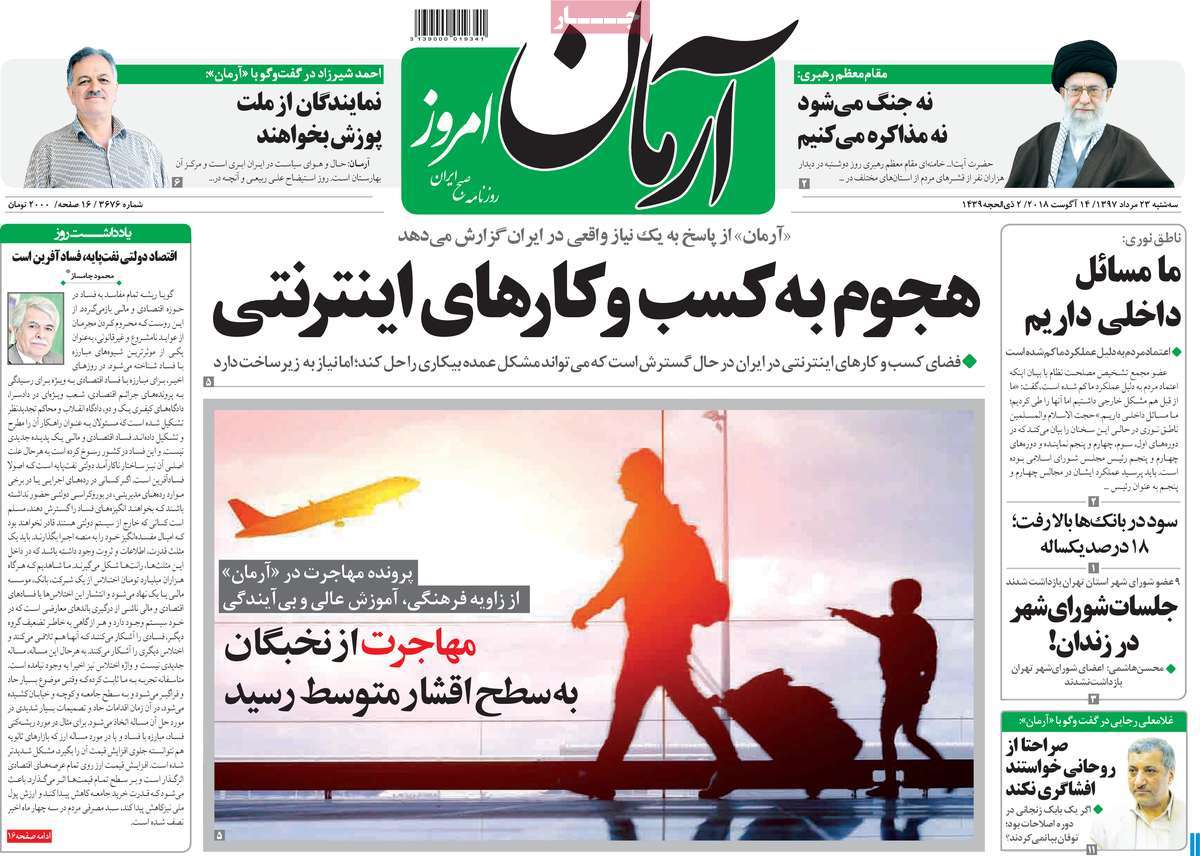 ---
Ebtekar:
1- Zarif to Al Jazeera: Tehran Won't Negotiate with US under Shadow of Threat
2- Judiciary Chief: Enemies Trying to Provoke Tension by Making Iranians Frustrated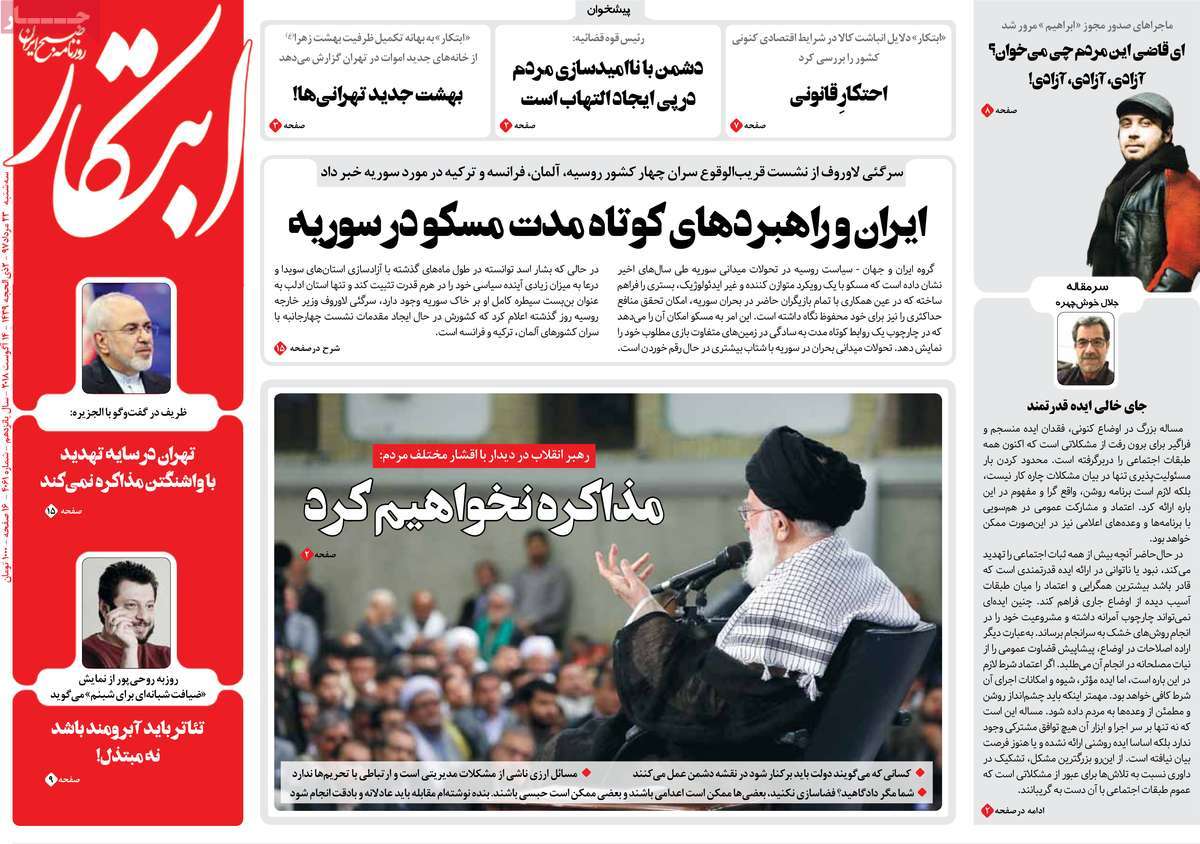 ---
Etemad:
1- Iran Leader: There'll Be No War, No Negotiation with US
2- Mark Fitzpatrick: Withdrawal from Iran Nuclear Deal a Very Big Mistake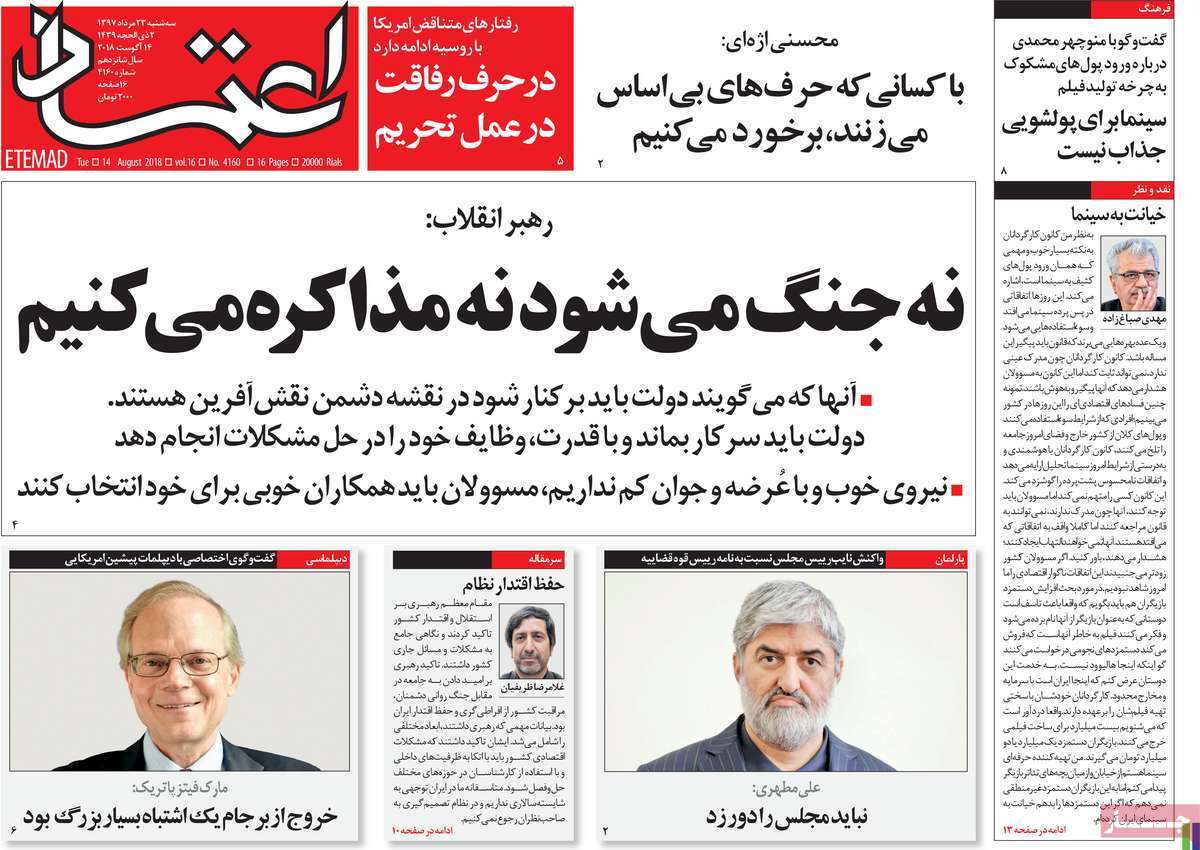 ---
Ettela'at:
1- Iran Leader: Those Calling for Dismissal of Gov't Serving Enemies' Plots
2- Erdogan: We're Ready for War against Those Who Created Economic Crisis for Us
3- Industry Minister: We Should Stop Increasing Growth in Prices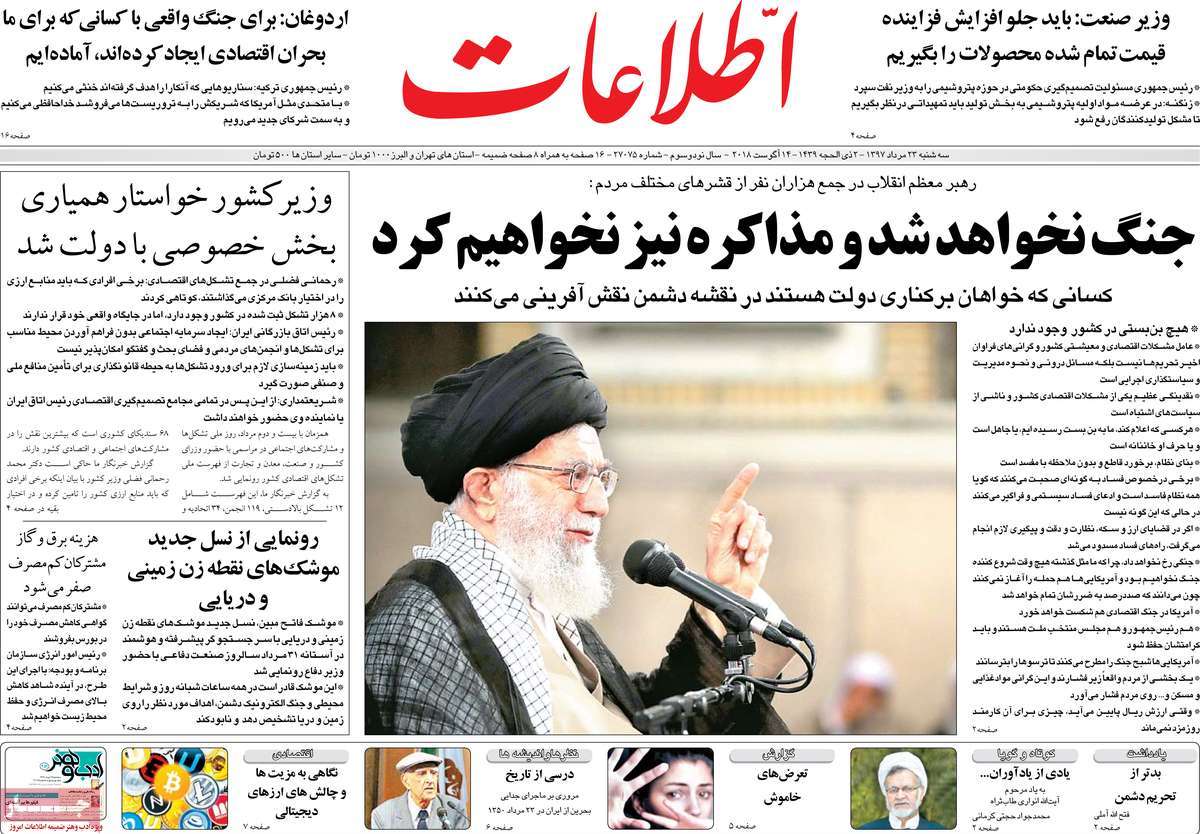 ---
Hamshahri:
1- Iran Leader: All Branches of Power in Iran Must Help Resolve People's Problems
---
Hemayat:
1- Experts Warn about Consequences of Trump's Anti-Iran Moves
Huge Increase Expected in Oil Prices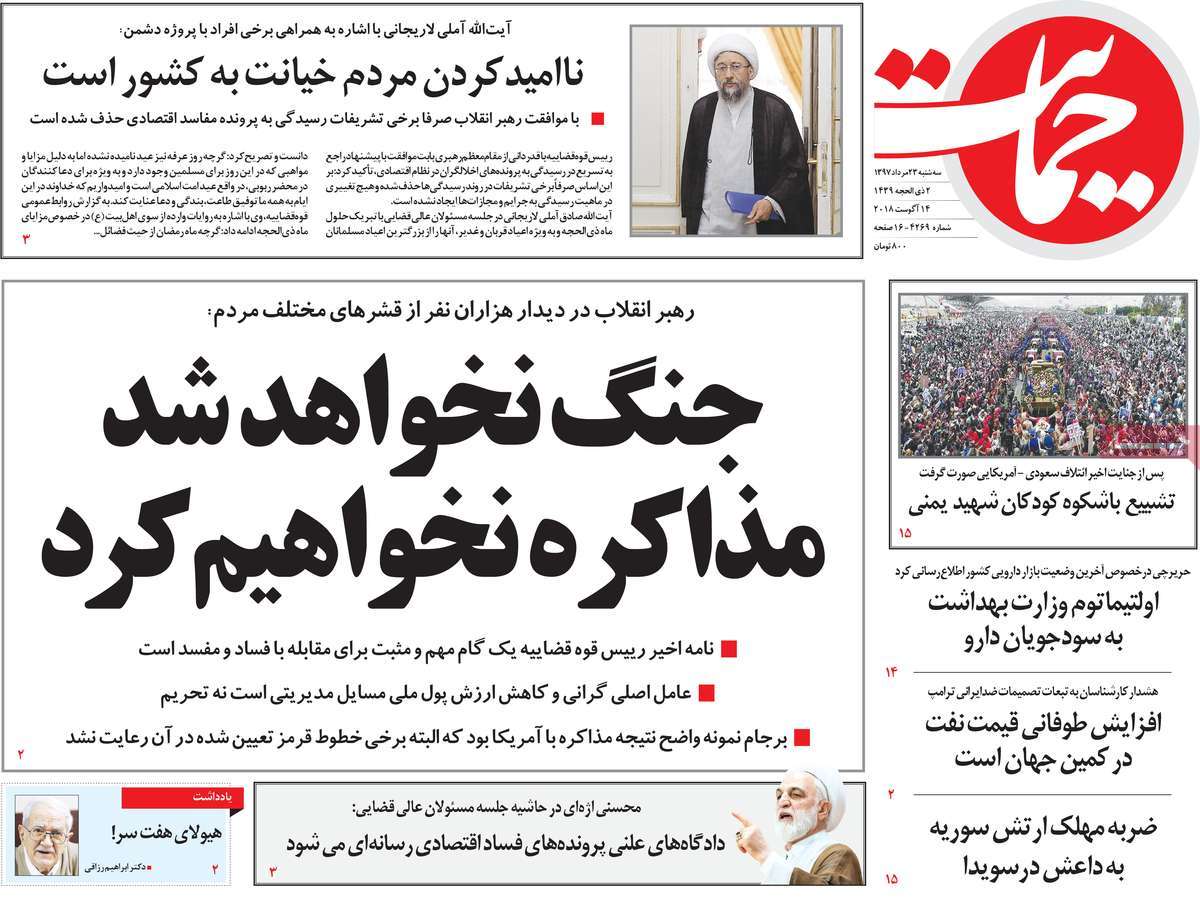 ---
Iran:
1- Iranians Buying More Houses in Turkey after Devaluation of Turkish Lira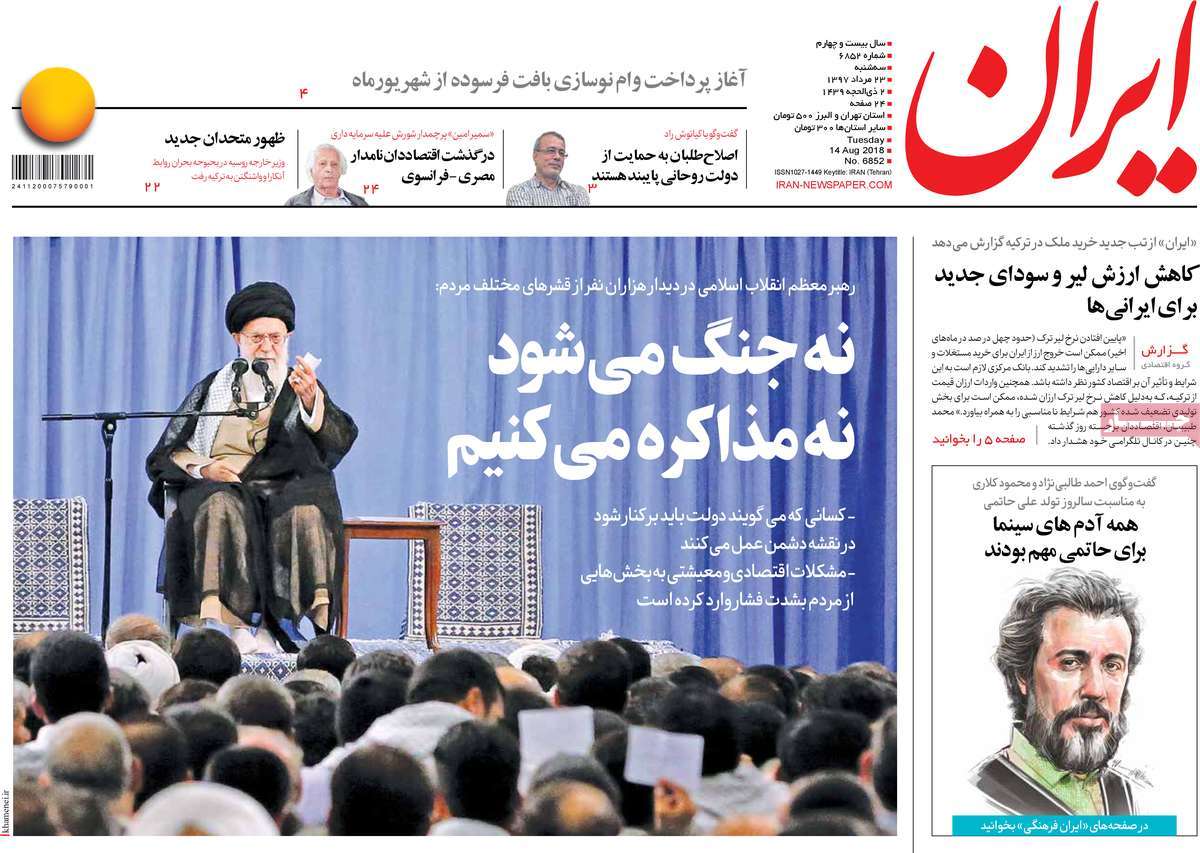 ---
Javan:
1- Iran Leader: Gov't Made Big Mistake in Managing Forex, Gold Coin Market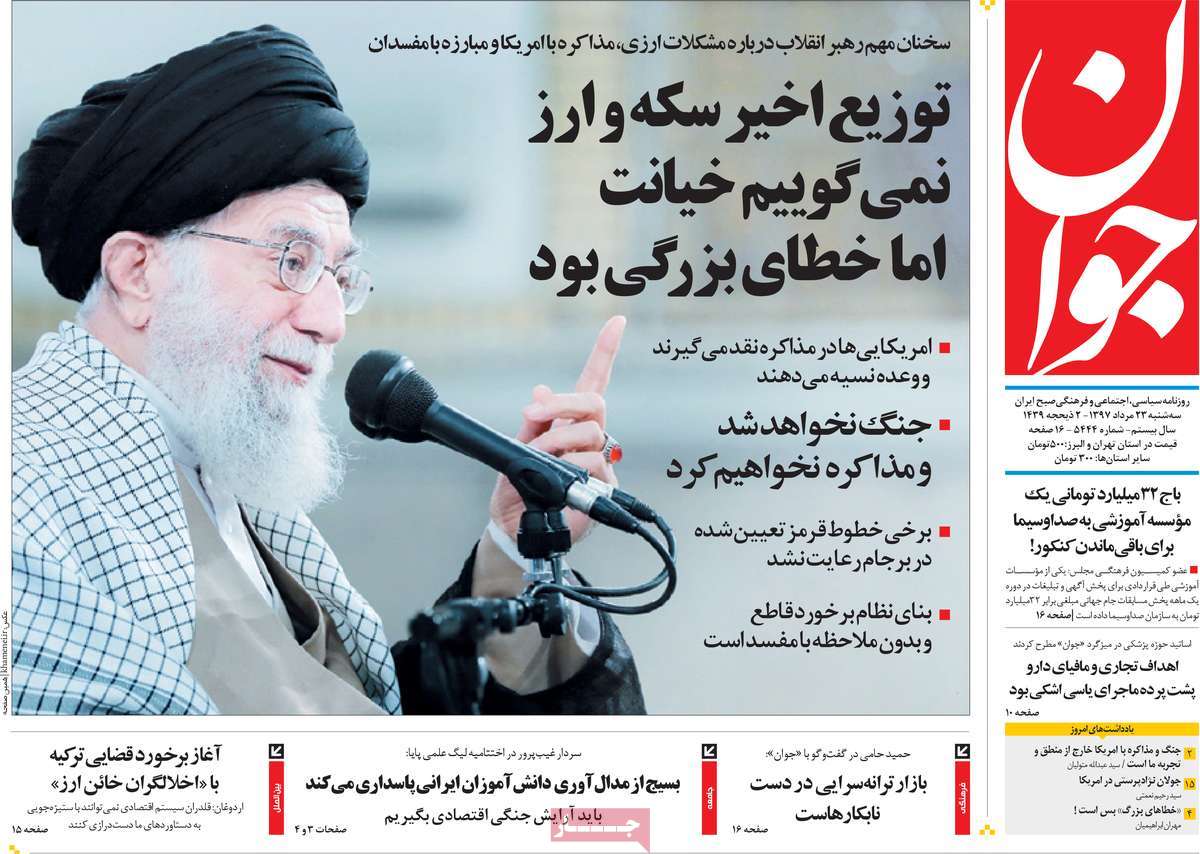 ---
Kayhan:
1- Academic: 80% of Iranian People's Assets Might Be Seized If It Accepts FATF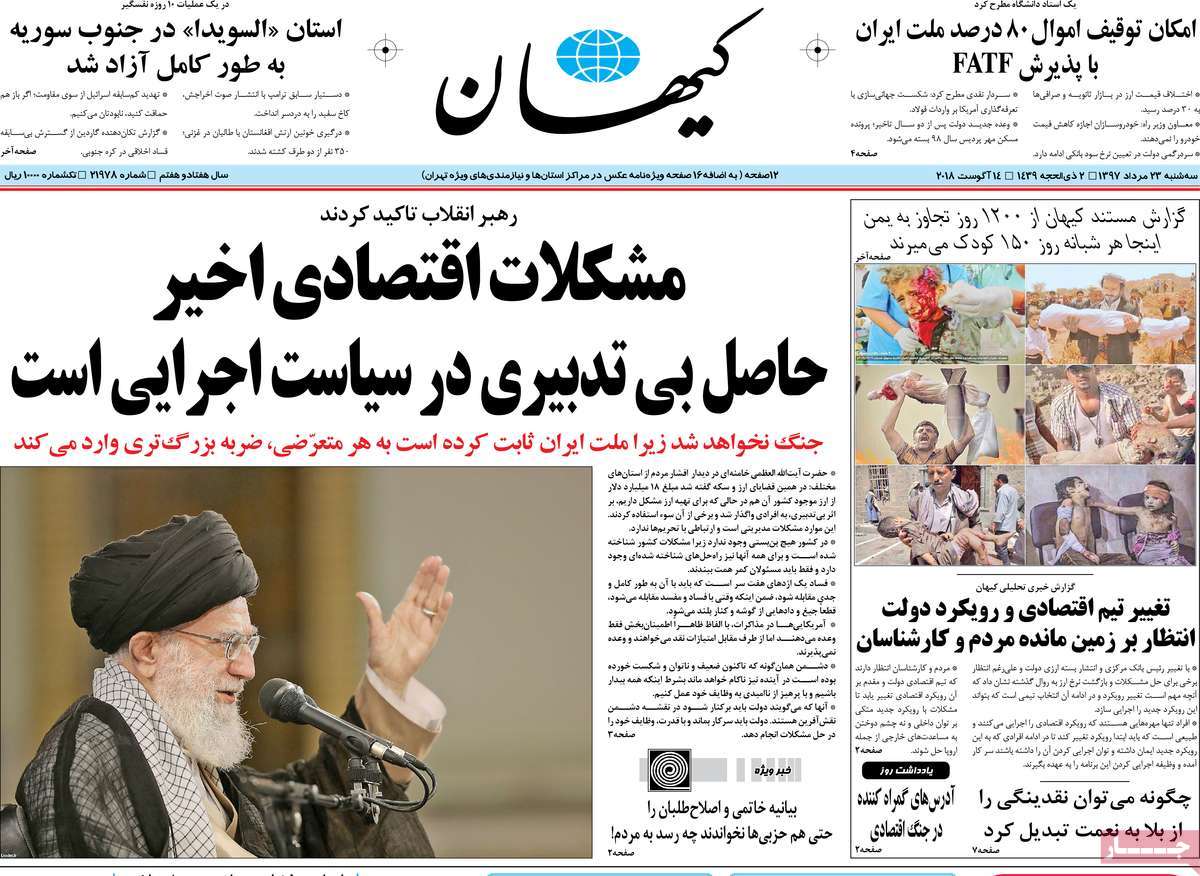 ---
Khorasan:
1- Iran Leader: Mismanagement, Not Sanctions, Main Cause of Recent Woes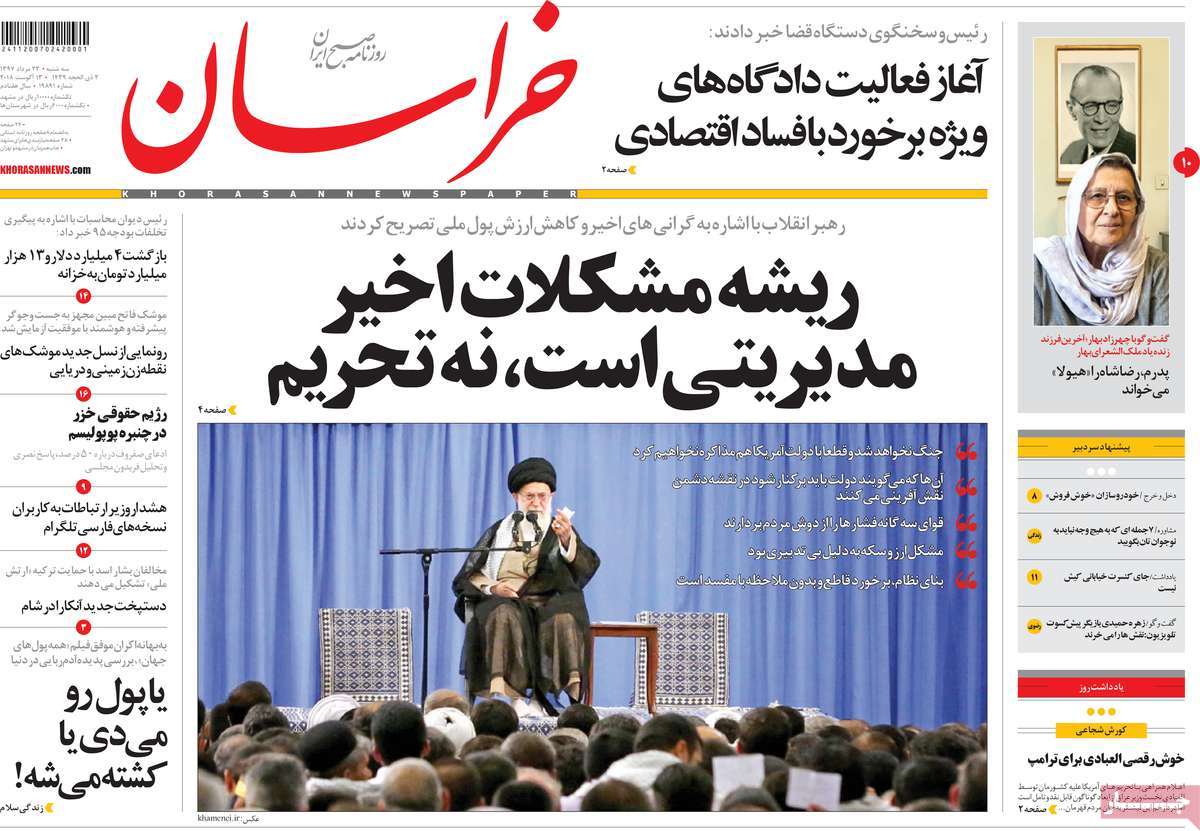 ---
Resalat:
1- Ayatollah Khamenei: US Will Fail in Economic War Too
2- Rouhani's VP for Legal Affairs: US Owes Iran $110 Billion in Compensation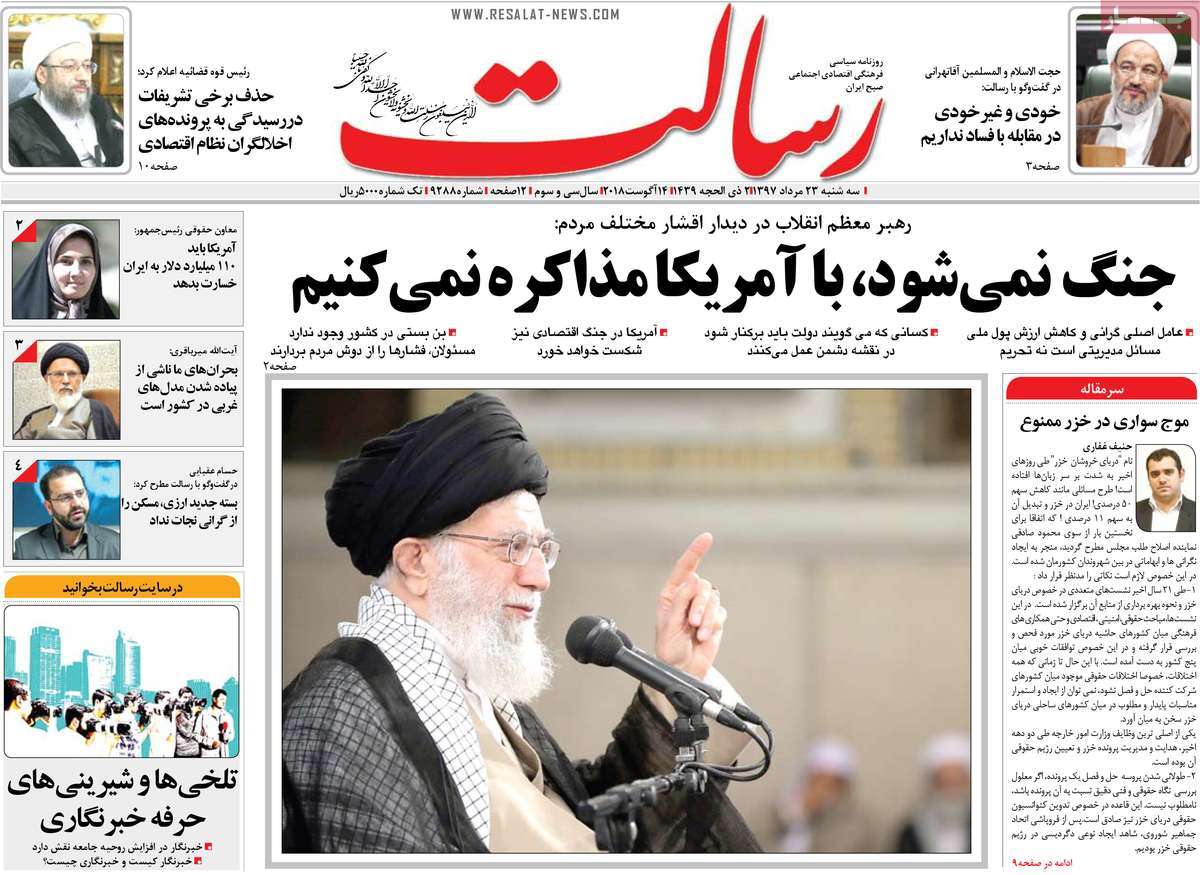 ---
Sazandegi:
1- Please Look at the Map; Legend of Iran's 50% Share from Caspian Sea
Analyst: Iran, Russia Do Not Deserve 50% Shares from Caspian Sea
False Claims Raised in Social Media about Iran's Share
---
Shargh:
1- Fall of Turkish Lira Everyday Concern of Turks
2- Iran's Historical Share of Caspian Sea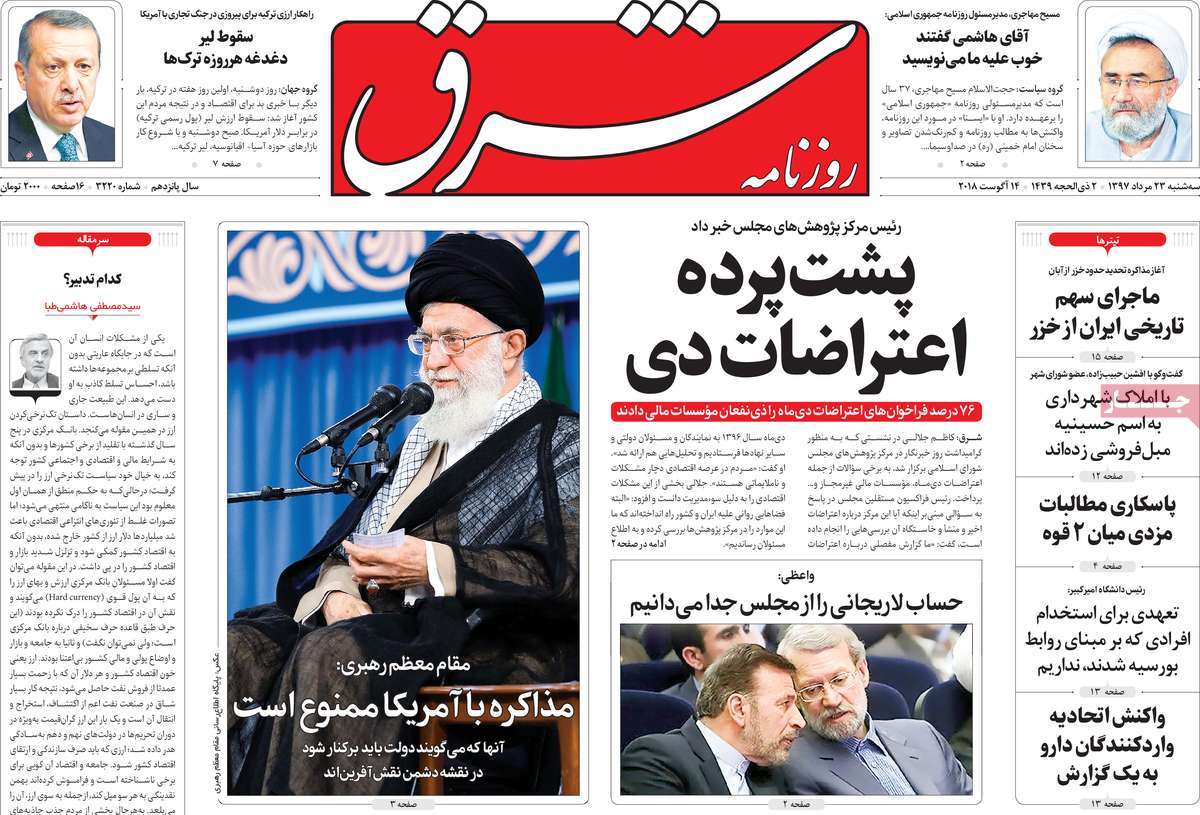 ---
Vatan-e Emrooz:
1- Leader: Decisive Action against Corruption, Main Policy of Islamic Establishment