Iran Front Page – IFP has taken a look at the front pages of Iranian newspapers on Monday, August 13, and picked headlines from 14 of them. IFP has simply translated the headlines and does not vouch for their accuracy.
The top story in all papers today was the landmark Convention signed by Iran, Russia, Turkmenistan, Azerbaijan, and Kazakhstan on the Legal Regime of the Caspian Sea.
Many papers covered the details of the agreement, and the ambiguities regarding Iran's share of the world's largest lake.
Also a top story was the beginning of the Judiciary's swift prosecution of those involved in financial corruption.
The social media campaign #Where_Is_Your_Child, which challenges top officials to declare where their children are living and what they do, also received great coverage.
The above issues, as well as many more, are highlighted in the following headlines and top stories:
Abrar:
1- Talks for Final Agreement on Caspian Sea's Legal Regime Must Continue: Rouhani
2- Decision on Caspian Sea Legal Regime Needs Iran Parliament's Approval
3- Analyst: Erdogan Will Finally Compromise with Trump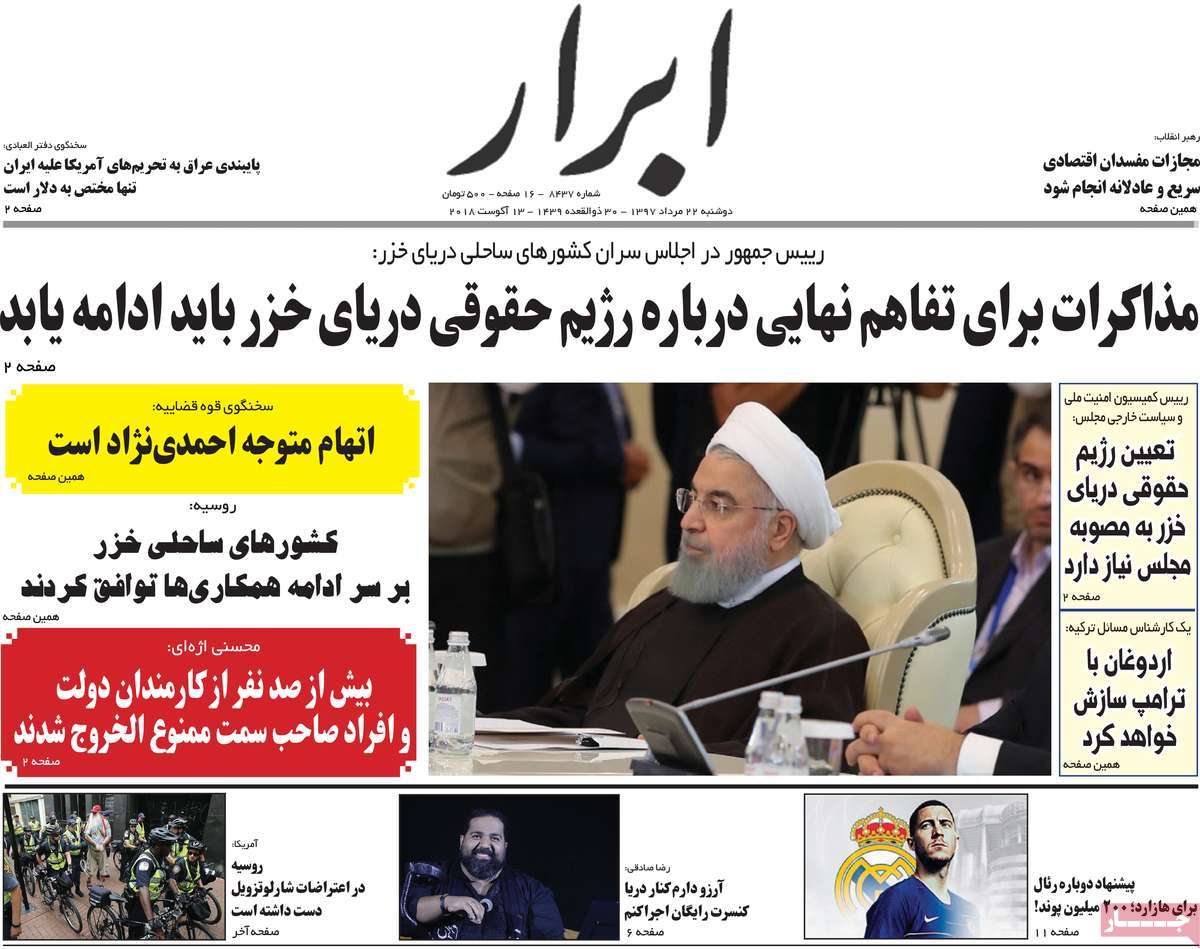 ---
Afkar:
1- No Foreign Force Allowed to Navigate in Caspian Sea
2- European SMEs Best Way to Bypass US Sanctions
---
Aftab-e Yazd:
1- A Campaign to Restore Public Trust
* Which Officials Have Responded to "Where's Your Child" Question?
2- Unfounded Rumours about Iran's Share of Caspian Sea
3- Significant Cancellation of Iraqi PM's Visit to Tehran
---
Arman-e Emrooz:
1- 100 People [Officials] Banned from Leaving Iran: Judiciary Spokesman
2- Outcome of Latest Caspian Sea Summit [Editorial]
3- Conservative Politician: It's a Betrayal to Stop Supporting Rouhani
3- Caspian Sea, The Future Persian Gulf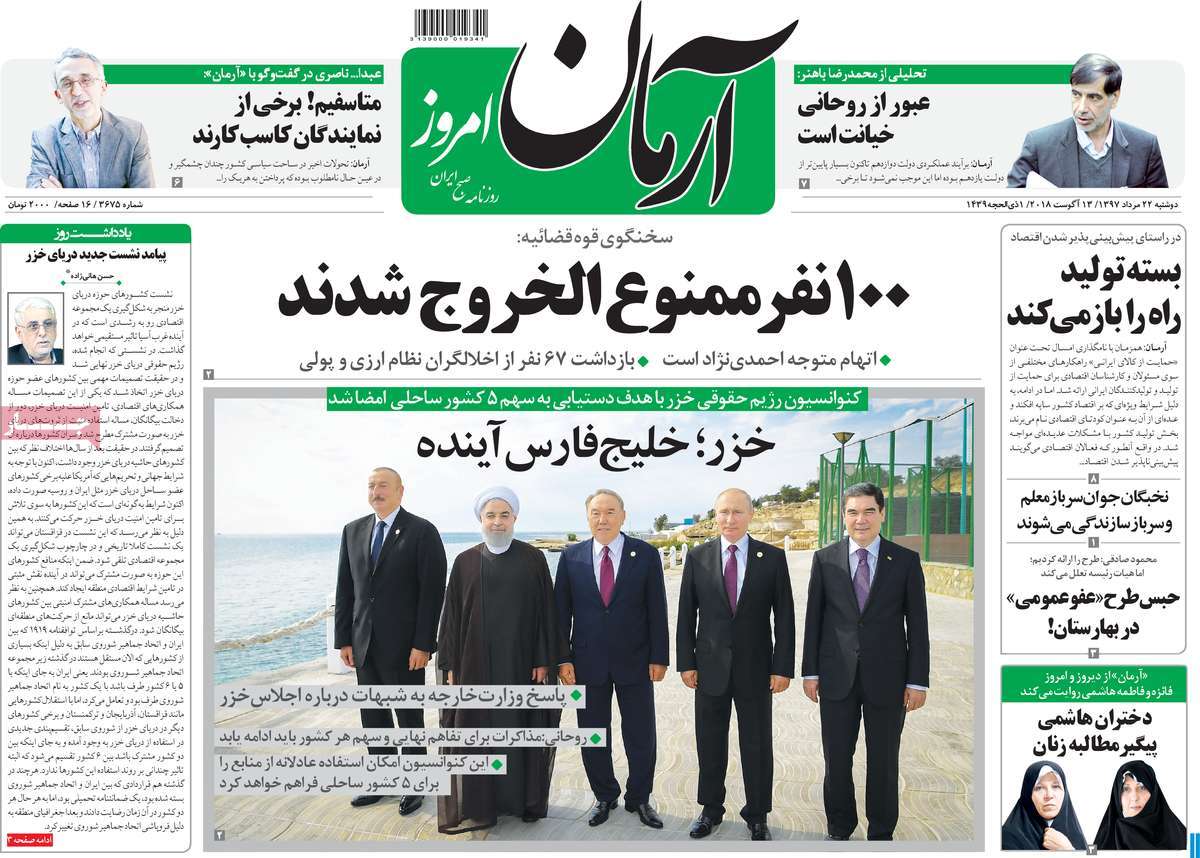 ---
Ebtekar:
1- Iran Starts Taking Swift Action against Financial Corruption
2- Ambiguities Regarding Iran's Share of Caspian Sea
---
Etemad:
1- The Convention Which Is Not Treaty of Turkmenchay
* Rouhani's Government and Iran's Share of Caspian Sea
2- Caspian, The Sea of Peace, Friendship [Editorial by Foreign Ministry Spokesman Qassemi]
3- Taliban's Attack on Peace: Raids Continue in Afghanistan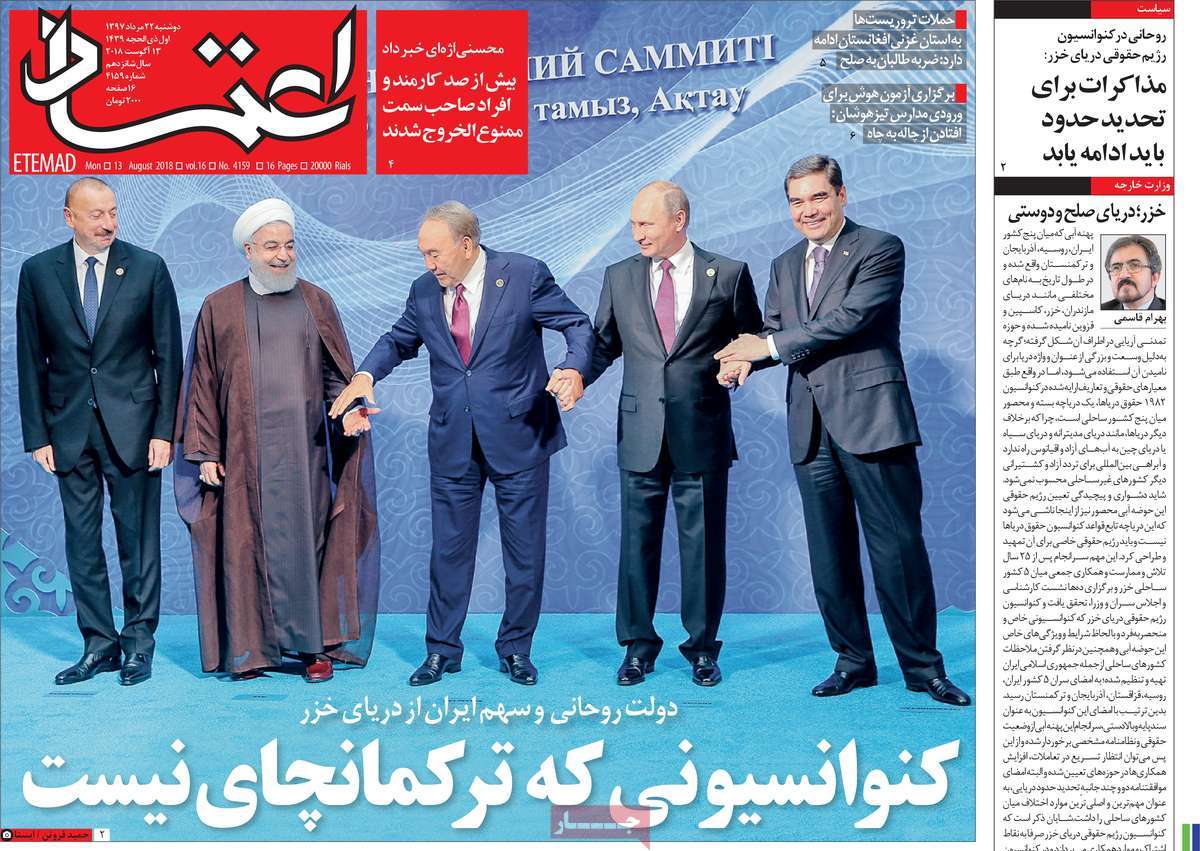 ---
Ettela'at:
1- Caspian Sea Closed to Aliens
2- Spiegel: Destabilizing Iran against Europe's Security Interests
---
Iran:
1- Caspian Treaty: Five Leaders Sign Convention after 21 Years
2- Jews, Palestinians Unite against 'Jewish State' Law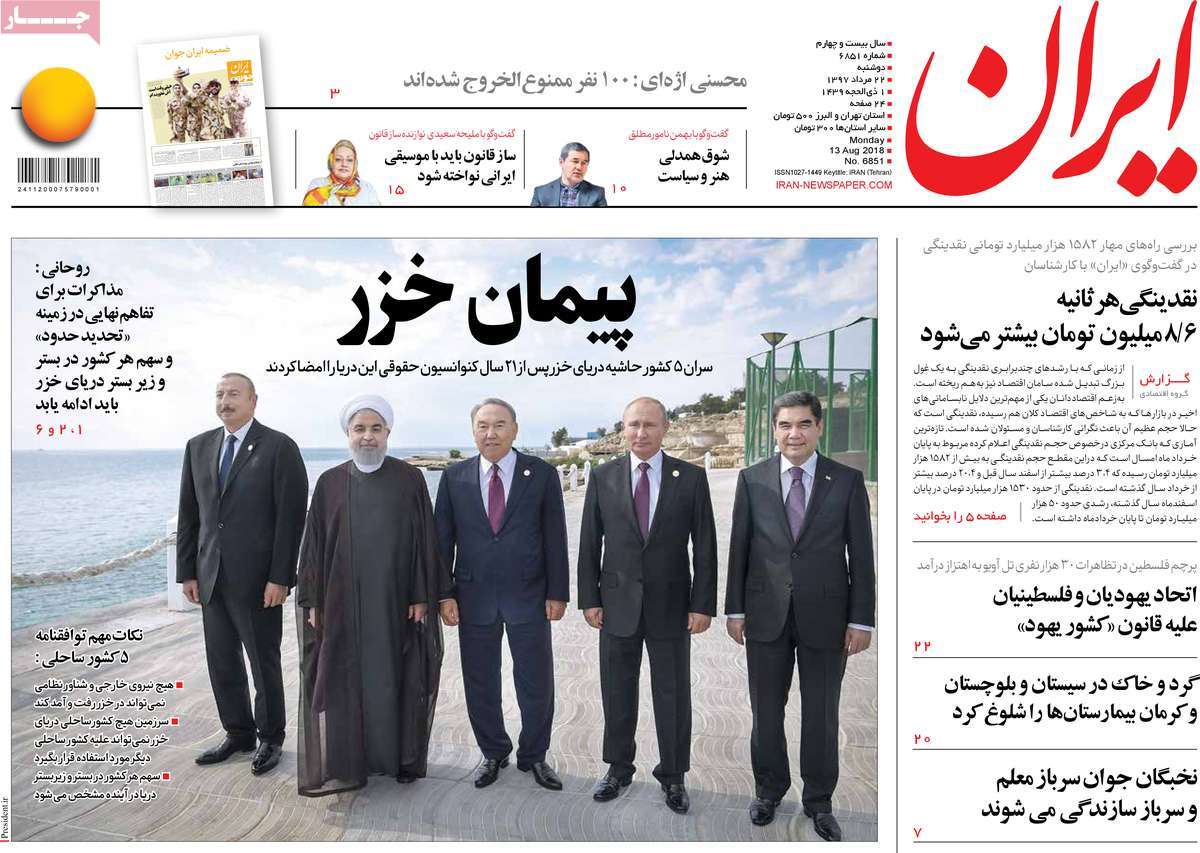 ---
Javan:
1- BBC's Historical Lie: Soldiers of Queen Doing Their Best to Overthrow Iran Gov't
2- Tel Aviv's Apartheid Takes Tens of Thousands of Arab Protesters to Streets
---
Kayhan:
1- Countdown Begins for Execution of Those Engaged in Financial Corruption
2- Riyadh: Air Raids on Bus Carrying Yemeni Children Legitimate, Based on Humanitarian Laws!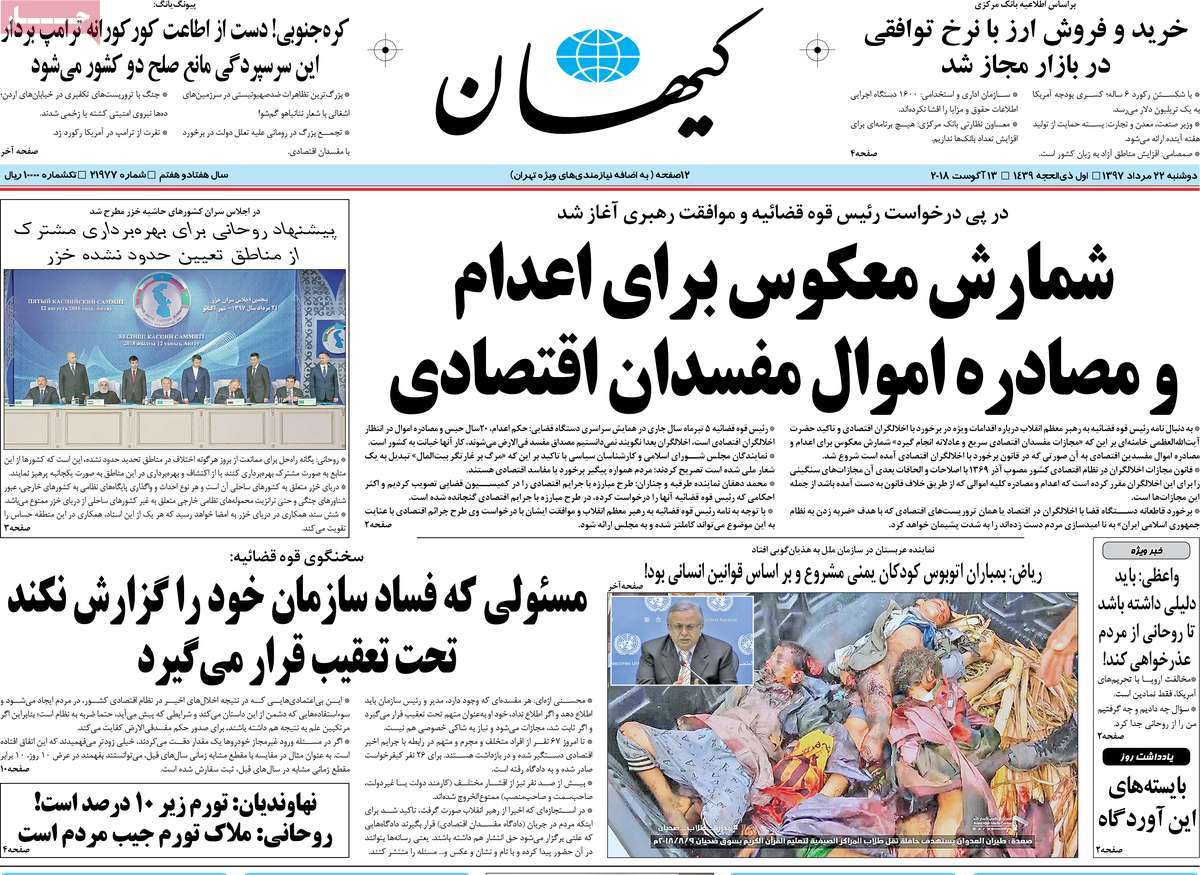 ---
Sazandegi:
1- Where Are Your Children?
* Social Media Campaign Calls on Officials to Announce What Their Children Do
2- Betraying Iran or Deceiving US?
* A Report on Iraqi PM's Support for US Sanctions
---
Setareh Sobh:
1- Issue of Oil Extraction from Caspian Sea Ignored in Convention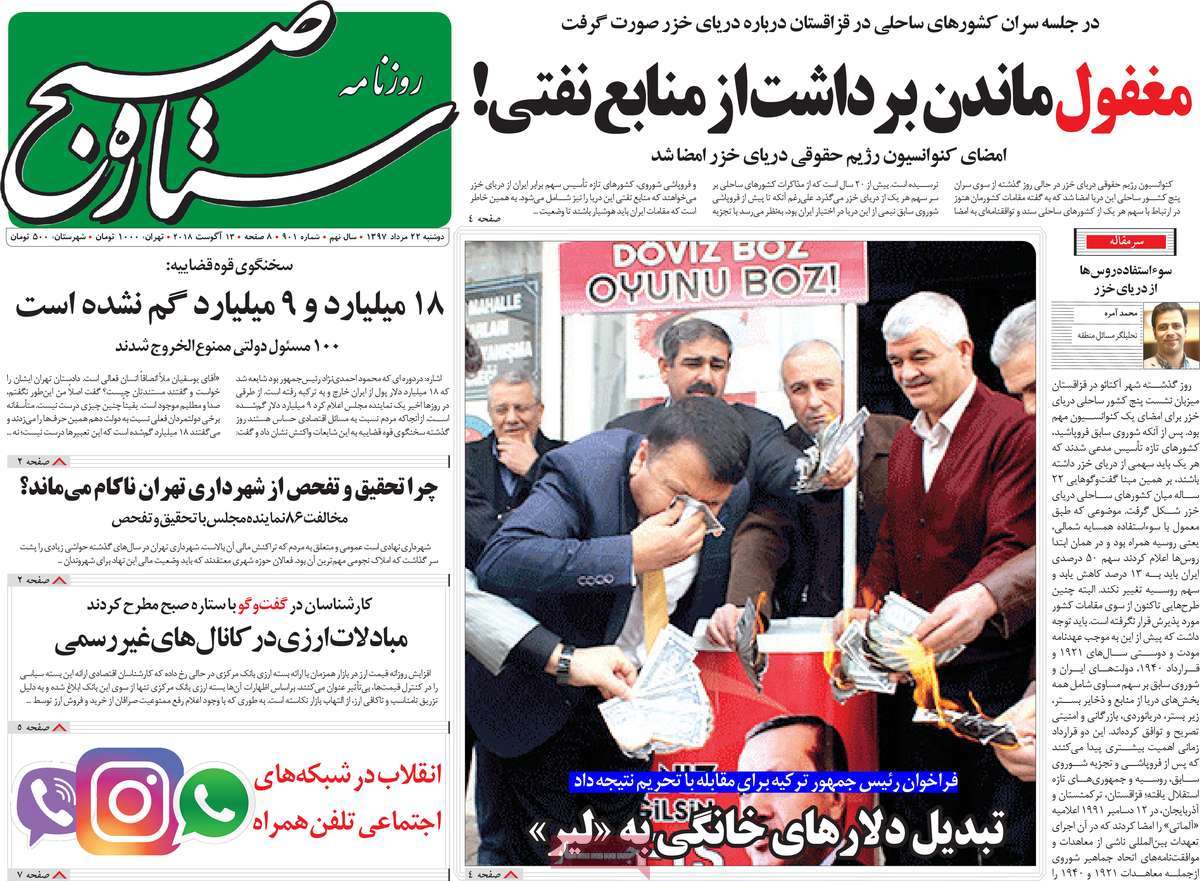 ---
Shahrvand:
1- Iraqis Travelling to Northern Iran for Summer Vacation
2- Several Scenarios on Caspian Sea Shares
3- Young Woman Airs Her Suicide for Husband Live on Instagram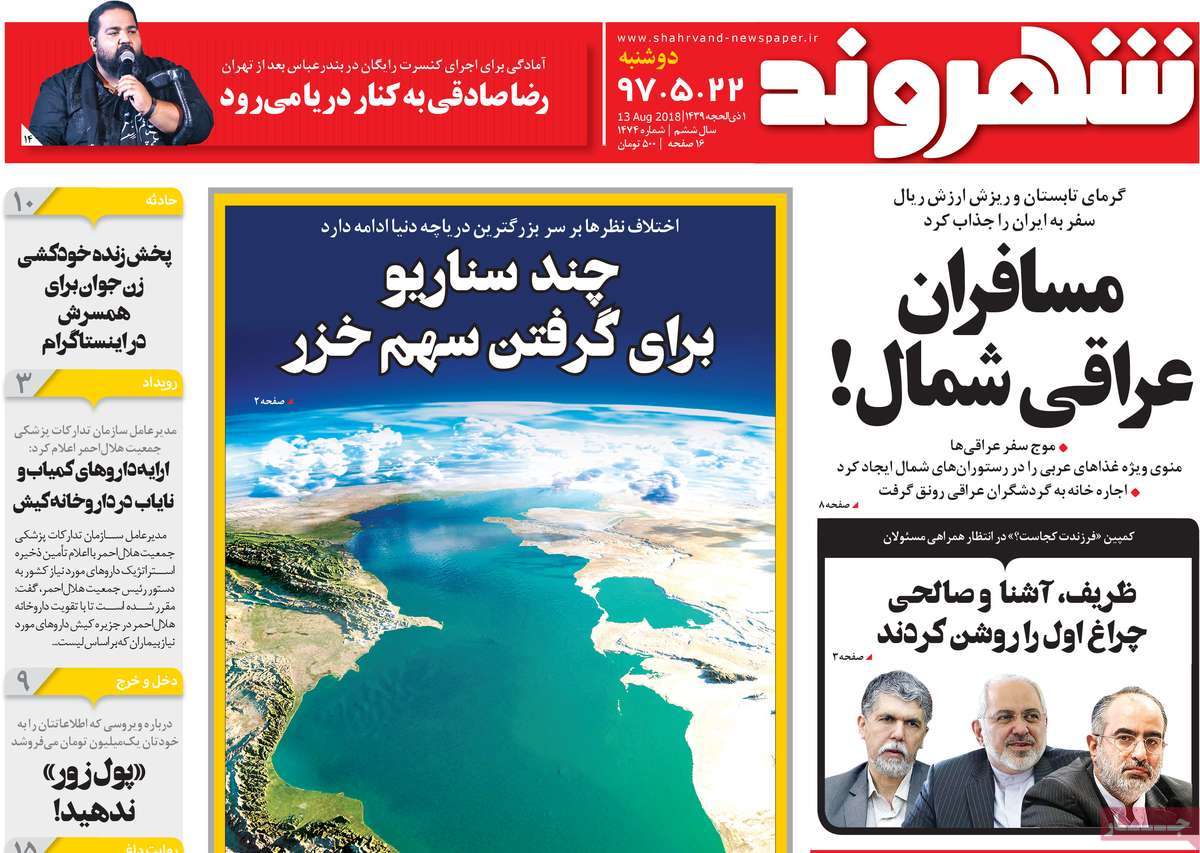 ---
Shargh:
1- Manifesto of "Neo-Conservatism" Unveiled in Iran
2- Trump as Hated Now as Nixon Was