Iran Front Page- IFP has taken a look at the front pages of Iranian newspapers on Tuesday, January 30, and picked headlines from 15 of them. IFP has simply translated the headlines and does not vouch for their accuracy.The heavy snowfall in Tehran and the problems created for people remained a top story today.
Several papers also discussed the Parliament's vote against the budget proposed by the Rouhani administration for the next fiscal year.
The Russian presidential election and Vladimir Putin's certain victory as well as the Syria peace talks expected to be held in Russia's Sochi were among other stories covered today.
The above issues, as well as many more, are highlighted in the following headlines and top stories:
Abrar:
1- South Korea DM: N. Korea to Be Wiped Off World Map If Uses Nukes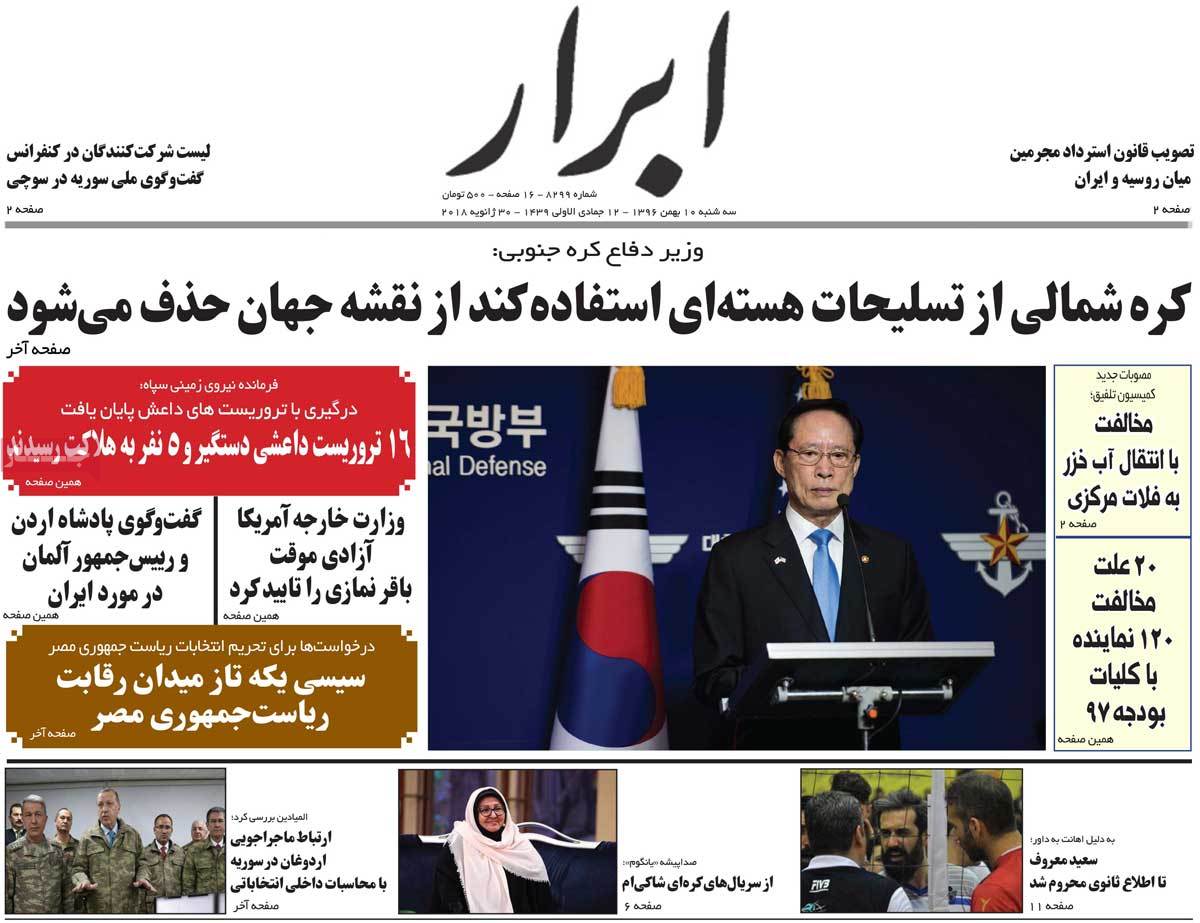 ---
Aftab-e Yazd:
1- Putin's Challenge with People
2- January 30th, Day of Clean Earth
3- Putin Will Win Russia Elections, But … [Editorial]
---
Arman-e Emrooz:
1- Those Who Disclose Corruption Are Not Protected
2- Analyst: Between Iran and US, Iraq Won't Choose Tehran
3- Iran Won't Sue China over Sanchi Accident
---
Ebtekar:
1- Snowy Economy: A Report on Business in Snowy Days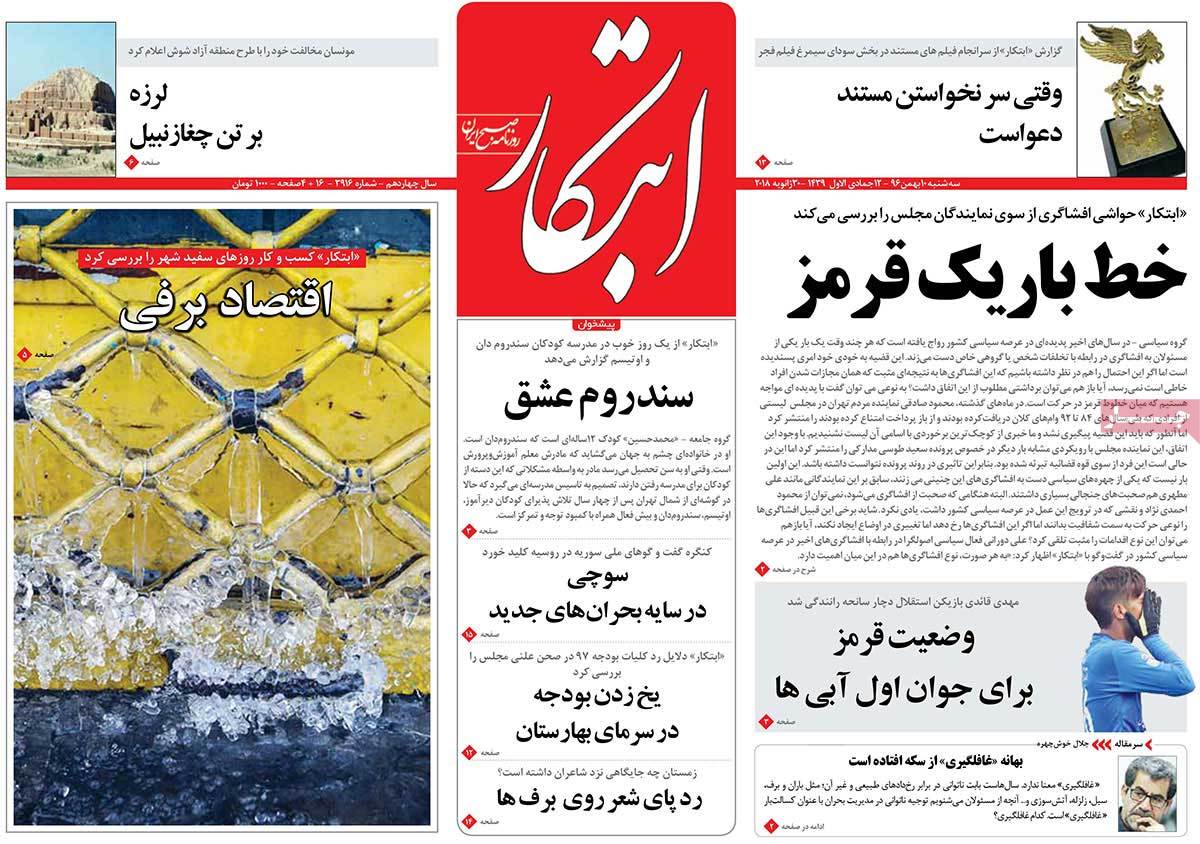 ---
Etemad:
1- Iran National Security Council to Probe into Accession to Palermo Convention
2- Bloody Days of Kabul
---
Ettela'at:
1- Iran's Railway Network to Be Completed
2- Turkey Violates Syria's Sovereignty by Appointing Governors for 3 Towns of Aleppo
3- Trump's Economic Clash with Europe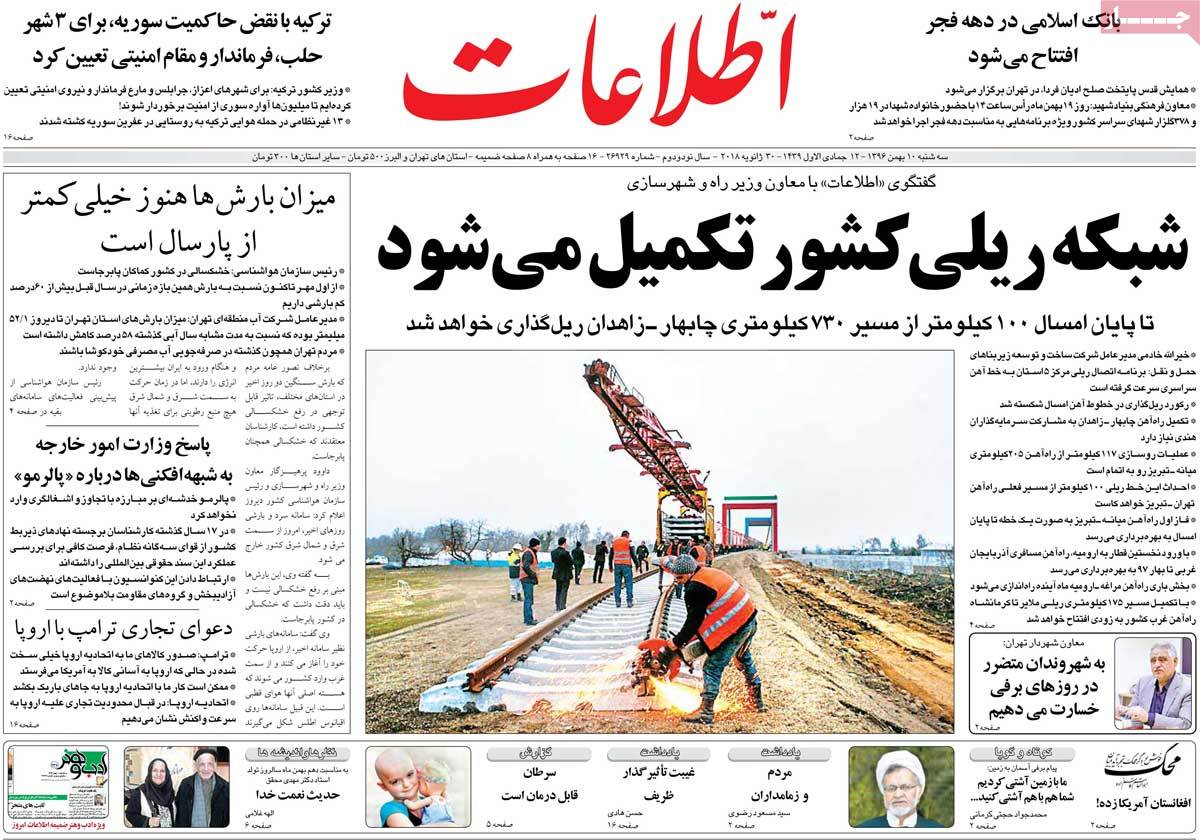 ---
Iran:
1- Opposition Figure Mousavi, His Wife Can Now See Children Whenever They Want
2- Aftershocks of Snowfall: A Report on Transportation Problems
---
Javan:
1- IRGC Navy General: Americans Have Changed Their Behaviour in Persian Gulf
2- Judiciary Chief: Even One Single Corrupt Judge Is Too Much for Judiciary
3- Iran Leader Urges Judiciary to Publicly Prosecute Offending Judges, Introduce Honest Ones
---
Jomhouri Eslami:
1- African Union Supports Iran Nuclear Deal
2- China to Reopen Iranians' Blocked Bank Accounts
3- US Lawmakers to Prevent Stonewalling in JCPOA, US Isolation: NIAC Member
4- Iran First VP: Finalisation of $12 Billion Worth of Finance Deals Achievement of JCPOA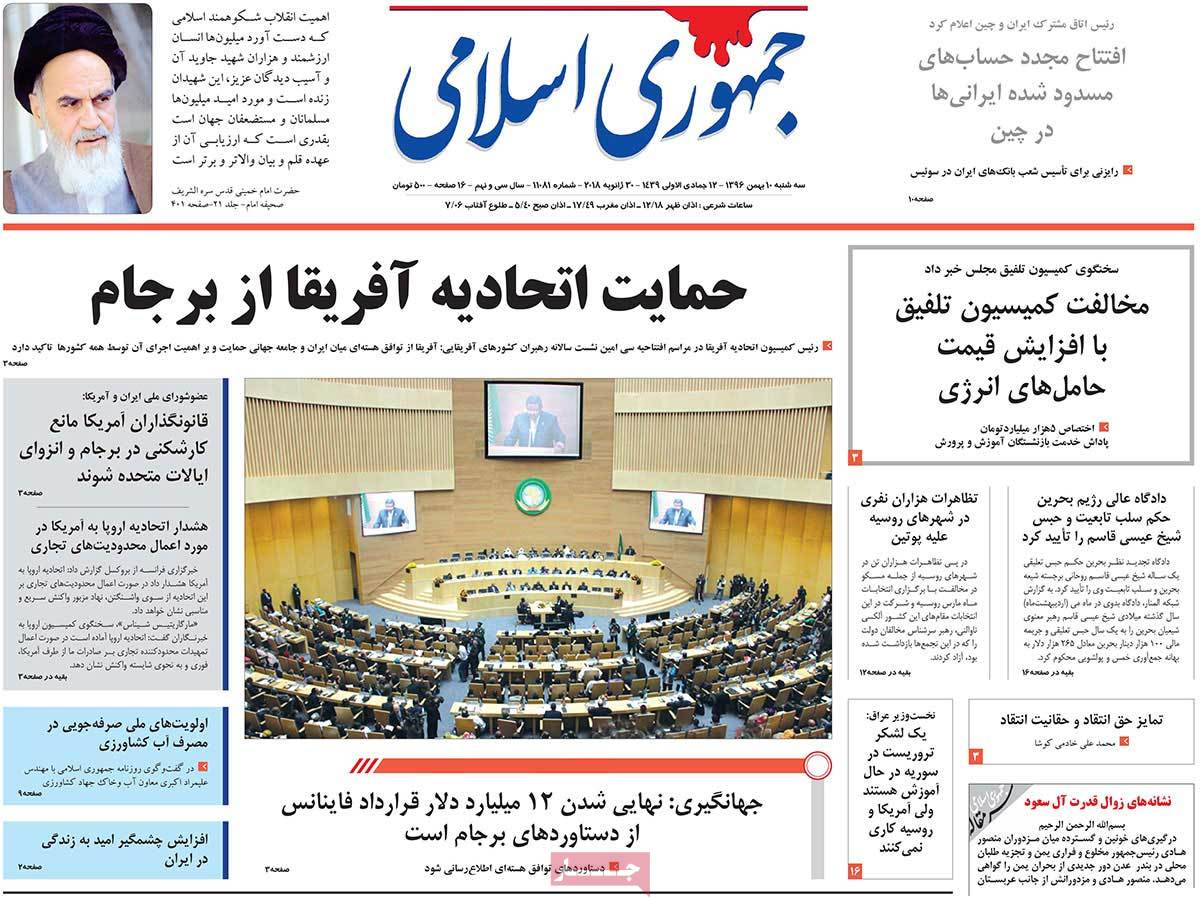 ---
Kayhan:
1- Assad: We'll Destroy Tel Aviv Airport with Missiles If Israel Hits Syria
2- US, Europe Form Working Group to Revise Iran Nuclear Deal
Europe Breaks Its Promise that JCPOA Is Non-Negotiable!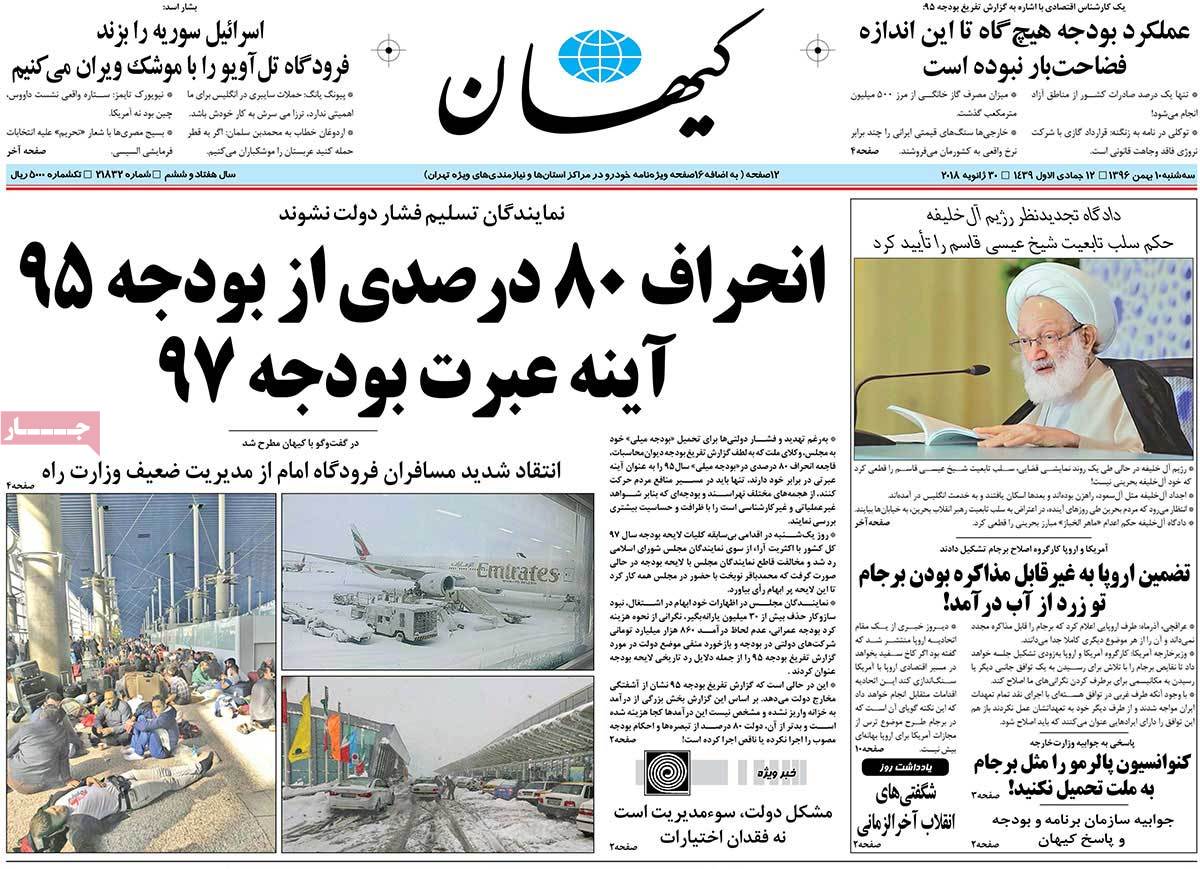 ---
Khorasan:
1- Ifs and Buts of Palermo Convention: Right Concerts or Misinterpretation
---
Resalat:
1- Health Ministry: Iranian People's Life Expectancy Increased by 25 Years in Past 4 Decades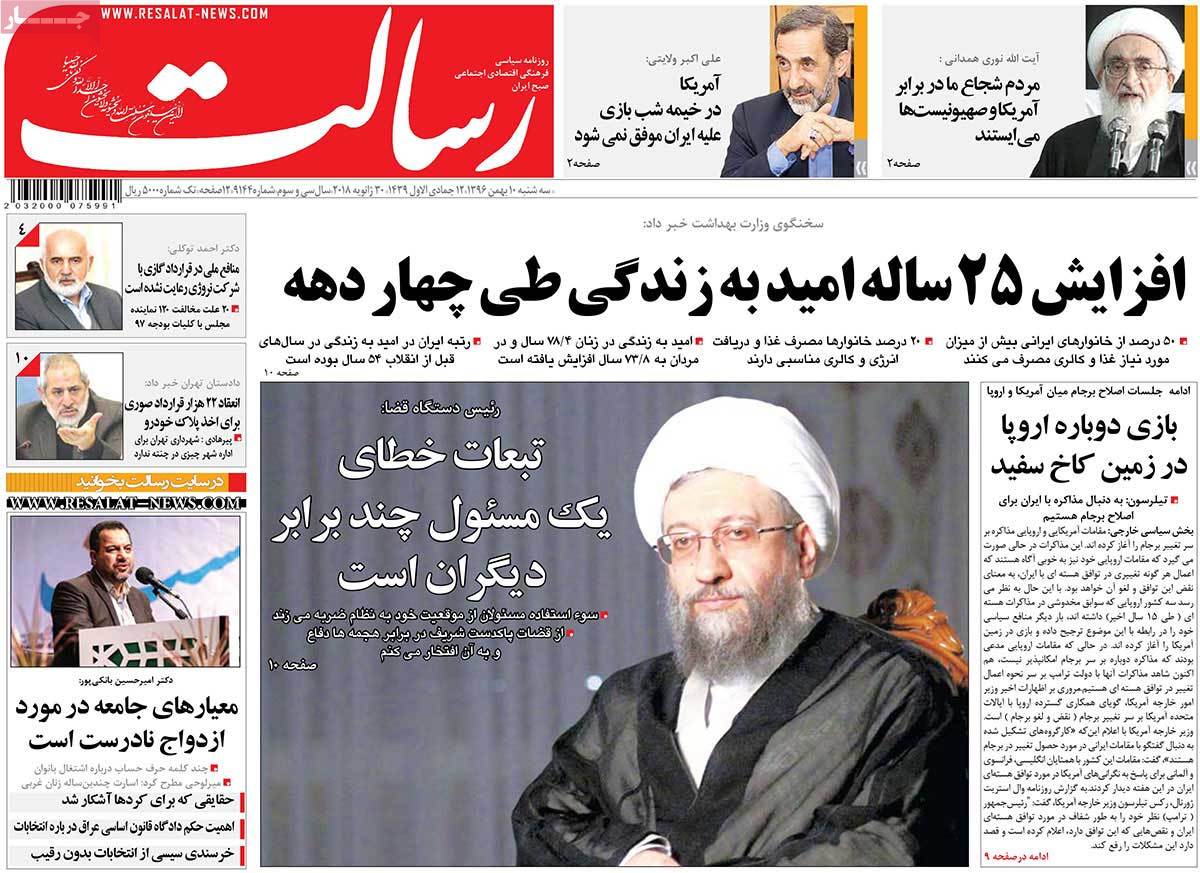 ---
Shahrvand:
1- Happy, Unhappy Aspects of Snow
---
Shargh:
1- Certain MPs Lobby Others to Reject Government's Proposed Budget 10 Minutes before Voting
---
Sobh-e Now:
1- Health Ministry: Iranian People's Life Expectancy Increased from 54 to 78
2- No Deadlock in Islamic Traditional Medicine: Cleric