Tasnim – Leader of the Islamic Revolution Ayatollah Seyed Ali Khamenei called on the Iranian diplomats to keep alive their revolutionary morale and take pride in their commitment to the principles of the Islamic Revolution.
In a meeting with members of the new Iranian cabinet in Tehran on Saturday, Ayatollah Khamenei stressed the need for maintaining "revolutionary and religious spirit in diplomacy."
"We must be proud of our Revolution when it comes to diplomatic issues, and should feel dignified to adhere to the national norms, namely those originating from the Revolution such as standing against the arrogance, countering tyranny and opposing the hegemonic system," Imam Khamenei underlined.
Sticking to the revolutionary values and stances would help Iranian diplomats earn respect in the international arena, the Leader explained, adding that such conduct is not in conflict with diplomatic tactics and approaches.
Ayatollah Khamenei further advised Iranian diplomatic organizations to try to develop ties with the entire world and avoid focusing on relations with a limited number of countries.
Elsewhere, the Leader called on Iranian President Hassan Rouhani's new administration to regard economy as the number one priority, stressing the need for constant efforts to combat unemployment and improve the livelihood of people.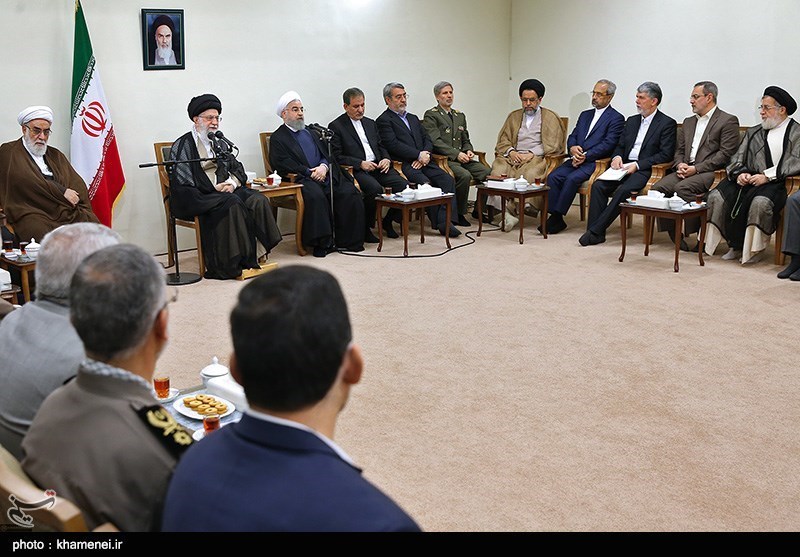 Ayatollah Khamenei also called for formulating plans to cut dependence on oil revenues and govern the country on the basis of domestic capabilities and human resources.
The economic orientation of Iran should switch from oil-based to "generating and popular" economy, the Leader added.
In March, during a speech on the occasion of the new Iranian year, Ayatollah Khamenei described "economic issues" as the country's main priority, which he said is a priority for the enemies as well.
In order to achieve their objectives, the enemies are looking for "economic damage" to Iran, the Leader warned, saying the adversaries seek to exert economic pressure on Iranians to discourage the nation from supporting the Islamic Establishment and drive a wedge between the people and the Establishment.