Iran Front Page- IFP has taken a look at the front pages of Iranian newspapers on Wednesday, July 12, and picked headlines from 14 of them. IFP has simply translated the headlines and does not vouch for their accuracy.
Newspapers today widely covered the remarks made by President Hassan Rouhani about his government's tolerance towards insults and attacks.
Rouhani also highlighted his government's role in the country's military achievements by saying that the recent missiles launched on ISIS positions in Syria were built by his defence ministry.
The above issues, as well as many more, are highlighted in the following headlines and top stories:
Abrar:
1- Zarif to Visit New York to Address Council on Foreign Relations
2- Gov't Spokesman: No Need for Parliamentary Motion to Stop Total Deal
3- US Defence Secretary: Tehran Has Supplied Yemen with Ballistic Missiles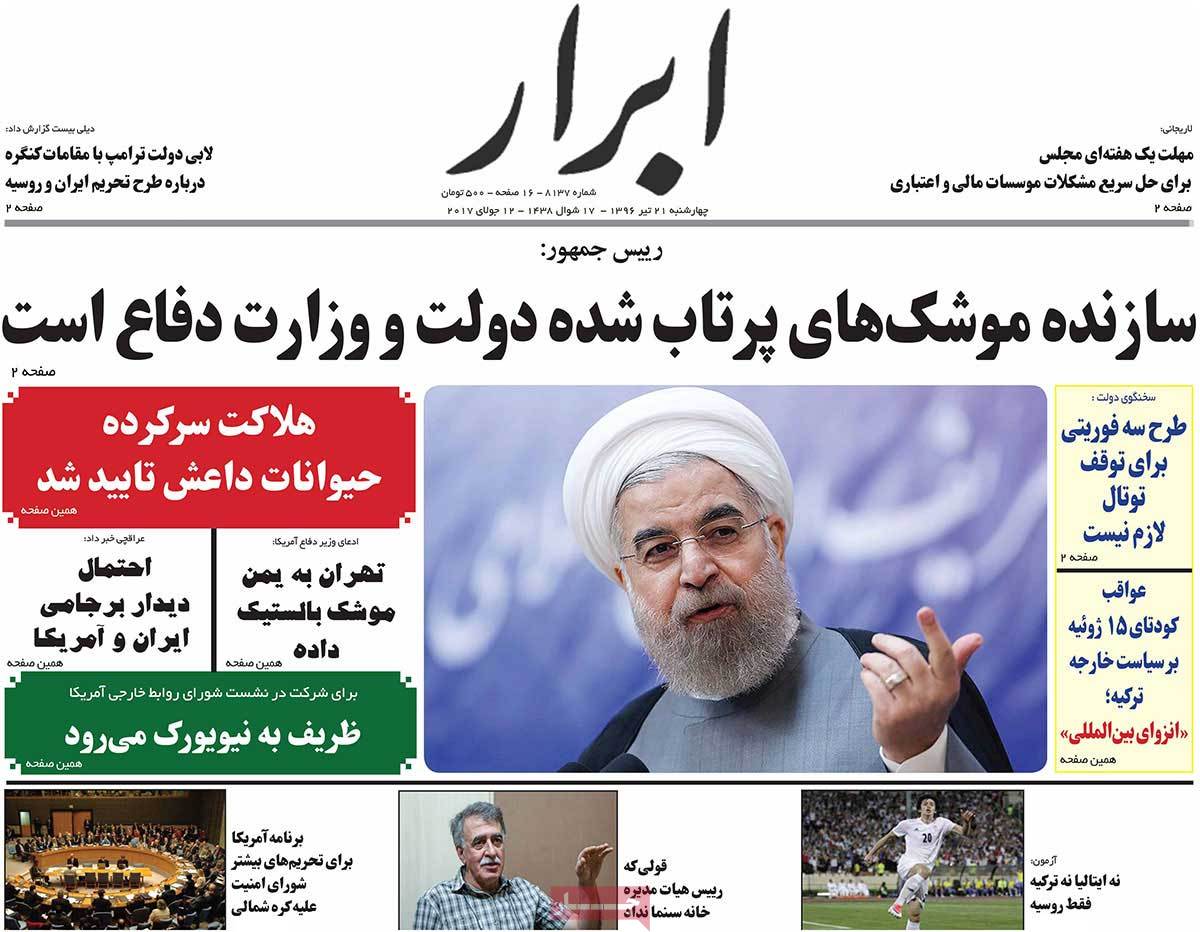 ---
Aftab-e Yazd:
1- Rouhani: Don't Pay Attention to Insults
2- Qatar Is Ultra-Regional Country, Cannot Be Boycotted: Analyst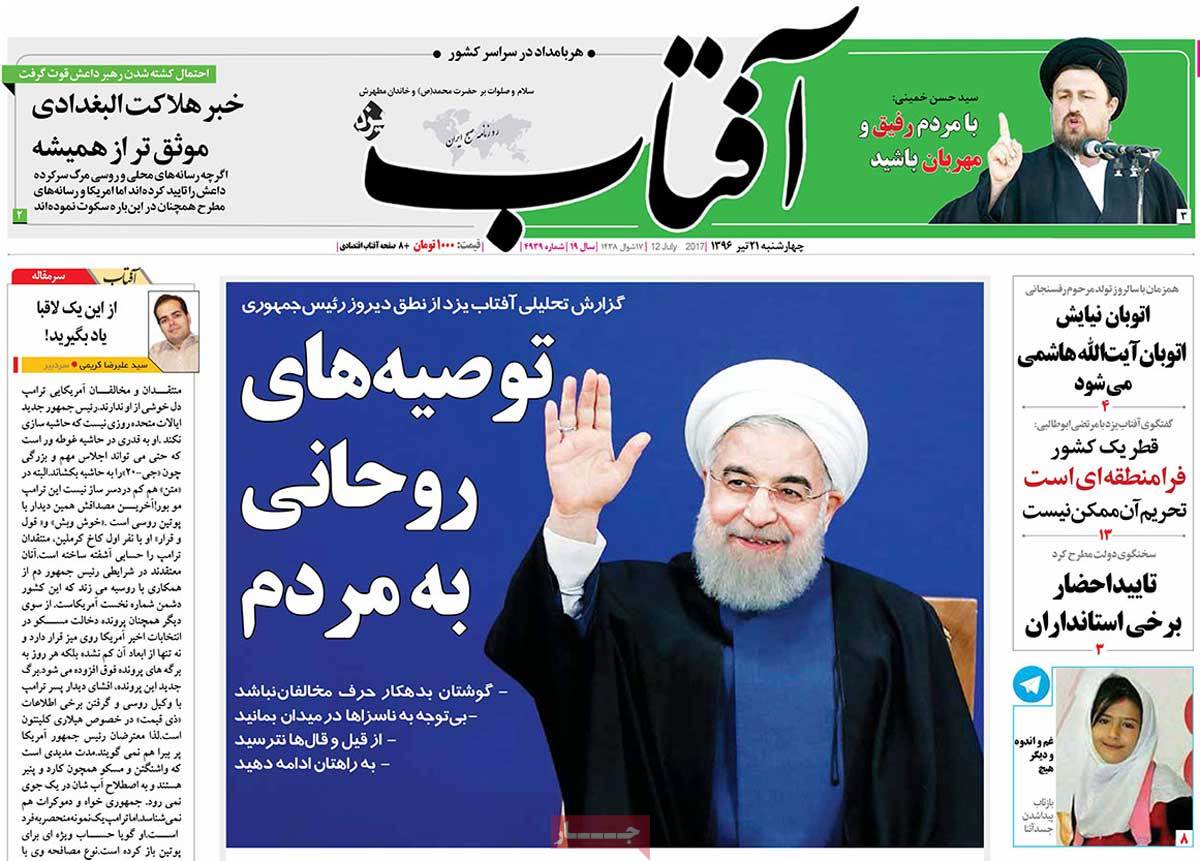 ---
Arman-e Emrooz:
1- Rouhani: We'll Stay, We're Not Afraid of Insults
2- Government, Defence Ministry Built Missiles Launched on Syria: President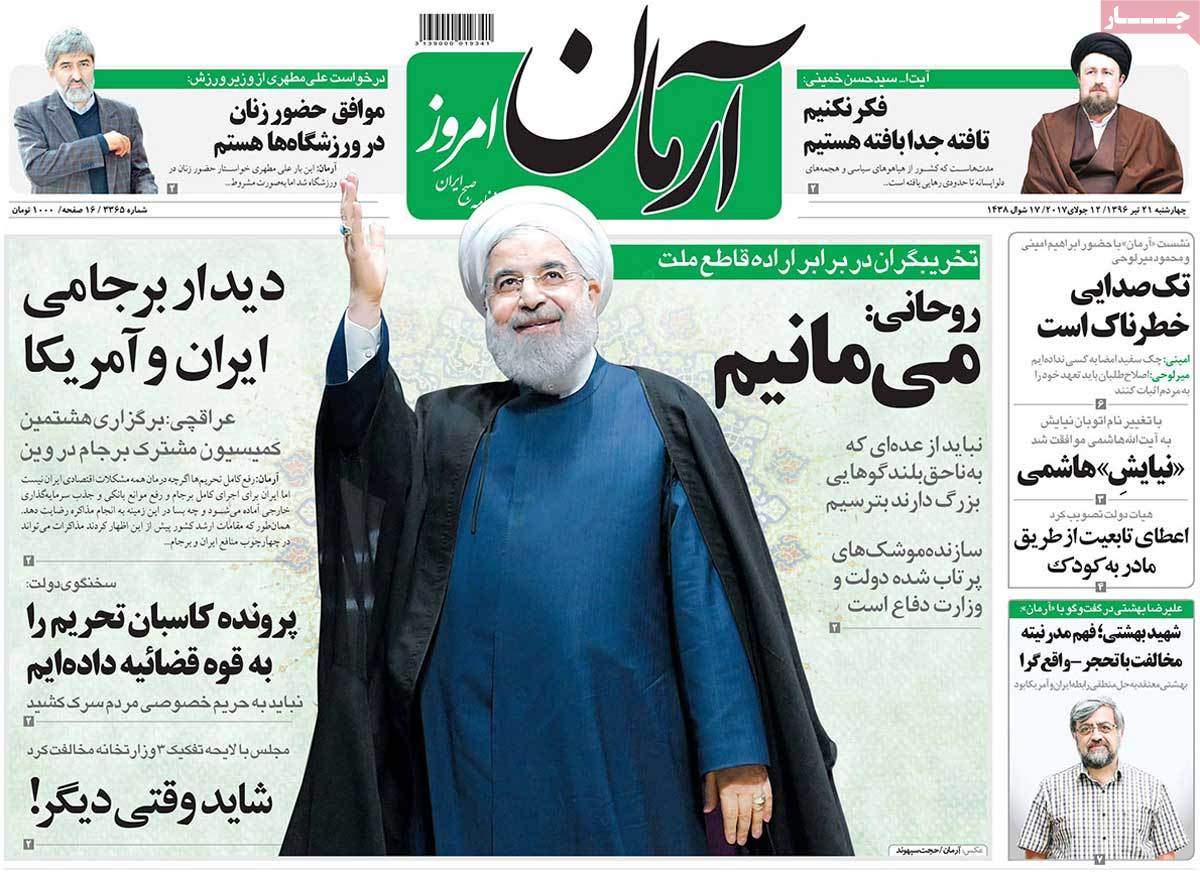 ---
Etemad:
1- Russia Has Warned US against Playing with JCPOA: Deputy FM
2- Rouhani: Happiness Not Haram (Forbidden)
3- Revival of Lake Urmia Saves 14 Million Lives: President
4- Academic: Trump Incapable of Forming Coalition against Iran
---
Ettela'at:
1- President: Gov't Attacked, Insulted Because of Its Successes
2- Niyayesh Highway, Tunnel in Tehran to Be Named after Ayatollah Rafsanjani
3- 27 Billion Cubic Metres of Water Wasted Each Year: Official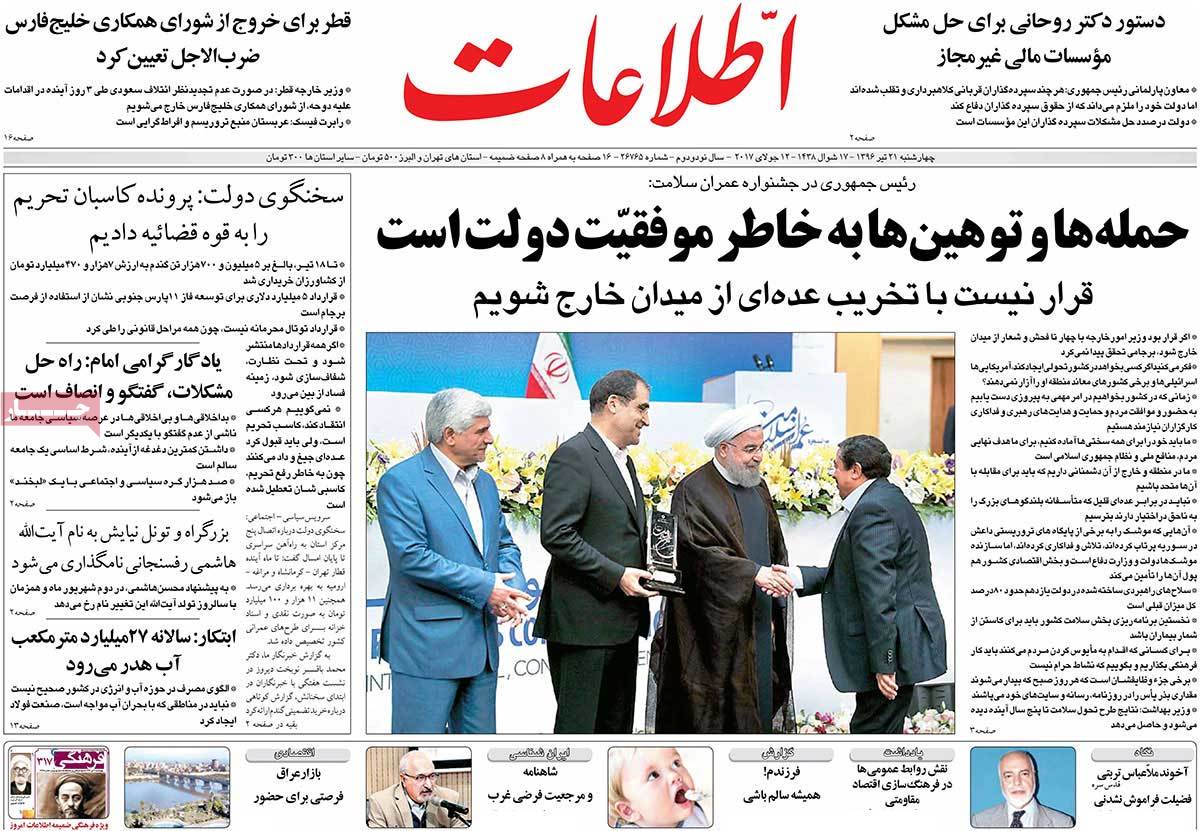 ---
Haft-e Sobh:
1- Iranians Fly to Iraq's Najaf More than Istanbul, Dubai: Official Statistics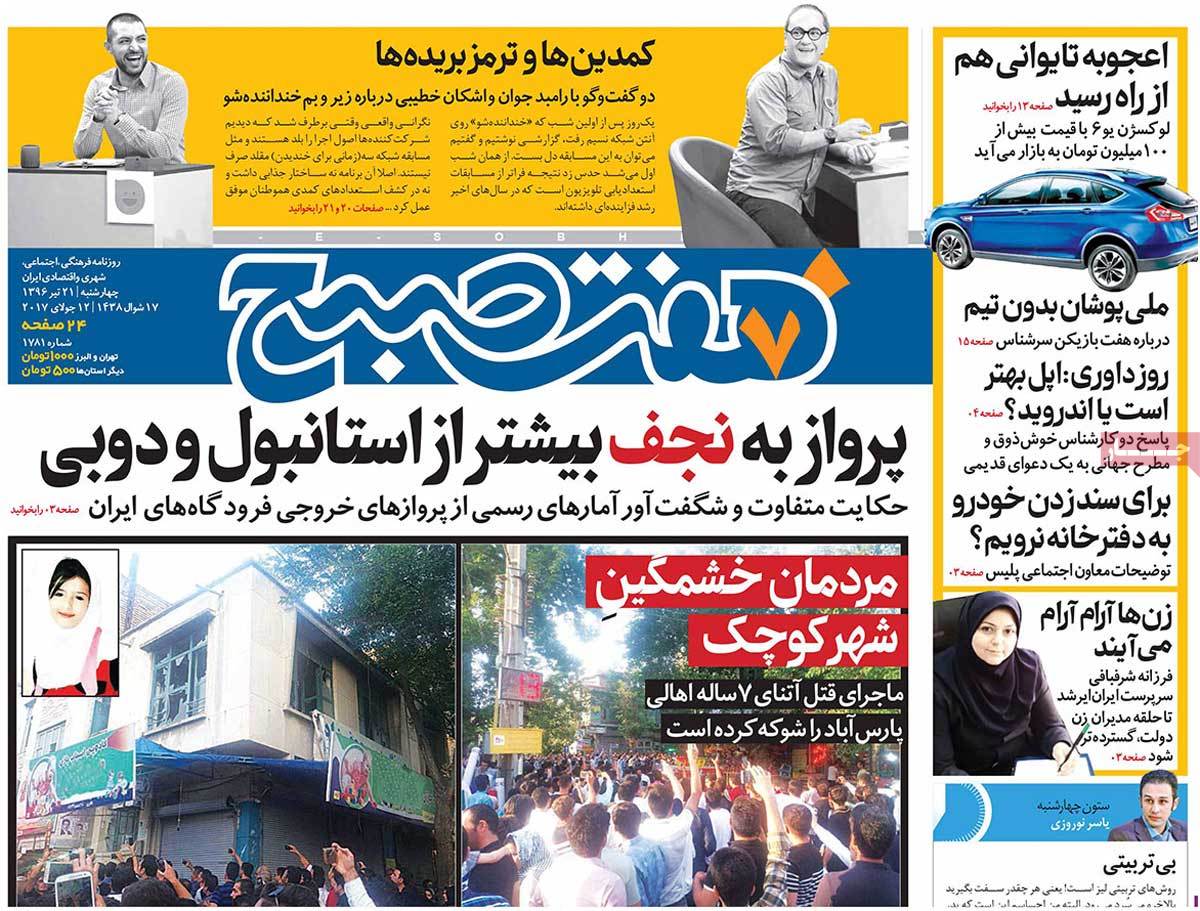 ---
Iran:
1- People to Counter Those Who Prevent Iran's Development
2- Imam Khomeini's Grandson: Unethical Political Behaviours Result of Lack of Dialogue
3- Qatar to Leave Persian Gulf Cooperation Council If Boycott Not Lifted in 3 Days
---
Javan:
1- Partner in Missiles! The Gov't without Guns Becomes Gov't with Missiles!
Rouhani: Government Paid for Missiles [Fired by IRGC]
2- Four Bodies Receiving Highest Number of Complaints
Most Lawsuits Filed against Labour Ministry, Social Security Organization, Municipalities, Education Ministry: Judiciary Official
---
Jomhouri Eslami:
1- Russian Deputy FM to US Officials: No Alternative to Nuclear Deal
2- Washington's Support for Doha's Stances; Qatar's Ultimatum to Arab States
3- Deal Signed with Total Shows Iran's Successful Diplomacy: Official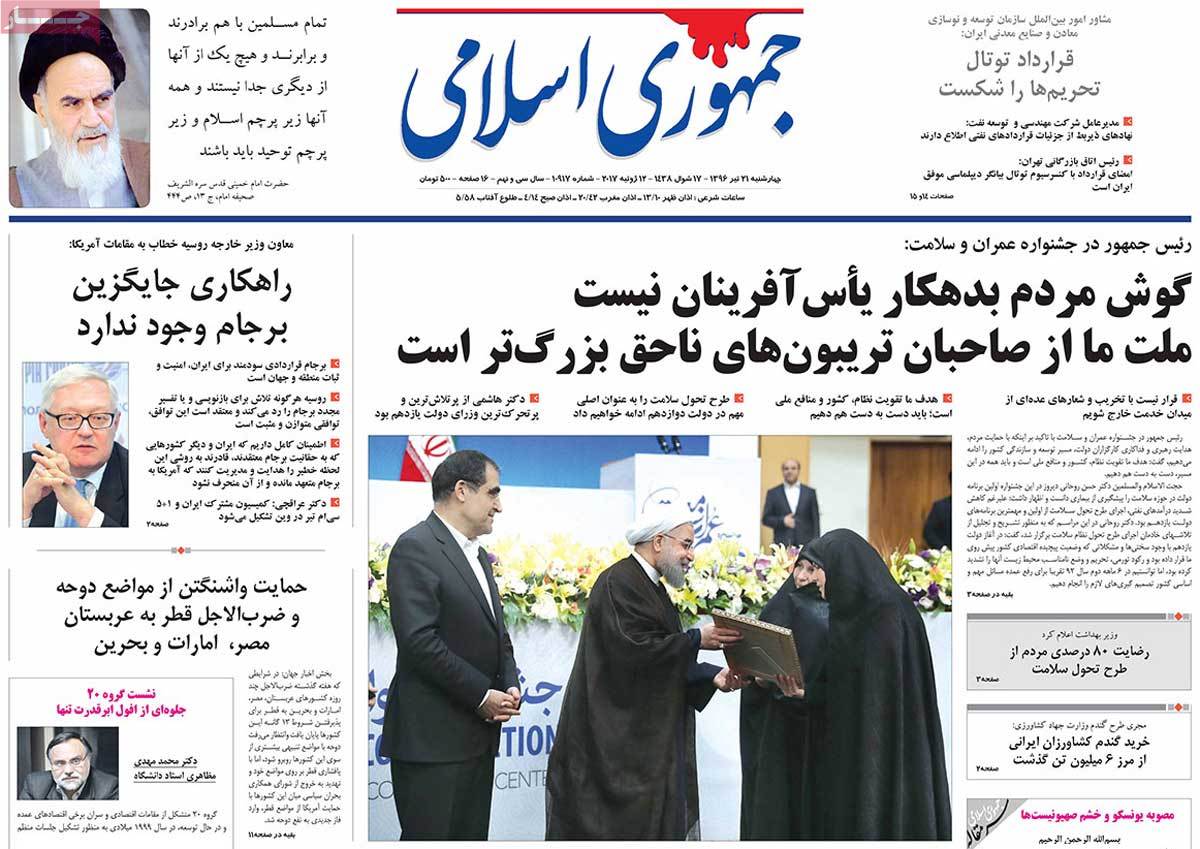 ---
Kayhan:
1- Gov't Gives Expert Response: Critics of Total Deal Talking Nonsense!
2- ISIS Confirms Death of Its Leader Al-Baghdadi
3- Yemen Official: Al Saud behind Cholera Outbreak in Yemen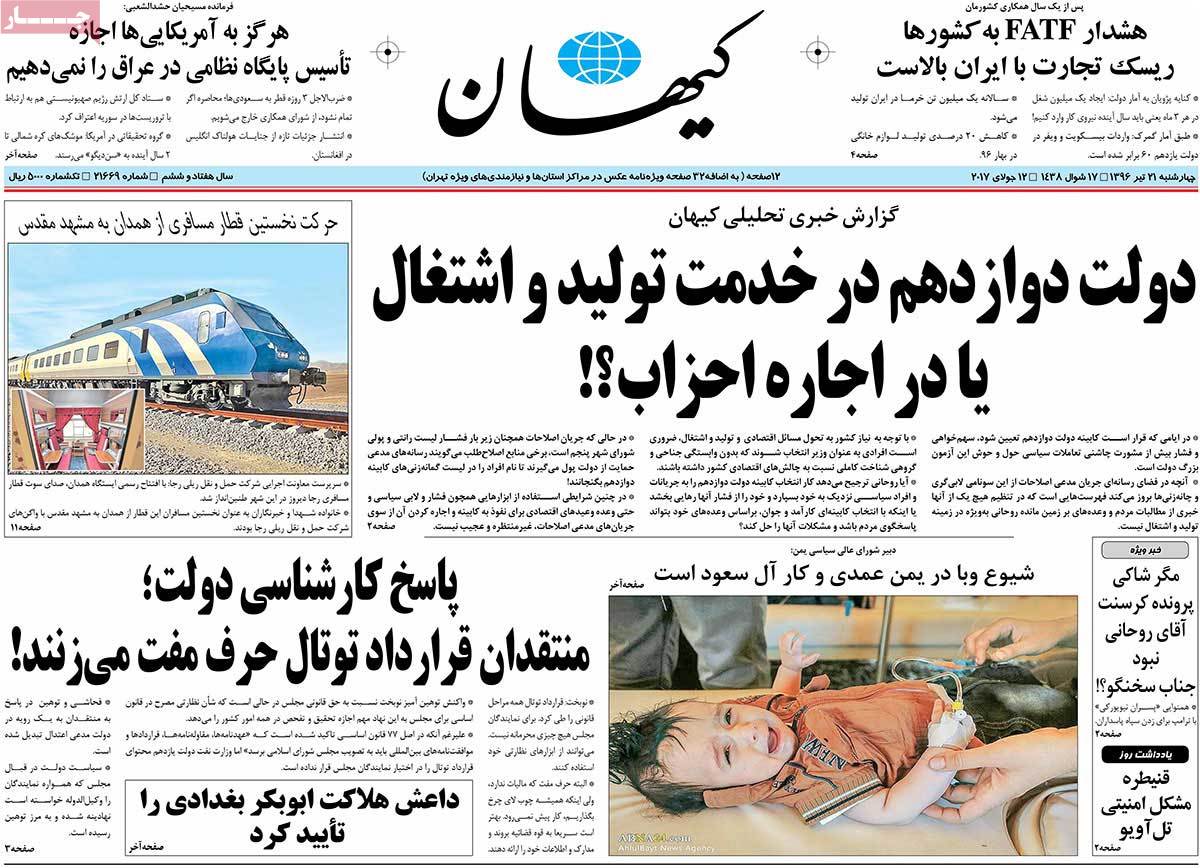 ---
Khorasan:
1- Rouhani Highlights Unprecedented Number of Strategic Weapons Built in His Term
2- Millions of Fish Die in Hamun Lake in Southeast Iran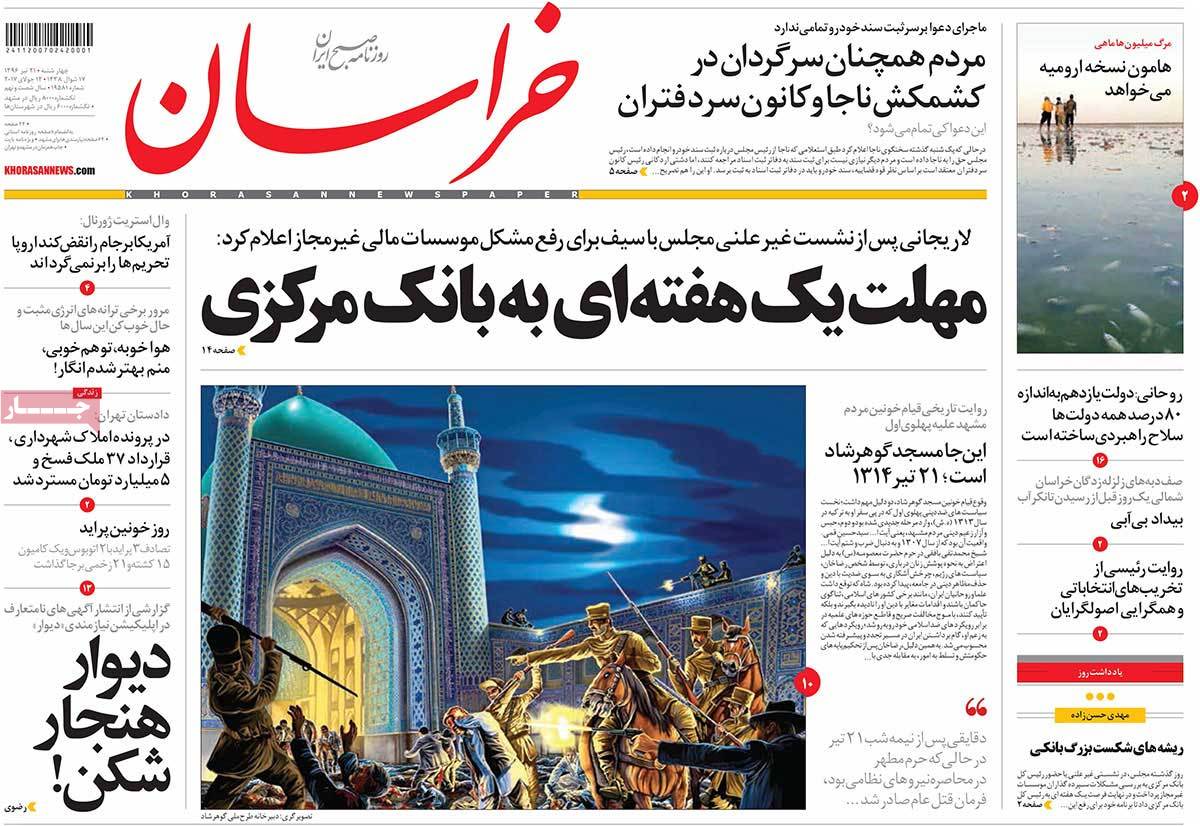 ---
Resalat:
1- General Soleimani: Some Problems Not Solvable through Diplomacy
2- President: Missiles Are Built by Government
3- Cabinet of Old Men Cannot Make Courageous Decisions: Official
4- Foreign Ministry: US Trying to Prevent Iran from Benefitting from JCPOA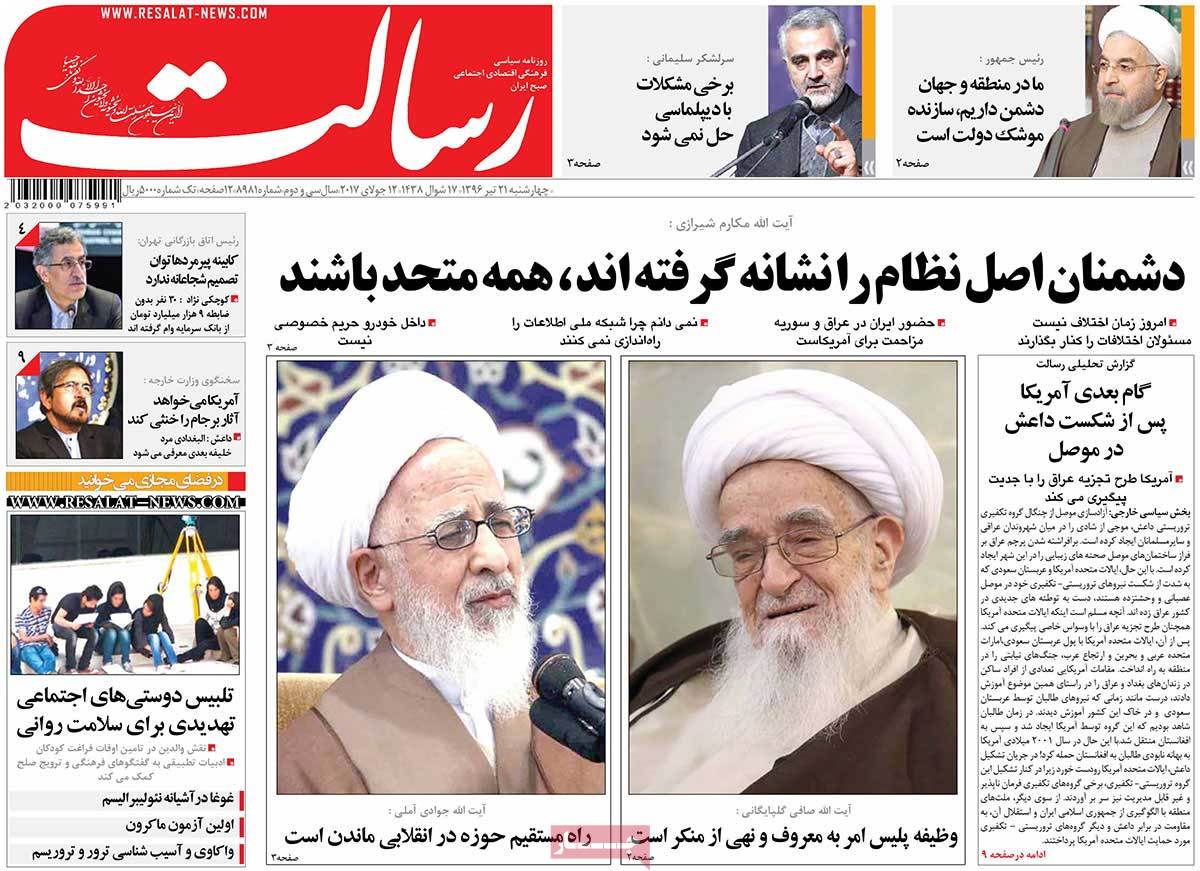 ---
Shahrvand:
1- Iran to Send 570 Doctors, Nurses to Saudi Arabia for Iranian Pilgrims
---
Shargh:
1- Female MPs Working on Women's Right to Go Abroad without Husband's Permission