Iran Review- The research quality ranking system of the International Telecommunication Union (ITU) in its 2016 edition has put names of forty-four Iranian institutions among top ones in Islamic World, Iranian Research Institute for Information Science and Technology announced on Monday.
Science
44 Iranian institutions among top Islamic World scientific entities

44 Iranian institutions among top Islamic World scientific entities
According to the Iranian Research Institute for Information Science and Technology (IRANDOC), 486 institutes have been evaluated in 2016 by ITU, including 109 institutes from the Islamic Republic of Iran.
ITU assesses institutions in the Islamic World based on five quality-related indices before ranking them and announcing their names.
The ITU indices include citation ratios of 1%, 10% and 50% in top-quality journals as well as the scientific cooperation ratio among compatriot and international institutions.
Based on this report, the University of Tehran ranks first in Iran as long as the citation ratios are concerned, and Tehran University of Medical Sciences stands on top for the scientific cooperation ratio it represents.
Iran and Turkey with 44 institutions each ranked based on the ITU system, represent the highest number of institutions assessed.
Egypt and Malaysia each with 17 institutions, Pakistan with 12 and Saudi Arabia with 10 institutions come next in the list.
The ITU ranking system obtain the data it needs to make its assessments from the Scopus which is the largest abstract and citation database of peer-reviewed literature, including the scientific journals, books and conference proceedings.
Iranian university snatches SME Award

Department of Mining & Metallurgical Engineering of Amirkabir University of Technology ranked first and received the Society for Mining, Metallurgy, and Exploration (SME) Award.
Iranian university snatches SME Award
SME Distinguished Member Award is one of SME various prizes given for creating competitiveness among students.
SME is located at the University of Colorado Boulder and has over 15,000 students from 100 world countries.
Society for Mining, Metallurgy, and Exploration aims at helping developing students' understanding and also their expert synergy.
Colorado School of Mines, University of Michigan, New Mexico Institute of Mining and Technology, University of Pennsylvania, South Dakota School of Mines and Technology, University of Arizona, University of Missouri, University of Nevada, Reno, University of British Columbia, University of New South Wales and Queen's University participated in competitions.
Arts
Iran maestro on Grammy-winning ensemble

The international Silk Road Ensemble, which enlists the virtuosity of a world-renowned Iranian traditional music maestro among other greats, has been conferred with the title for Best World Music Album at this year's Grammy Awards.
The 59th Annual Grammy Awards were held at Staples Center in Los Angele on Sunday.
The multinational band, led by fêted French-born Chinese-American cellist Yo-Yo Ma, serves to intermingle world's sundry musical styles as a means of sending across an eclectic and intertwined cultural message. Yo-Yo Ma is touted as one of the century's greatest cellists.
The band won the accolade for its "Sing Me Home" album. The ensemble's website calls the work a "tribute to the ways culture can help us encounter, connect, and build something new."
On the ensemble, Iranian maestro Keyvan Kalhor plays Kamancheh, an Iranian traditional stringed instrument. He is known as Iran's "most international" artist.
He has invested much effort in acquainting foreigners with the Iranian music and is the only Iranian musician to have been nominated to receive a Grammy Award four times.
His musical mastership has adorned the score for Youth Without Youth, a 2007 fantasy drama film written and directed by Francis Ford Coppola.
"Musicians, music experts, and musicologists should be au fait with mathematics, history, and literature," has said Kalhor, in words that echo the profundity of his musical expertise.
Iranian master of calligraphy receives French Legion of Honor

Legion of Honor, the highest cultural order in France, was awarded during a ceremony to the great Iranian master of Persian calligraphy Gholam-Hossein Amirkhani.
Iranian master of calligraphy receives French Legion of Honor
The ceremony was held on Tuesday at the French Embassy in Tehran.
After receiving France's Legion of Honor, Master Amirkhani will be called Chevalier (Knight).
Speaking to IRNA on Wednesday, the prominent Iranian calligrapher said that the French medal of Legion of Honor is given to those who have produced impressive works in art and culture.
Already, several outstanding Iranian figures including the internationally acclaimed classical singer Mohammad-Reza Shajarian, prominent vocalist Shahram Nazeri, well-known film director Abbas Kiarostami, famous writer Mahmoud Dolatabadi and several others have been awarded the order of Legion of Honor.
Sports
Iran's Nemati, best female Para archer of 2016

Iranian recurve athlete Zahra Nemati has been elected as the best female Para archer of the year 2016.
Nemati, the Paralympic gold medalist, clinched the valuable title after the poll taken from 43,000 people and experts in February, 2017, National Olympic Committee of Iran reported on Monday.
She was named as the best female Para archer of year 2016 during the Las Vegas 2017 Indoor Archery World Cup.
Being paralyzed in an accident in 2003, Nemati did successfully start her presence in Paralympic scenes.
She has records of medals, among which the gold medals of London Paralympics 2012 and Rio Paralympics 2016 are the most valuable.
 Iran garners gold in AFC Beach Soccer C'ship
National beach soccer team of Iran subdued the United Arab Emirates to finish first in the 2017 AFC Beach Soccer Championship in Malaysia.
The final showdown was competed in the Pantai Batu Buruk, Kuala Terengganu on Saturday morning between Islamic Republic of Iran and the UAE. Persians managed to pull out a 7-2 victory and win the title in the Asuan extravaganza.
In a third-place match, the Japanese squad overcame Lebanese rivals 6-3 in order to stand on the bronze podium.
Accordingly, Iran, the United Arab Emirates and Japan were qualified to represent Asia at 2017 FIFA Beach Soccer World Cup in Bahamas.
The 2017 AFC Beach Soccer Championship kicked off in Kuala Terengganu, Malaysia, on March 4, and wrapped up today on March 11, 2017.
Iran was pitted against Afghanistan, Bahrain, China and Malaysia in Group A. Lebanon, Oman, Thailand and Uzbekistan were drawn in Group B. Iraq, Japan, Qatar and the United Arab Emirates shape Group C.
Iran claims 8 medals in Ukraine wrestling event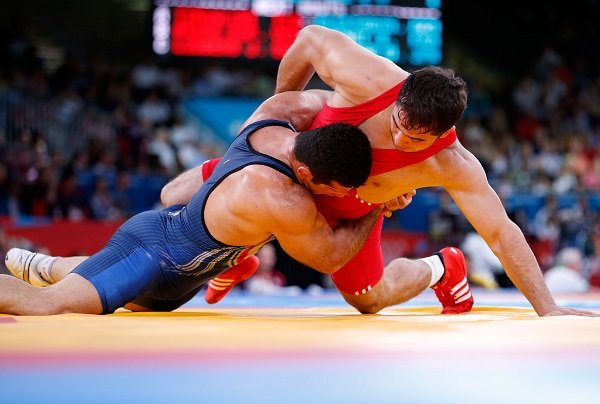 Iranian freestyle and Greco-Roman wrestlers won 2 gold, three silver and 3 bronze medals in the '21st outstanding Ukrainian Wrestlers and Coaches Memorial'.The international Greco-Roman, free style and female event, entitled '21st outstanding Ukrainian Wrestlers and Coaches Memorial' was competed on March 03-04 in the city of Kiev.
Rad Padafand Havaei wrestling club represented the Islamic Republic of Iran in the sportive tournament in Ukraine where freestylers bagged one gold, two silver and three bronze medals while the Greco-Roman squad clinched one gold and one silver.Accordingly, in the freestyle section, Reza Afzali (74kg) stood on top of the podium, Hamed Rashidi (70kg) and Mostafa Ghiasi (86kg) received silver medals while Reza Atri (57kg), Peyman Biabani (61kg) and Hossein Shahbazi (97kg) conceded to bronze trophies.
Iran's Morteza Ghiasi and Pouria Rahmani, in 65 and 125-kilogram weight divisions, were eliminated from the showdown for they suffered defeats against rivals.Also in Greco-Roman competitions, Farshad Belfakeh snatched gold medal in 71kg weight group while Shirzad Beheshtitala secured the silver medal of 59-kilo category. Davoud Abedinzadeh (85kg) stood in the fifth place as well as that Mohammadreza Geraei (66kg), Hadi Alizadeh (75kg), Mahdi Mohammadzadeh (80kg) and Shahab Ghurejili (130kg) failed to offer satisfactory performances and were knocked out of the bout.
Iran weightlifters win 9 medals in 2nd International Fajr Cup

Iranian weightlifters have featured outstanding performances at the second edition of the International Fajr Cup, and been awarded nine medals.
On Friday, Mostafa Zare'ei made a clean sweep of all the available gold medals in the 65-kilogram weight category of the competitions in the southwestern Iranian city of Ahvaz, located approximately 830 kilometers southwest of the capital, Tehran.
Zare'ei snatched the snatch gold with 130 kilograms; and his Turkish opponent raised 128 kilograms overhead to pocket the silver. Shafiq Jaan, a representative from Afghanistan, got the bronze medal, having lifted up 80 kilograms.
Zare'ei raised 151 kilograms in the clean and jerk contests, and dominated the podium. His Turkish rival hoisted 150 kilograms and claimed the second spot, while the Afghanistan's Jaan took away the bronze with a lift of 100 kilograms.
Zare'ei edged the Turkish contestant to bag the gold medal with an aggregate of 281 kilograms. The Turkish weightlifter's overall register hit 278 kilograms and finished in the second place, while the Afghan competitor secured the aggregate bronze medal with 180 kilograms.
Later in the day, Yaqoub Pashoutani lifted 118 kilograms to strike the silver medal in the snatch event of the 62-kilogram class.
He lifted 149 kilograms to claim the clean and jerk gold medal for the Islamic Republic of Iran.
Pashoutani stood on the top podium for an aggregate of 267 kilograms, and was followed by a Romanian participant with his aggregated tied on 263 kilograms.
Moreover, Hossein Golparvar clinched the snatch gold in the 56-kilogram weight division with a lift of 111 kilograms.
He won the gold in the clean and jerk, having elevated 130 kilograms. Golparvar received the aggregate gold for 241 kilograms.
The second edition of the International Fajr Cup began in Ahvaz, southwestern Iran, on March 9, and will finish on March 14, 2017.