Iran Front Page- All newspapers today covered the remarks made by the Leader of Iran's Islamic Revolution Ayatollah Seyyed Ali Khamenei in the opening ceremony of Palestinian Intifada Conference in Tehran.
Comments made by other participants of the conference, including Iranian Parliament Speaker Ali Larijani and his counterparts from different Arab countries, were also widely covered.
Another top story today was the dust pollution in southwestern Iranian province Khuzestan and the plans by Iranian Parliament and government to defuse the crisis.
The above issues, as well as many more, are highlighted in the following headlines:
19 Dey:
1- Iran's Leader: Existing Crises in Region Have Undermined Issue of Palestine
2- Parliament Speaker: Palestinian People Are Most Innocent Nation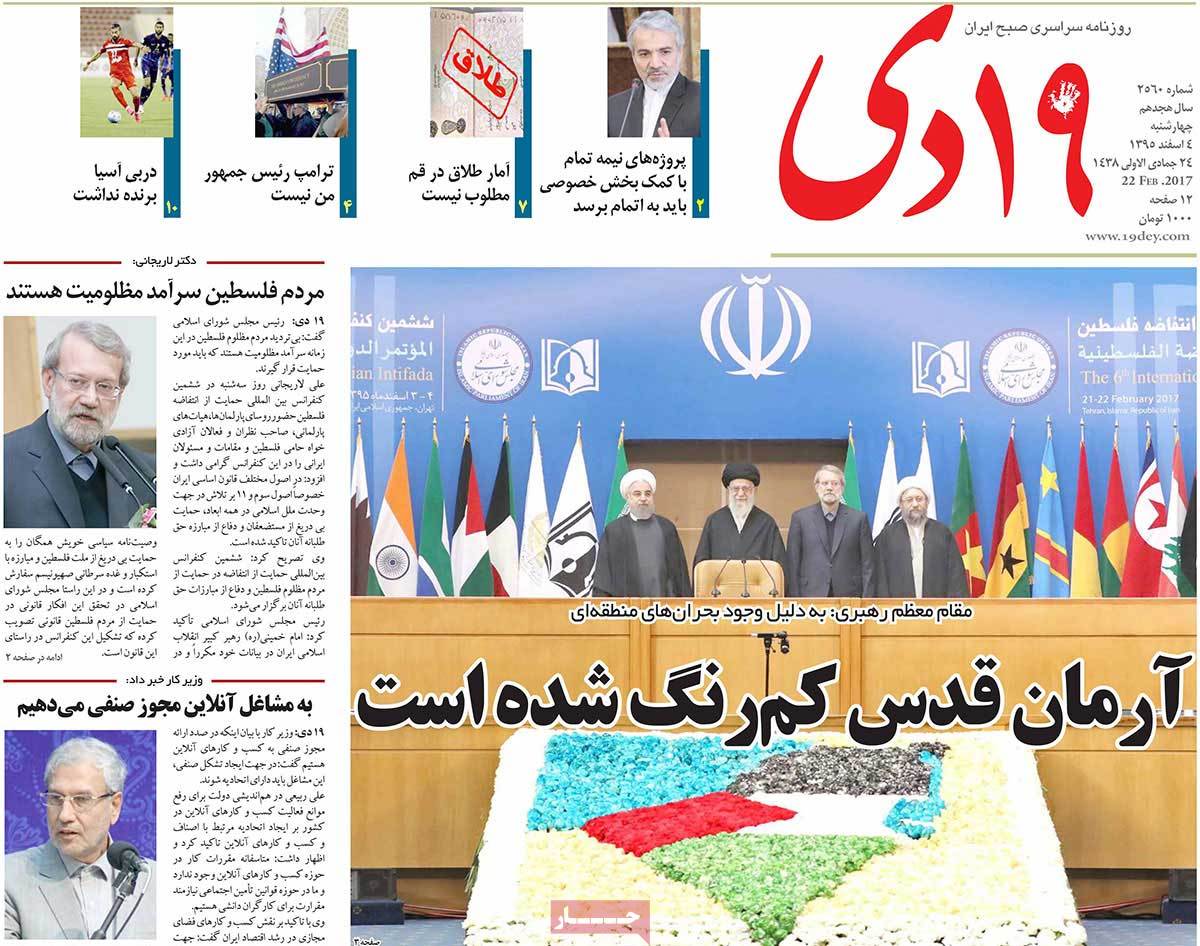 ---
Abrar:
1- Emir of Kuwait and Oman's King Confer on Ways to Ease Tensions in Iran-Saudi Ties
2- Iraqi PM: No Foreign Forces in Iraq Is Fighting ISIS
---
Aftab-e Yazd:
1- 73% of Iranian People Use Telegram Messaging App
---
Arman-e Emrooz:
1- Iran's Leader: All Islamic and National Movements Obliged to Serve Palestinian Cause; Third Intifada to Inflict another Defeat on Israel
2- Some Iranian Officials Are Supporters of Ahmadinejad: Rouhani's Aide
---
Asrar:
1- Health Minister: 90% of Deaths in Iran Caused by Non-Communicable Diseases
2- Culture Minister: We Should Improve People's Motivation for Reading Books in Cost-Efficient Way
3- Armenian President: Iran Nuclear Deal One of Best Int'l Agreements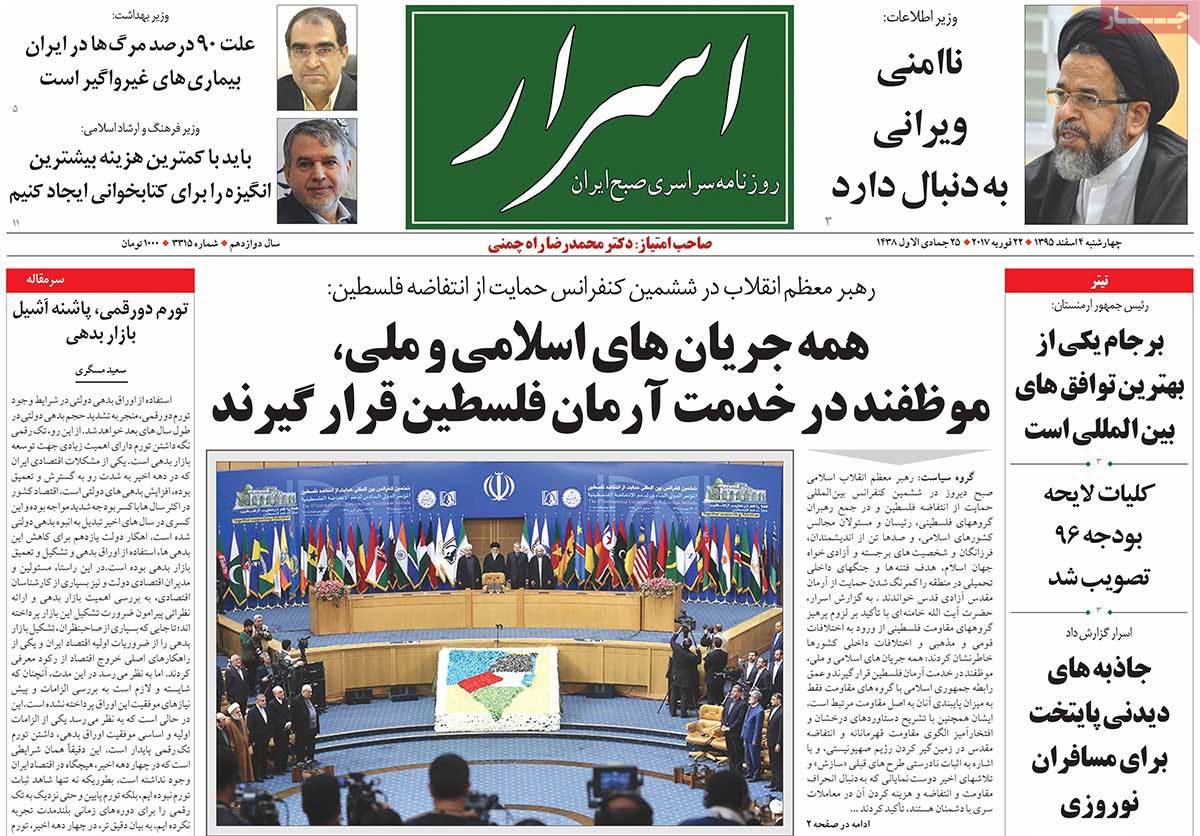 ---
Besharat-e Now:
1- Sad Story of Palestine in Ayatollah Khamenei's Remarks: Israel's Existence Hinges on Destroying Palestine
2- Mousavian: Direct Talks with US Should Be Authorised by Iran Leader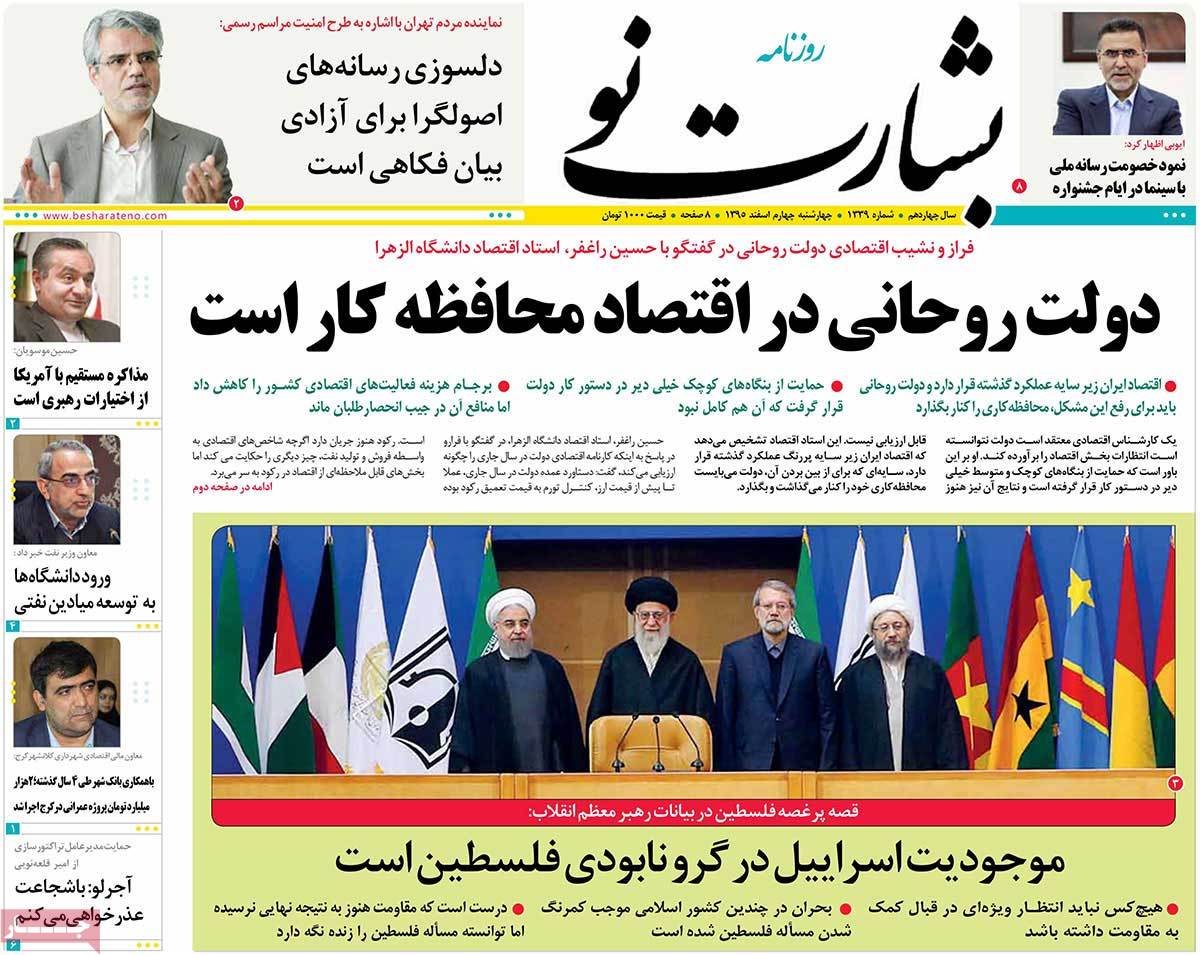 ---
Etemad:
1- Iran's Leader: National Unity, Necessity for Palestine
2- Regional Aspects of Iran Nuclear Deal Discussed in Meeting Attended by Qatari and Saudi Diplomats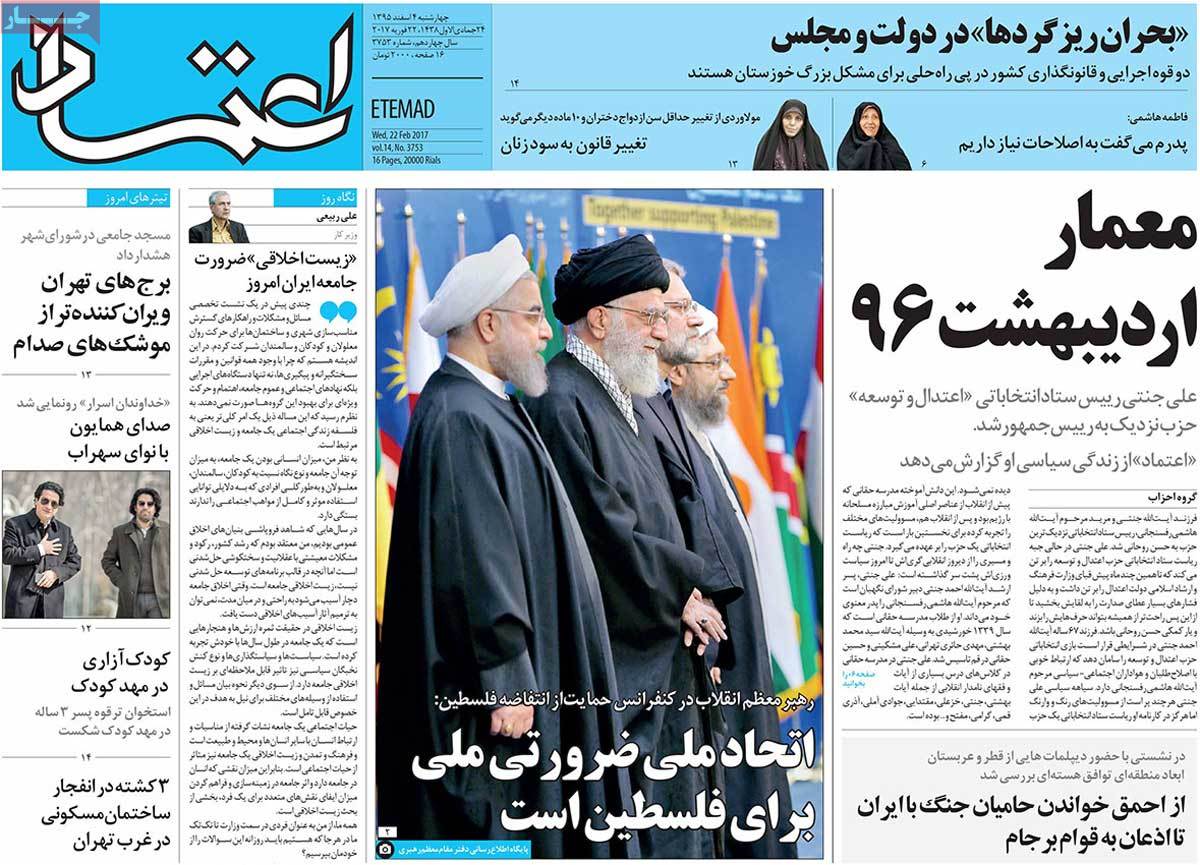 ---
Ettela'at:
1- Trump Appoints General McMaster as New National Security Adviser
2- 657 Healthcare Centres Opened in Deprived Regions of Iran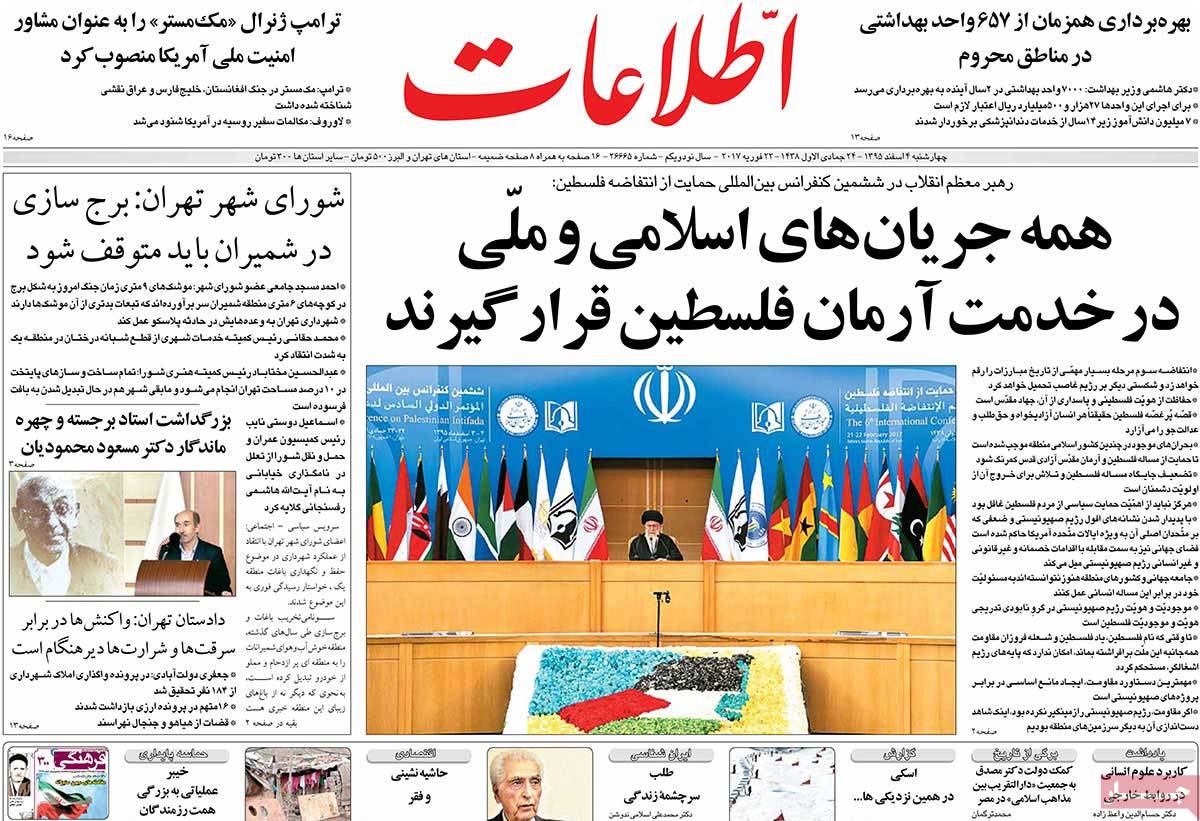 ---
Ghanoon:
1- Ayatollah Khamenei Explains Iran's Conditional Support of Palestinian Resistance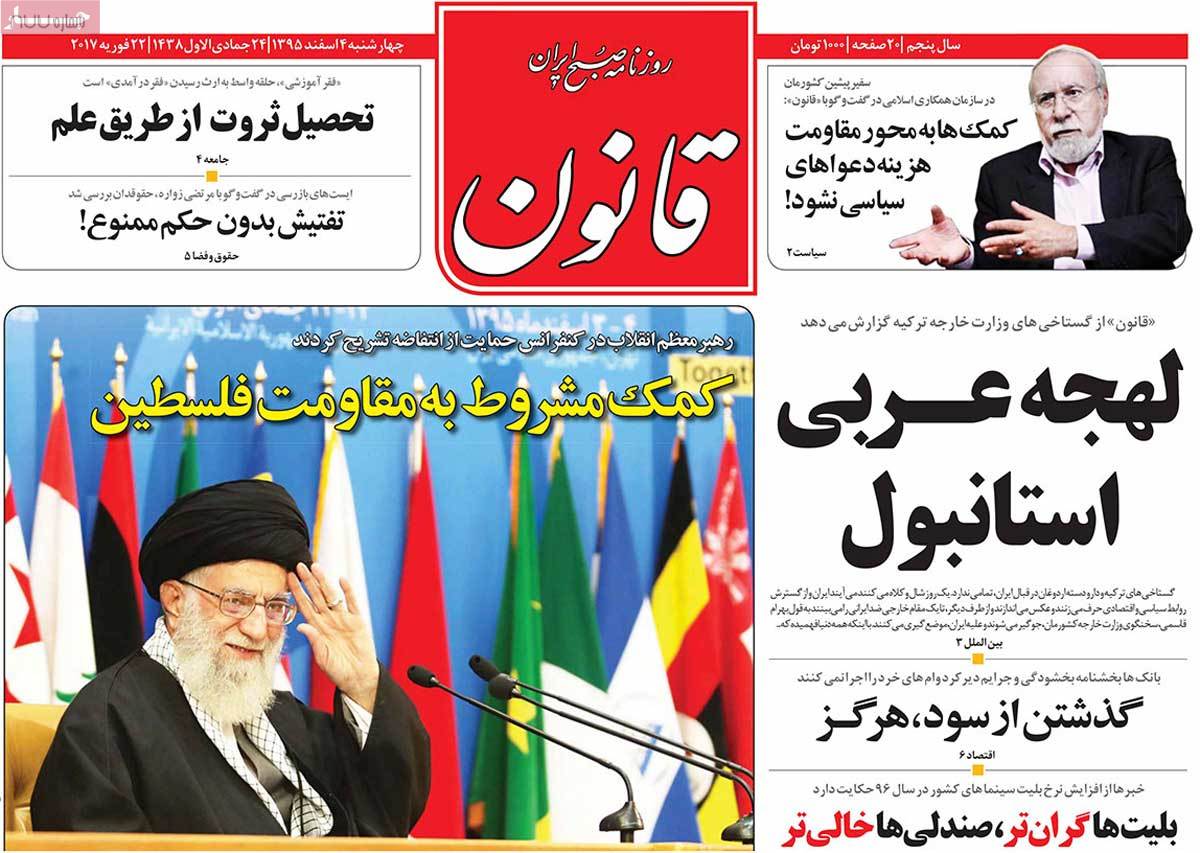 ---
Iran:
1- Iran's Leader: Efforts to Liberate Palestine Should Be Pivot of Unity for Islamic Countries
2- 700 Guests from 70 Countries Attend Global Conference for Supporting Palestine in Tehran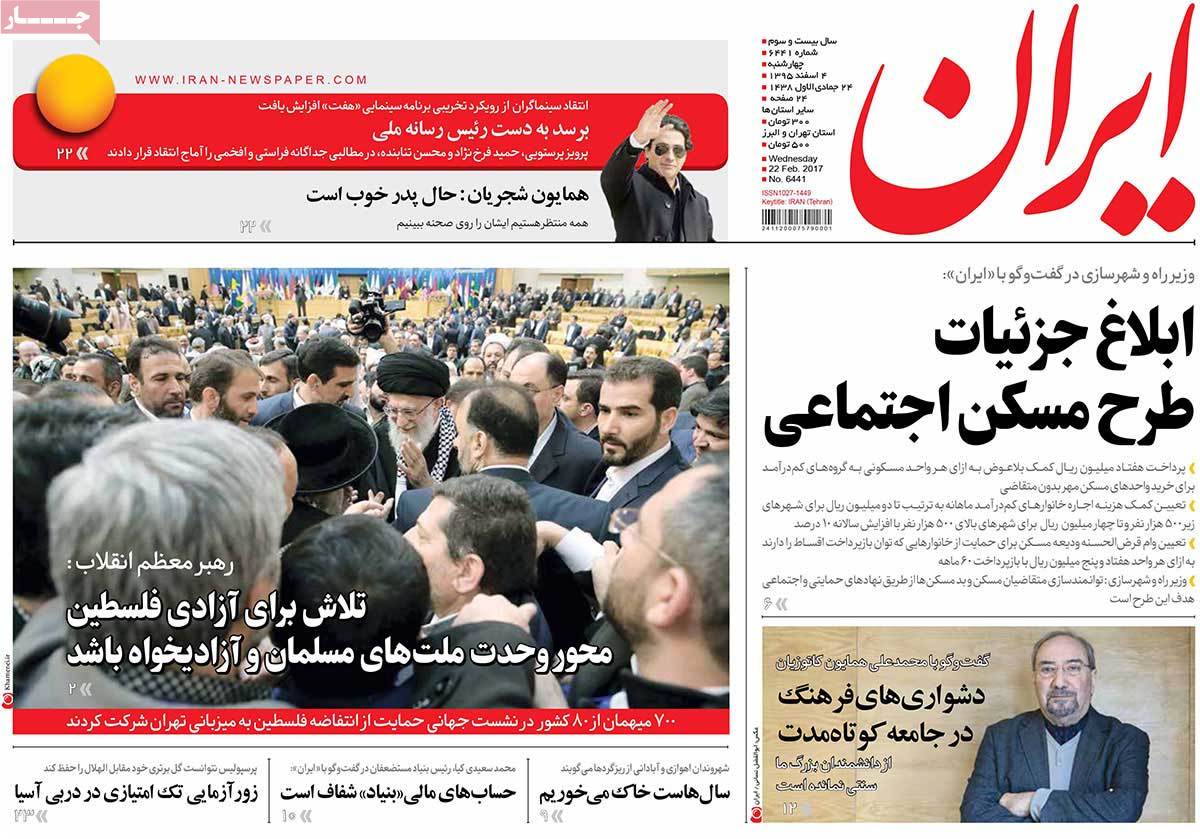 ---
Javan:
1- Iran's Leader: Zionist Regime's Dirty Page to Be Closed; Israel Is Cancerous Tumour
2- Ayatollah Khamenei Allocates 200 Billion Rials ($52m) to Young People in Deprived Province Sistan and Baluchestan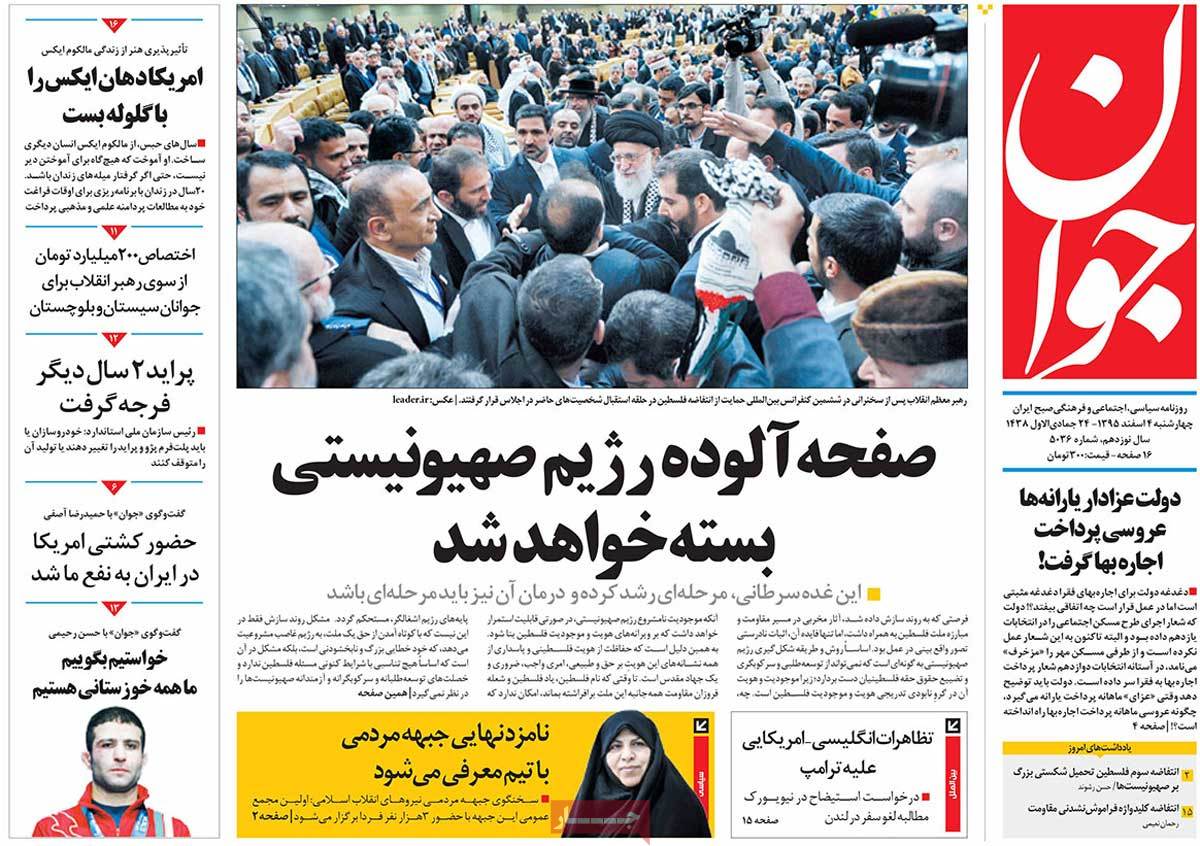 ---
Jomhouri Eslami:
1- Iran's First VP: Tehran Welcomes Russian Firms' Cooperation in Implementation of Oil and Gas Projects
2- FM Zarif: Iran Is Reliable Trade Partner for Europe
3- Azerbaijan's President Appoints His Wife as First VP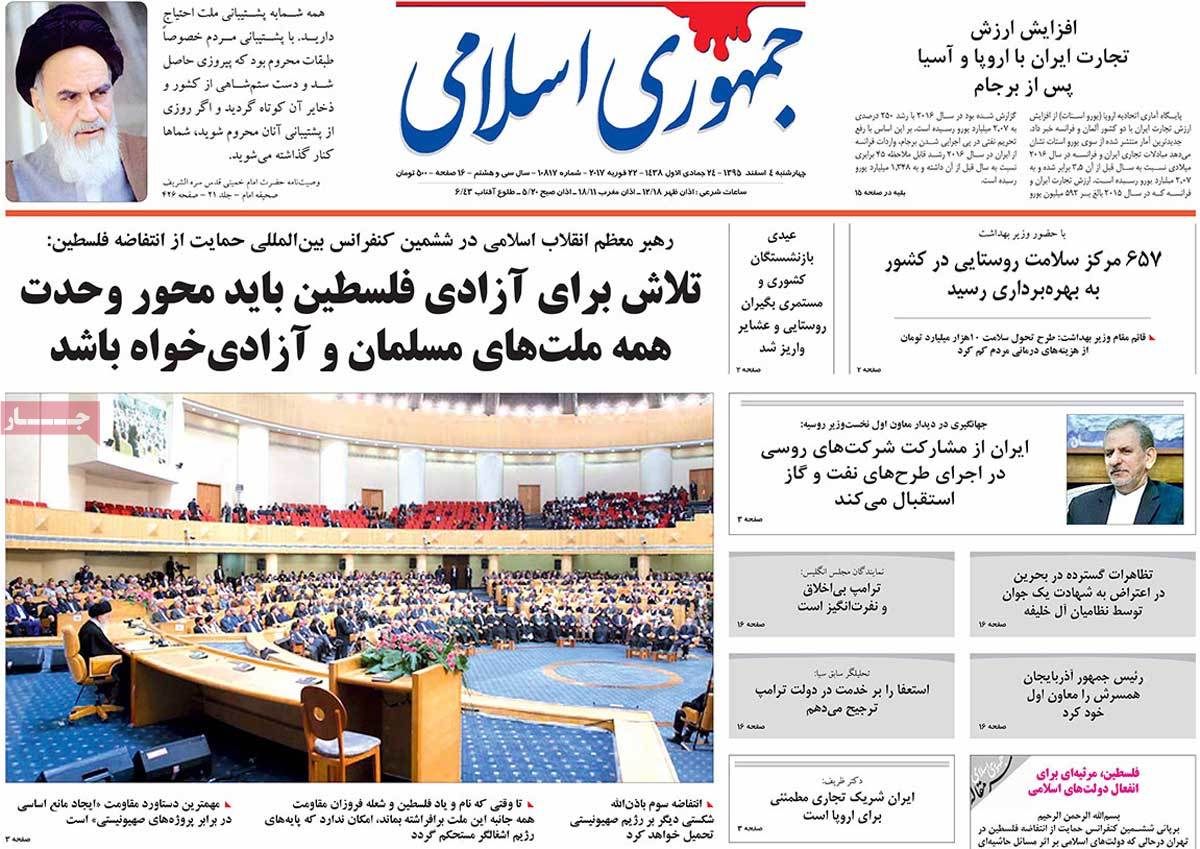 ---
Kayhan:
1- Iran's Leader: Trend of Israel's Geographical Expansion Reversed Thanks to Resistance
2- IRGC Ground Force's Efforts Lead to Launch of Biggest Mobile Field Hospital in Iran's Taibad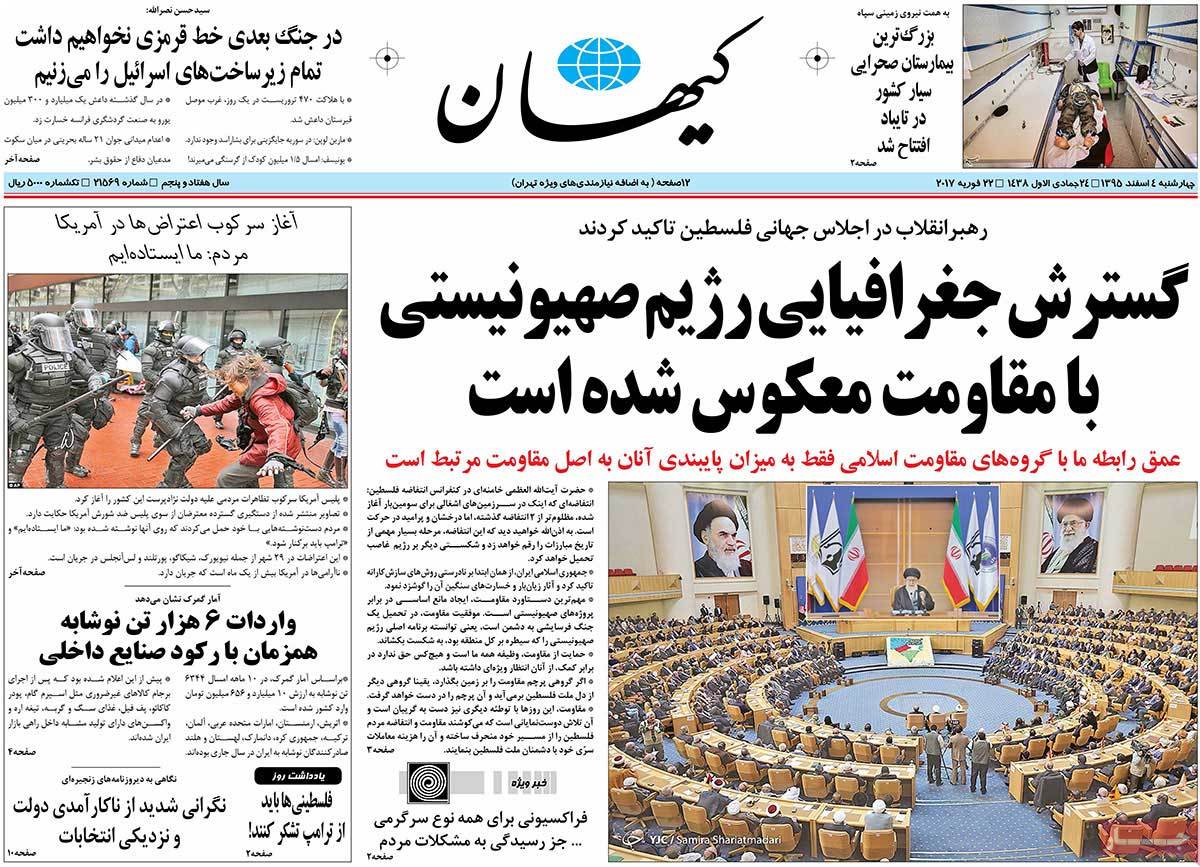 ---
Payam-e Zaman:
1- Iran Leader: Resistance Front Faced with Plots Hatched by Those Who Pretend to Be Friends
2- Intelligence Minister: ISIS Result of American-Israeli Plot
3- IRGC General: Iran Can Target Enemies from Far Distances
4- Rouhani Will Soon Visit Russia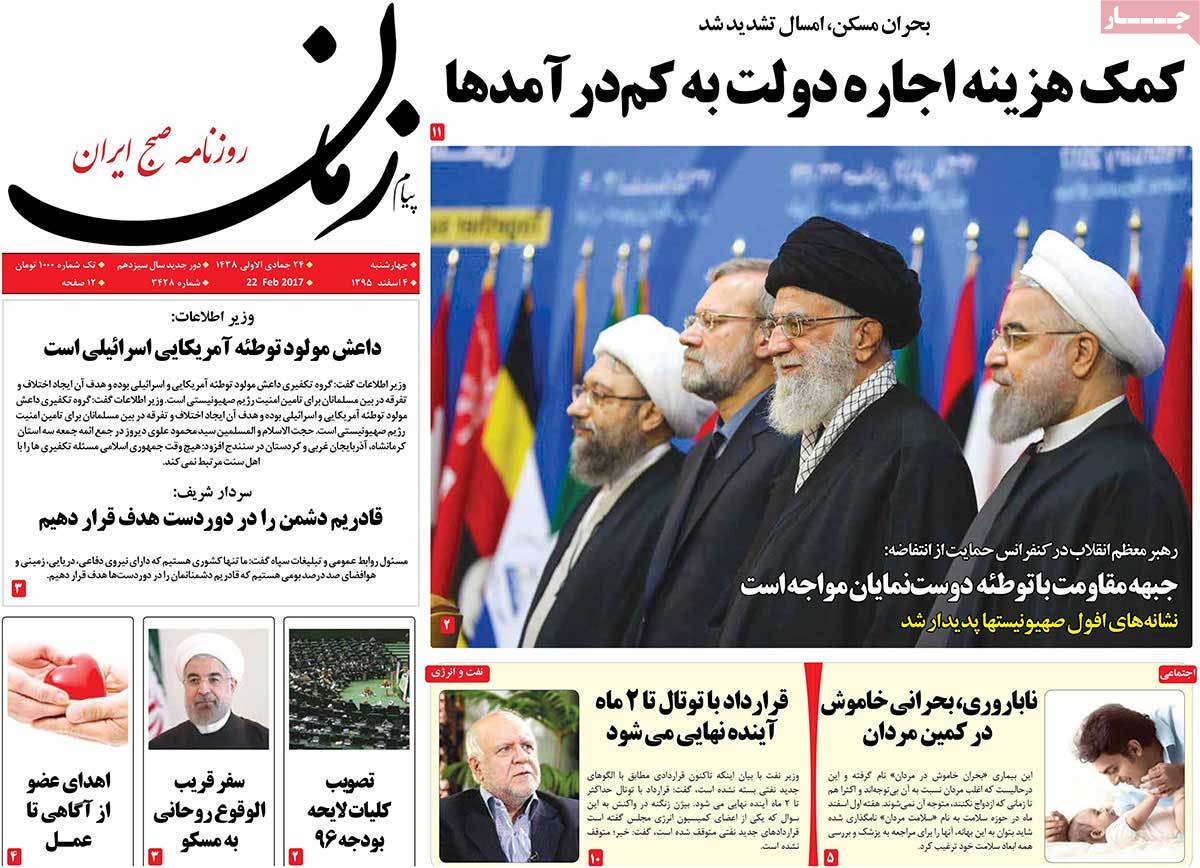 ---
Resalat:
1- World Moving towards Confrontation with Zionists: Iran Leader
2- Ayatollah Javadi Amoli: Only Pure Islam Can Create Real Civilisation
3- Parliament Speaker: Zionist Regime Seeks to Replace Real Enemy with Fabricated One
4- Hezbollah Chief: No Red Line in Next Hezbollah War with Zionist Regime of Israel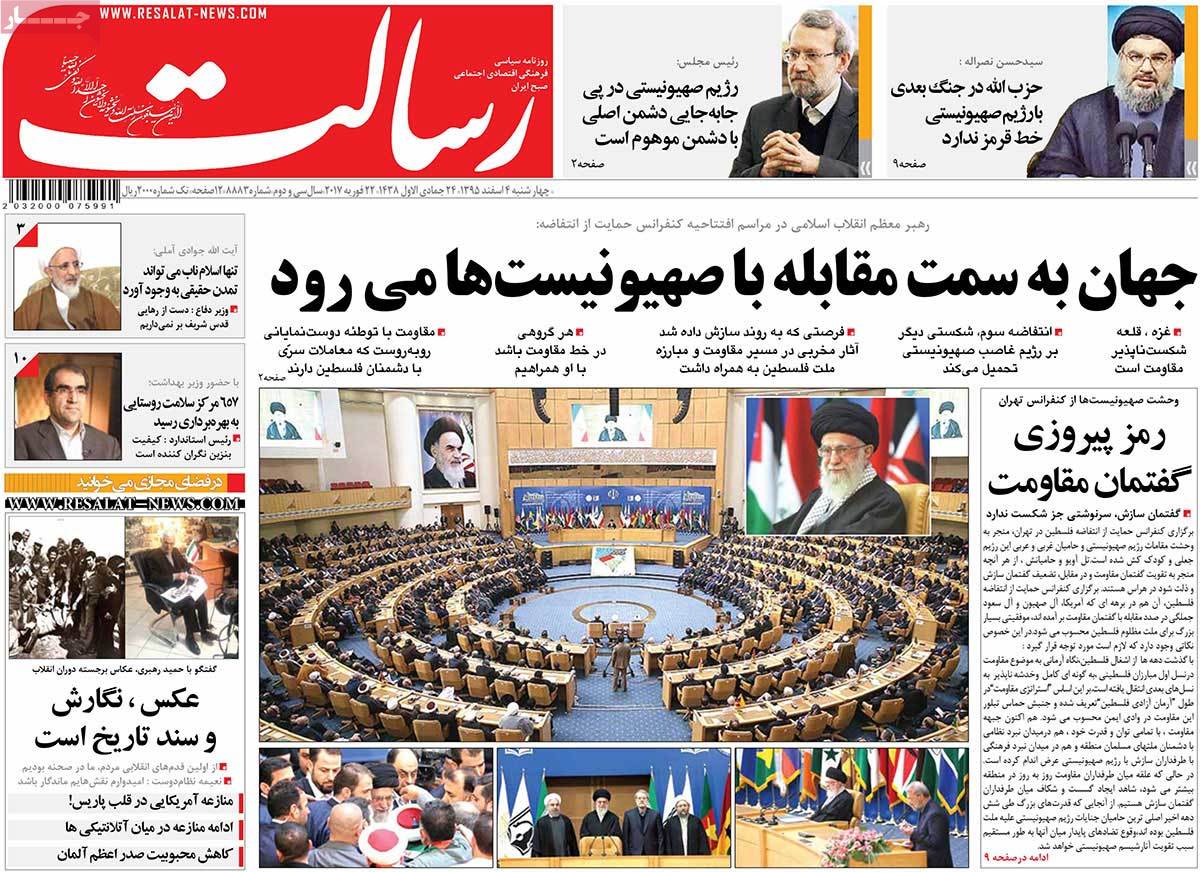 ---
Rooyesh-e Mellat:
1- Lebanese Parliament Speaker: Muslim States Should Shut Down Their Embassies in Washington
---
Shahrvand:
1- Iran's Leader Compares Great Achievements of Resistance with Heavy Damages of Peace Process
2- Khuzestan Province Is Iran's Priority: Environment Dept. Chief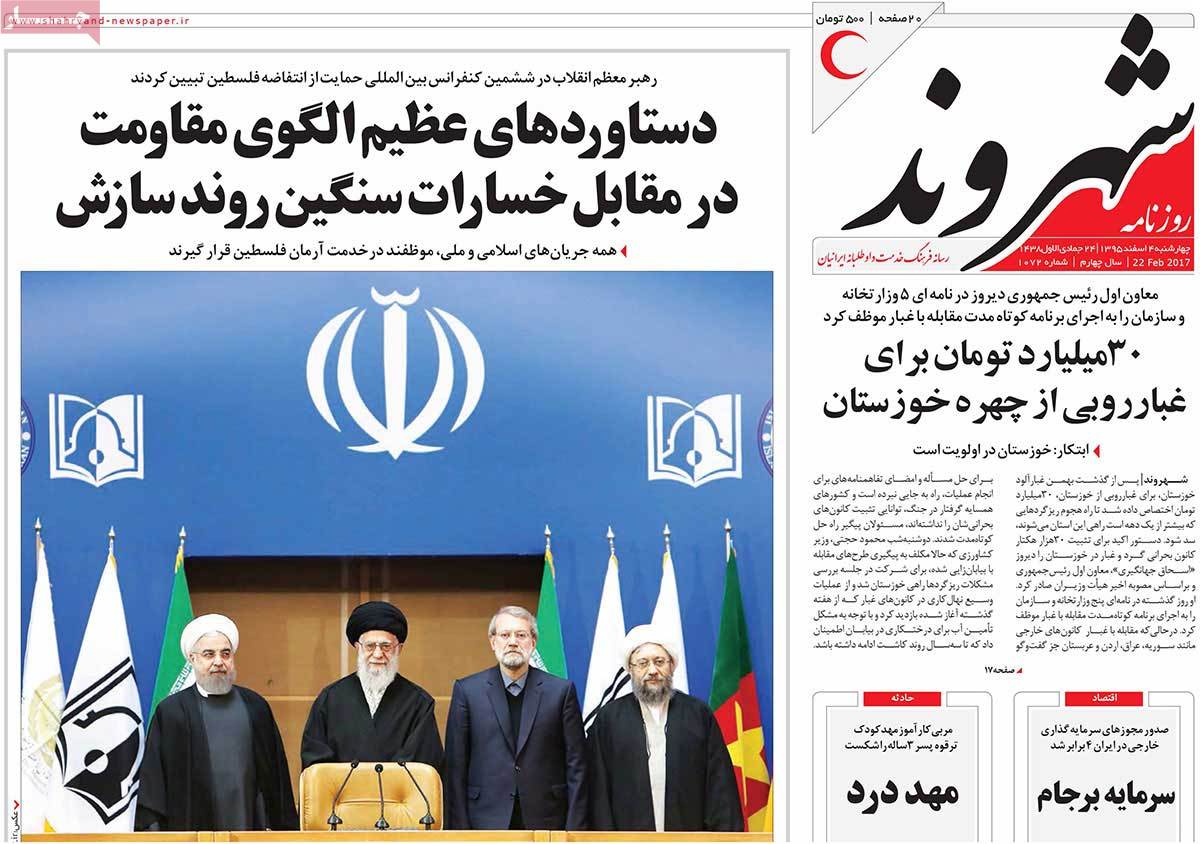 ---
Shargh:
1- We Are with Every Group Moving on Path of Resistance: Ayatollah Khamenei