Newspapers on Wednesday covered the message by the Leader of the Islamic Revolution Ayatollah Seyyed Ali Khamenei to the Team Iran, the athletes coming back from Rio 2016 Olympics. The Leader in his message thanked the athletes and praised their efforts.
The remarks made by Ali Larijani, the Parliament Speaker, about Russia's continued use of Iranian airbase also received good coverage today.
Some papers also covered the arrest of a member of Iranian negotiating team on charge of espionage.
The cancellation of concerts in Mashhad, north-eastern Iran, has also remained a top story in many newspapers.
The above issues, as well as many more, are highlighted in the following headlines:
Abrar:
1- Larijani: No Halt to Russian Aircraft's Use of Hamadan Airbase
2- US State Dept.: Washington Paid $1.3bn of Iran's Debt
3- Prosecutor-General: Babak Zanjani's Assets Will Be Given to Oil Ministry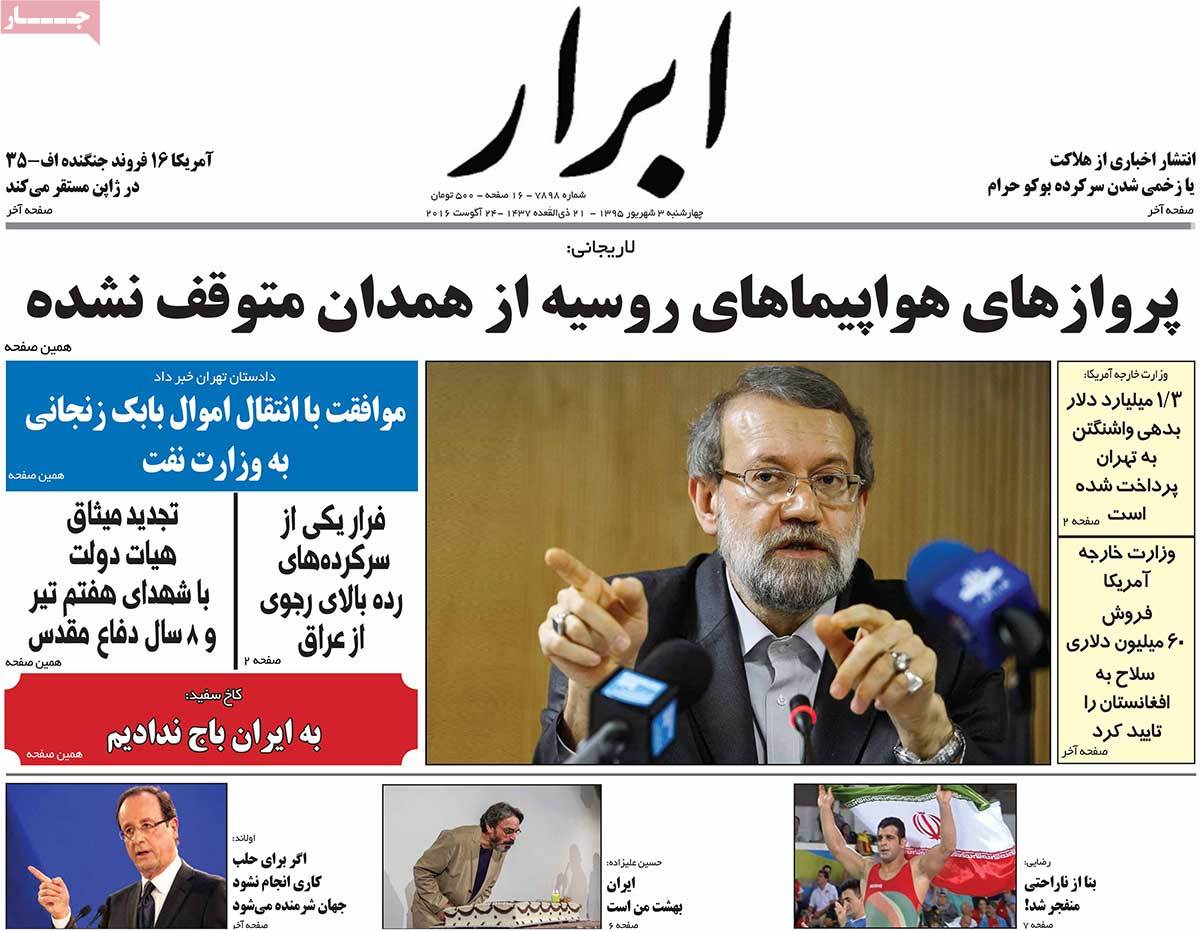 ---
Abrar-e Eqtesadi:
1- 127-Fold Increase of Foreign Investment in Tehran
2- China Returns to Iran's Oldest Oilfield
3- Deputy Oil Minister: Iran's Plan for Sale of Gas to Japan
---
Aftab-e Yazd:
1- Leader's Message: We Appreciate Value of Olympic Athletes
2- No Regress in Iran's Ties with Latin America during Rouhani Term: Analyst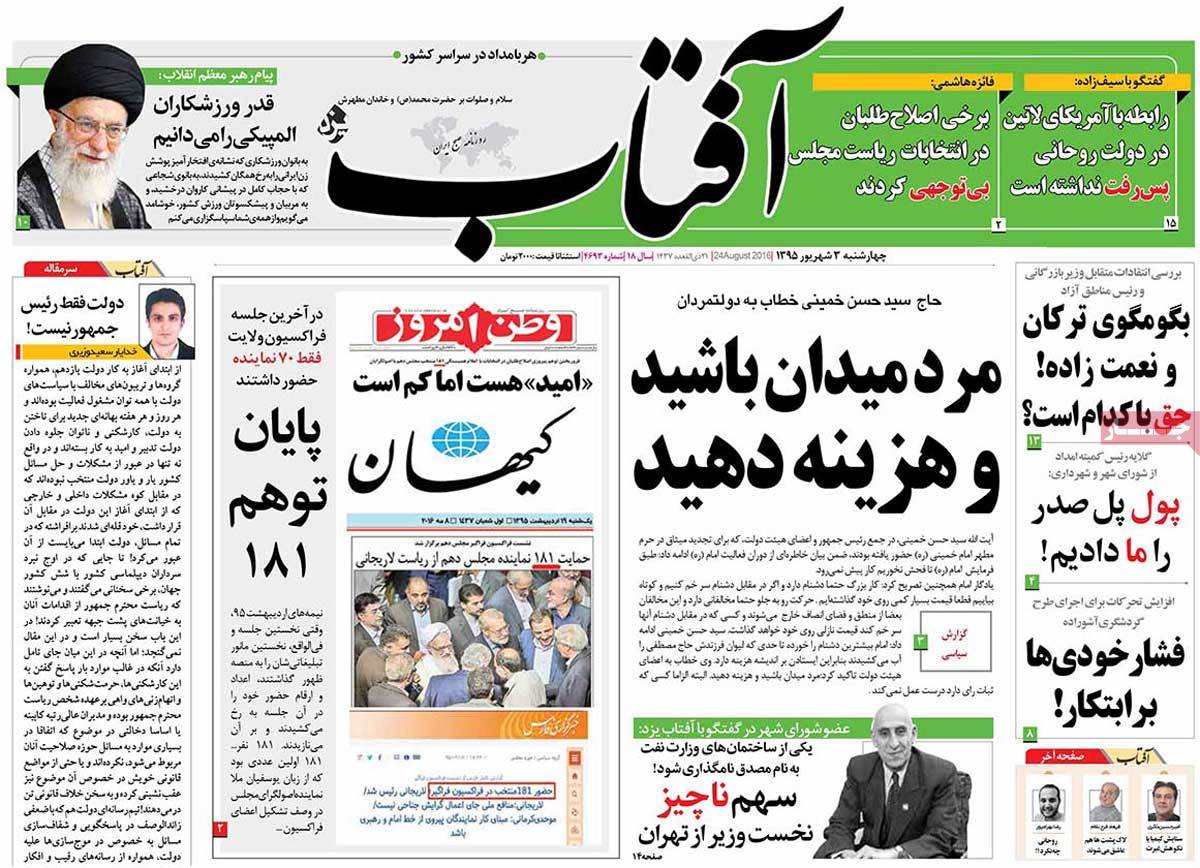 ---
Amin:
1- Asghar Farhadi's 'A Separation' Named as 9th Best Film of 21st Century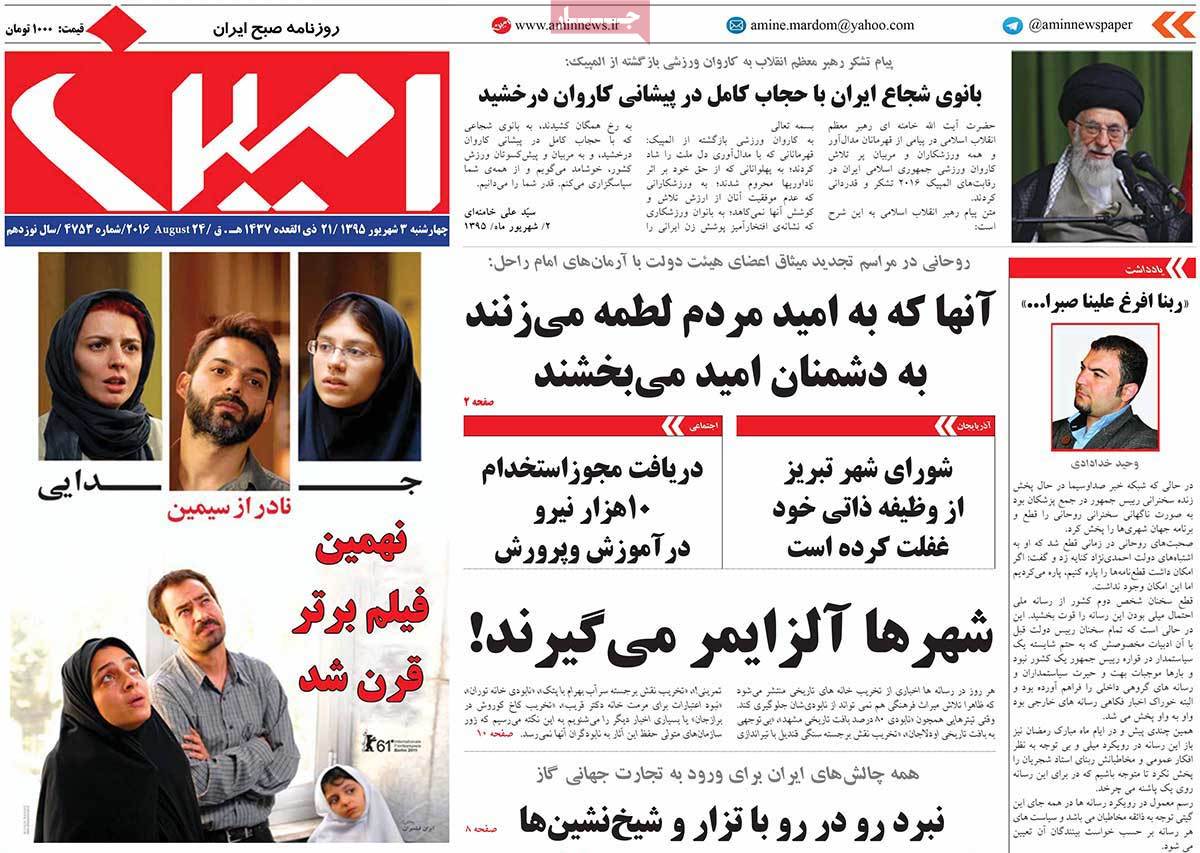 ---
Arman-e Emrooz:
1- Rouhani: Those Who Make People Frustrated Are Giving Hope to Enemies
2- Zibakalam to Defence Minister: It's MPs' Right to Probe into Russia's Use of Hamadan Base
3- 450 Telegram Channel Administrators Arrested and Summoned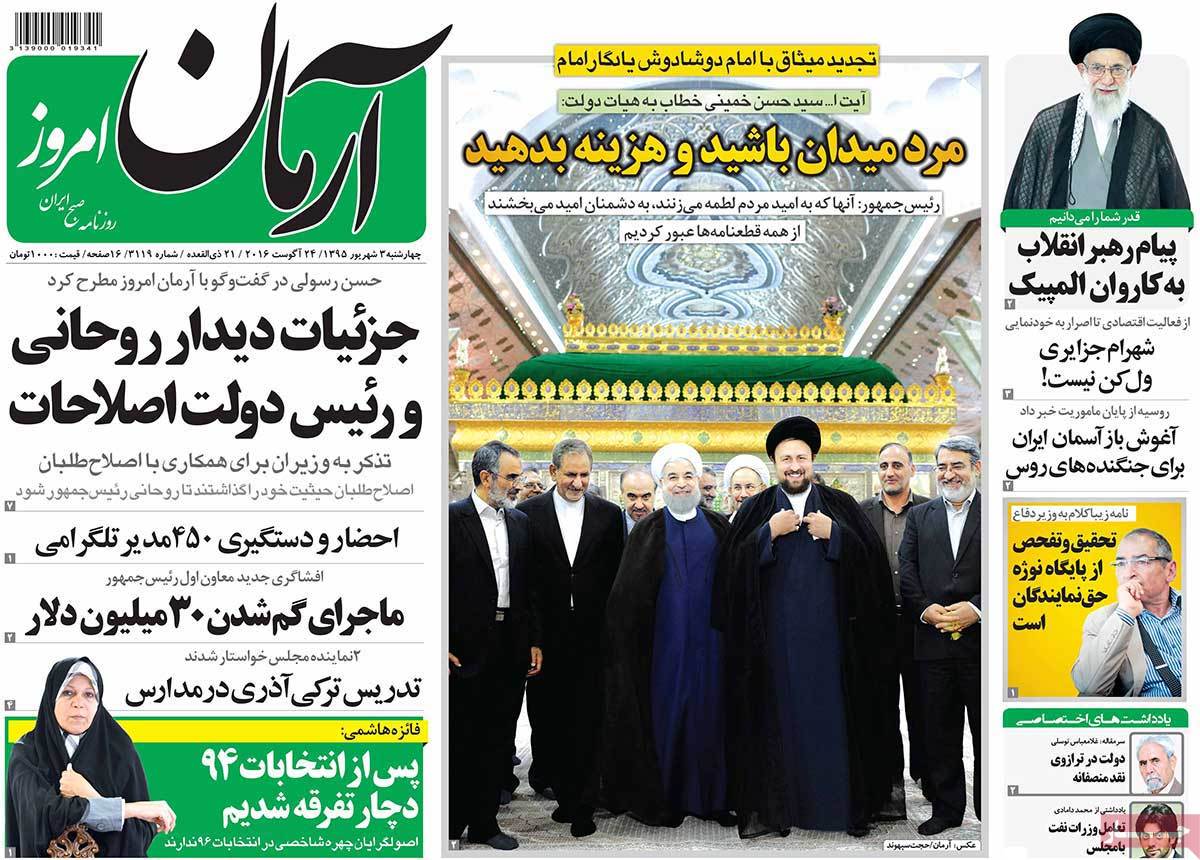 ---
Asr-e Rasaneh:
1- Increase in Production of Raw Steel in Iran and the World
2- 15% Increase in Export of German Goods to Iran
3- Thanks to JCPOA, Oil Industry's Frozen Equipment Are Released: Official
4- Rouhani's Government Created National Integrity in Iran: Minister
---
Asrar:
1- Rafsanjani: Implementation of Law, Most Important Index in Analysing Civil Rights
2- Health Minister: I'm Opposed to Transplant of Iranian People's Body Organs to Foreign Nationals
3- Ebtekar: 11 to 17 Billion Cubic Metres of Water Stolen from Aquifers
4- Iran's Customs Office: Iran's Foreign Trade Is near $36bn
---
Besharat-e Now:
1- Economist: Opposition to Oil Contracts Isn't out of Compassion, But Politically-Motivated
2- 45 People in Iran Die in Car Accidents Every Day: 280,000 Killed by Road Crashes in Past 10 Years
3- 80% Decrease in Number of Foreign Tourists, and 20% in that of Iranian Ones Visiting Mashhad: Hotel Syndicate Chief
Attack on Saudi Consul Was a Shock to Mashhad's Economy
Mashhad Officials Should Better Think about Unemployment and Downturn of Tourism in the City rather than Confrontation with Concerts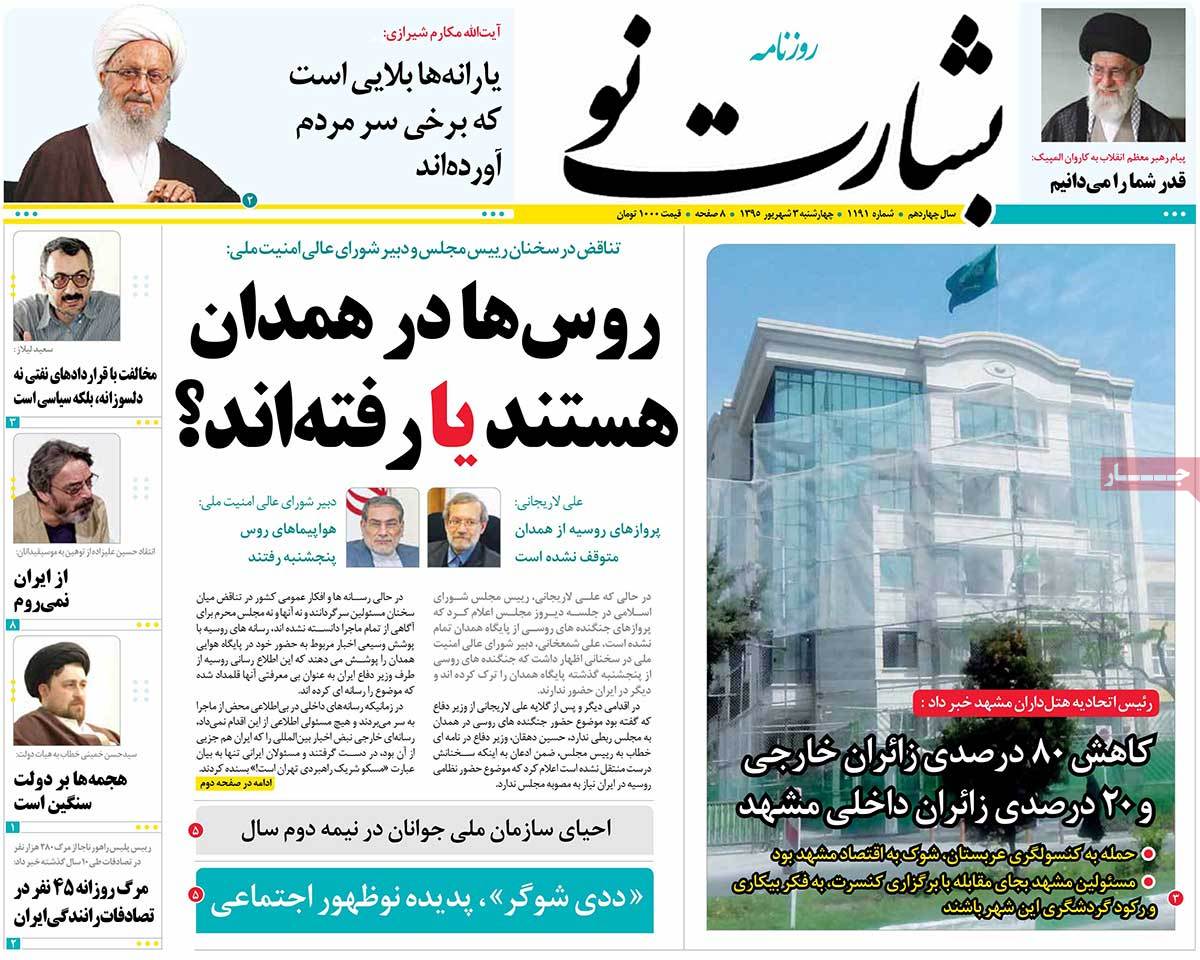 ---
Etemad:
1- A Greek National Arrested for Refusing to Repay $28bn of Iran's Money
2- First VP Warns Government Executives: Implement President's Policies, If You Can't, Just Leave
---
Ettela'at:
1- President Rouhani: Imam Khomeini's Family Is a Great Backing for Revolution and Government
2- 75,000 Jobs Created for the Disabled during Rouhani's Government: Official
3- Ansarullah Praises Iran's Peaceful Stances towards Yemen Crisis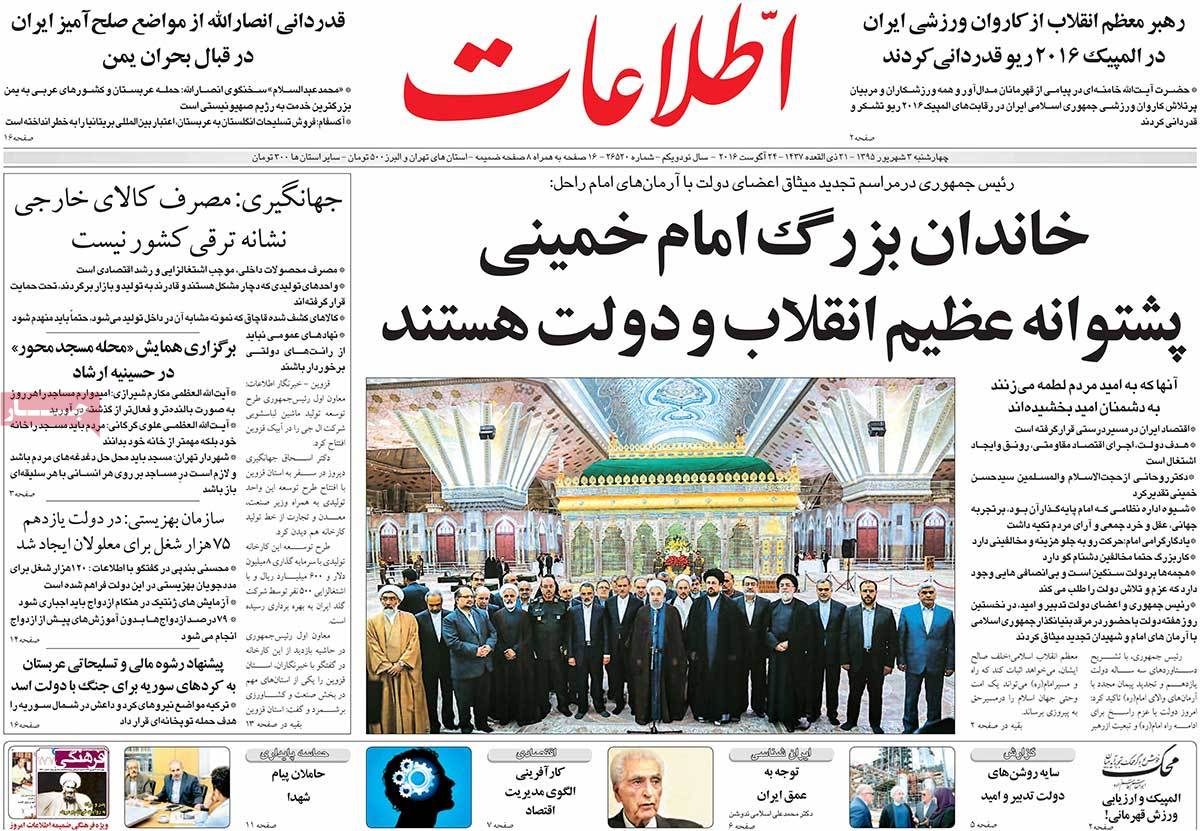 ---
Hemayat:
1- Human Rights Official: Revision in Law of Fight against Illicit Drugs Doesn't Mean Removal of Death Penalty
2- Al Saud's Moves to Weaken Syrian Army Continue: Saudi Arabia Offers Bribe to Syrian Kurdish Opposition
3- 1 Single Apartment Registered for 4,299 Companies in Kish Island [Free Trade Zone]: Judiciary
4- Ayatollah Jannati: Ties with US Don't Resolve Iran's Economy Problems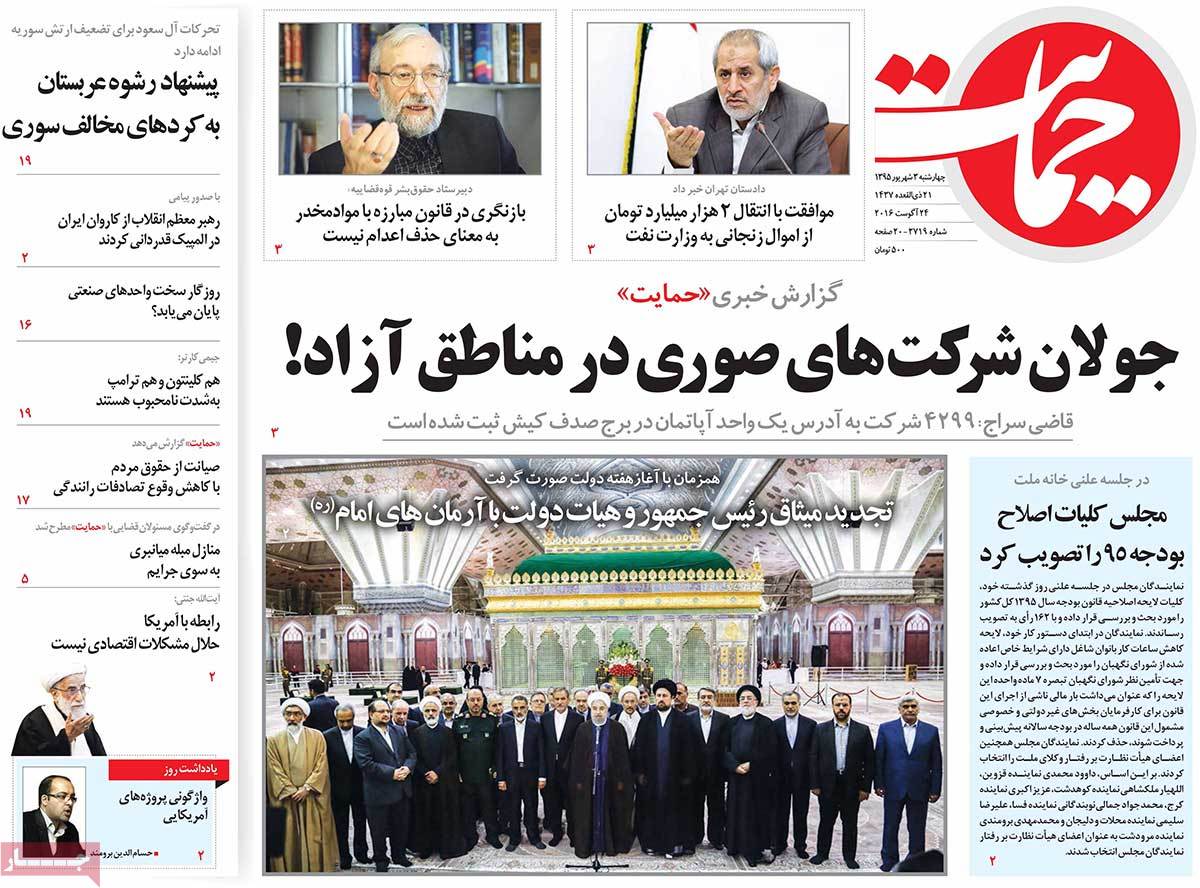 ---
Iran:
1- CBI Governor: 6,000 LCs Opened after JCPOA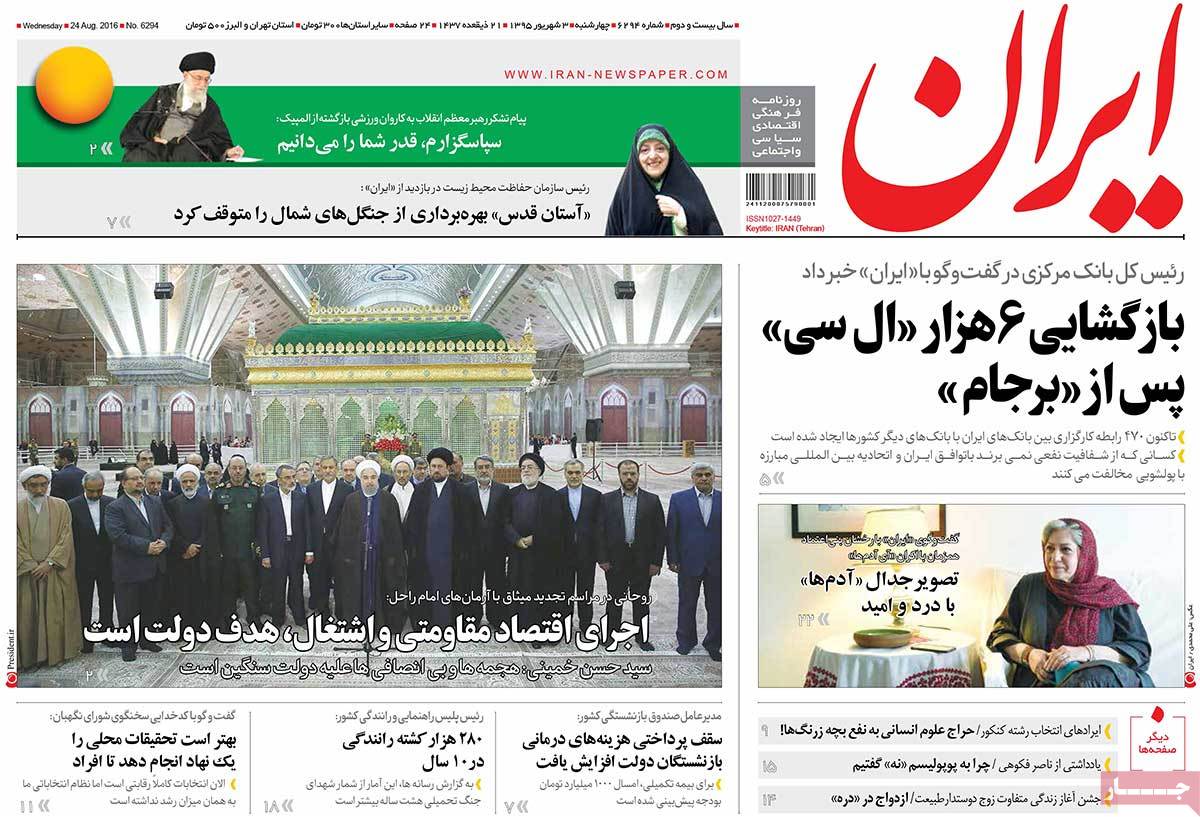 ---
Javan:
1- Ayatollah Makarem Shirazi: Telegram Messenger App's Harms Are More than Its Benefits [The Grand Ayatollah said he has cried when he heard the report on young Iranians' use of cyberspace. He said unethical behaviours, particularly un-Islamic relationships, are spreading in Telegram. The bandwidth given to Telegram should be dedicated to National Information Network]
2- ICT Minister: I Don't Accept that Telegram Continues Its Operation in Iran [under current circumstances]
3- We Set Fire on Smuggled Goods to Prevent It from Reaching Smugglers' Hands Once Again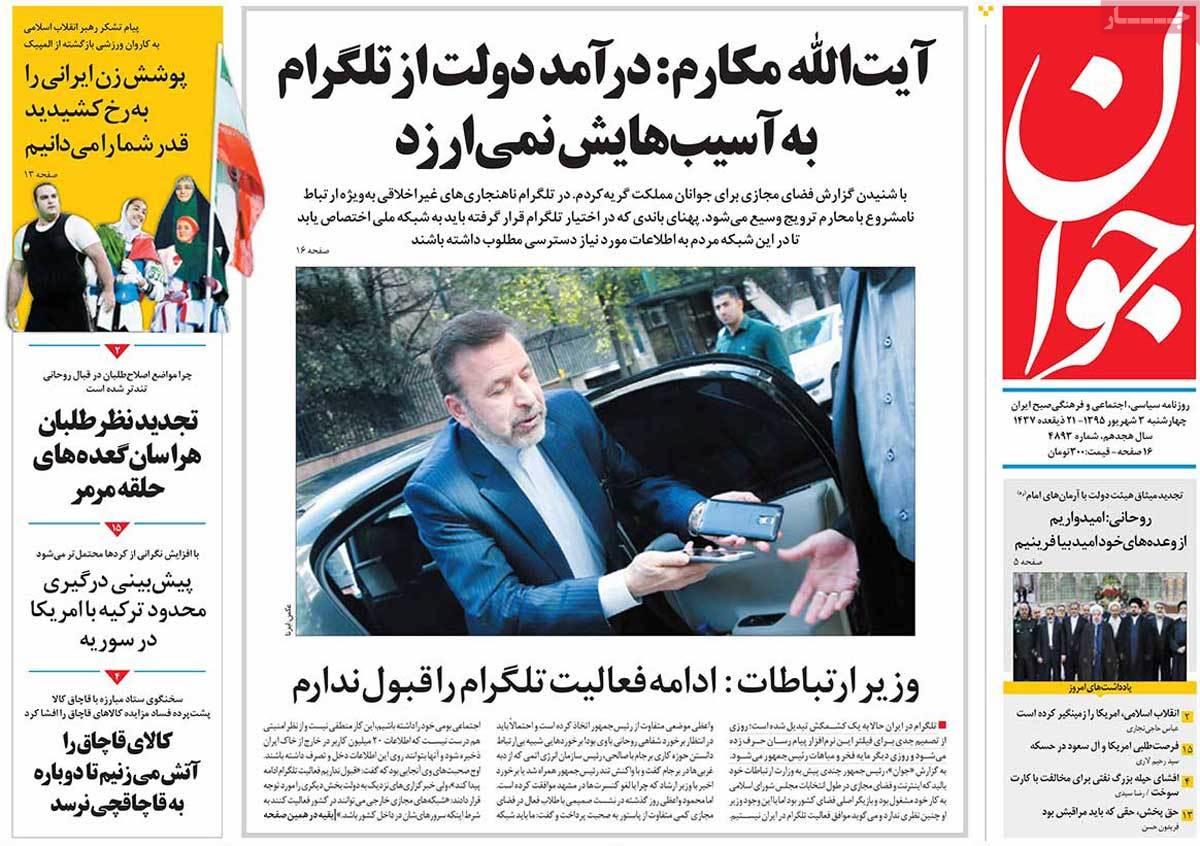 ---
Jomhouri Eslami:
1- Rouhani: Government Pursuing Imam Khomeini's Path
2- SNSC Secretary: Tehran-Moscow Cooperation Is Strategic and Includes Extensive Aspects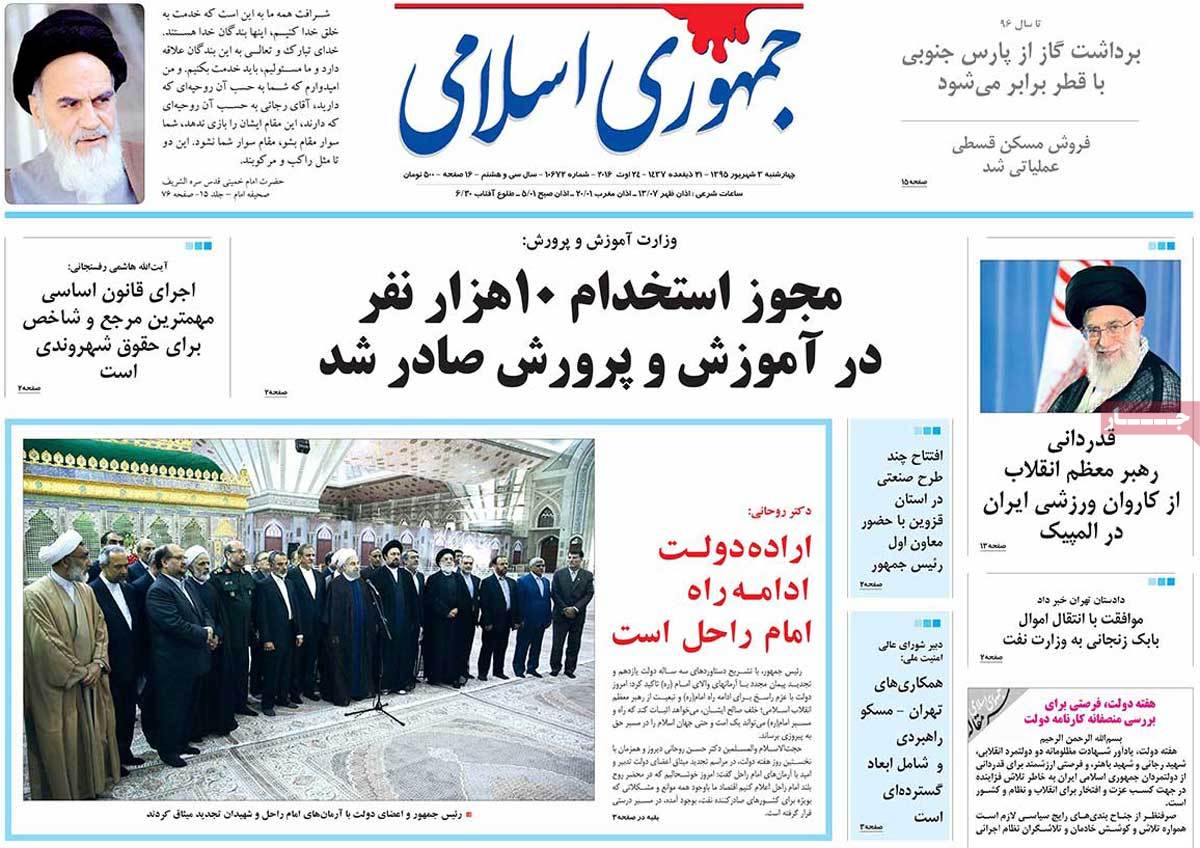 ---
Kayhan:
1- Clerics and Friday Prayer Imams Criticize Holding Concerts in Holy City of Mashhad
2- German Gov't Asks People to Reserve Water and Food after Increased Threats of Terrorist Attacks
3- Member of Iranian Negotiating Team Arrested for Espionage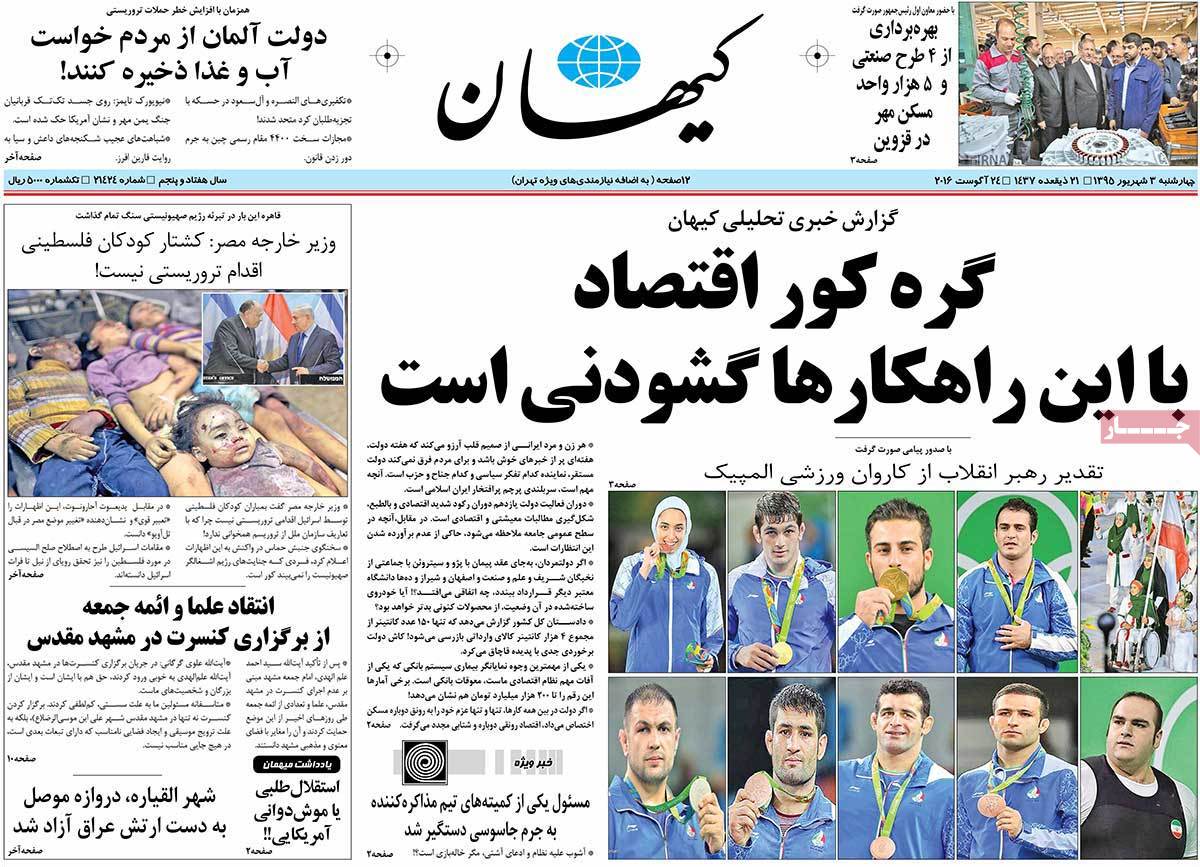 ---
Payam-e Zaman:
1- Zarif: US Cannot Impose Its Policies on Us
2- South Pars Gas Field's Daily Output Increased to 140mcm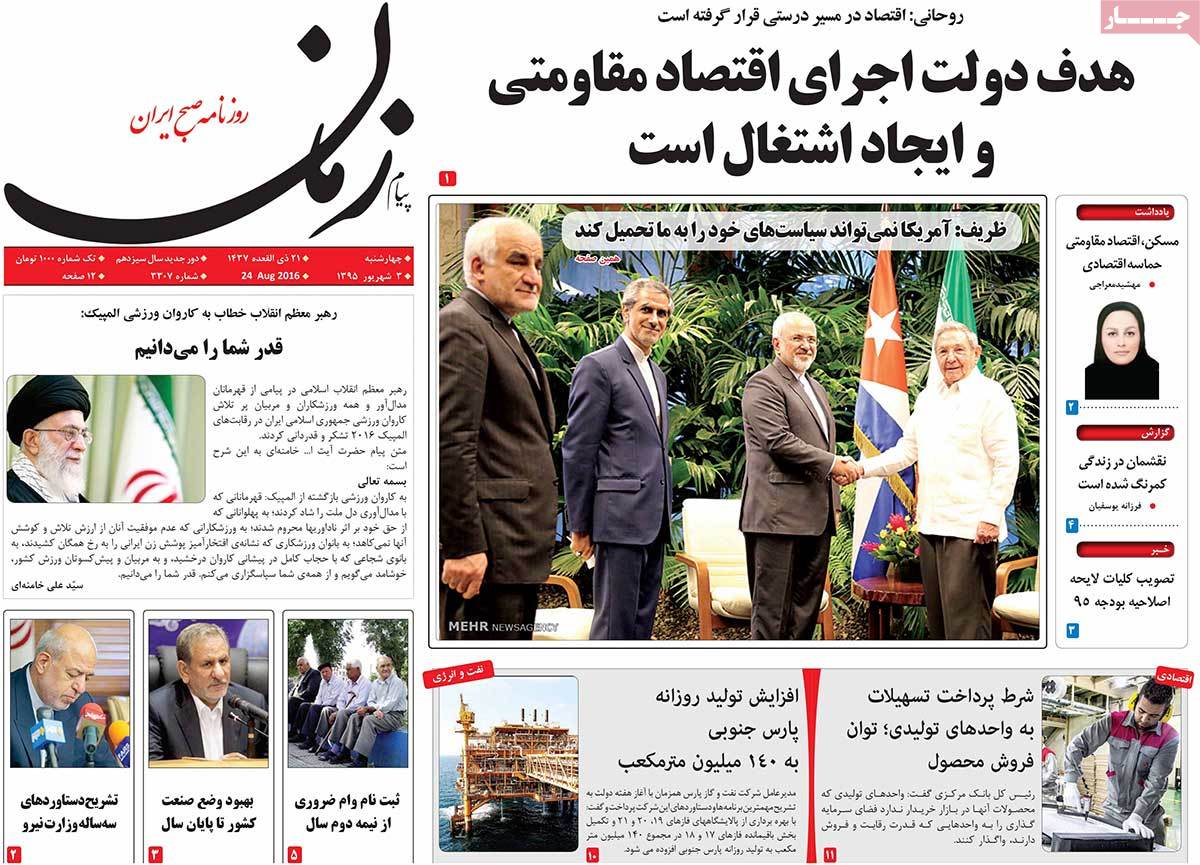 ---
Resalat:
1- Ayatollah Jannati: If Parliament Had Oversight over Government, We Wouldn't Have Astronomical Salaries
2- Endless Violence in US: US Police Killed 1,152 People Last Year, Reuters Says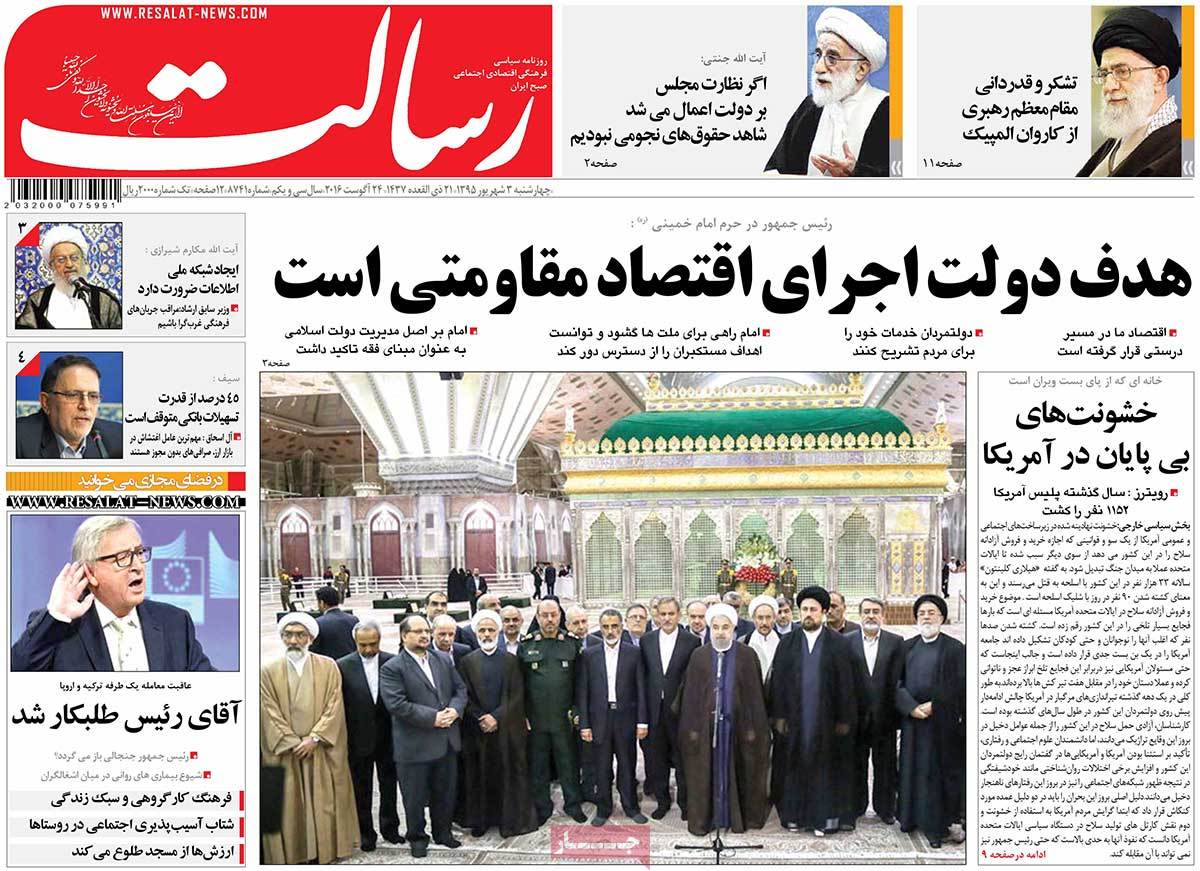 ---
Shargh:
1- First VP: $30m Was Lost in a Plane under Sanctions
2- We Don't Tell People Many of the Problems So as Not to Upset Them: Jahangiri
---
Vatan-e Emrooz:
1- Zarif Should Read History: Historian on Reasons for JCPOA Backlash
2- Tehran Prosecutor-General: 220 Families of Mina Tragedy Victims File Lawsuit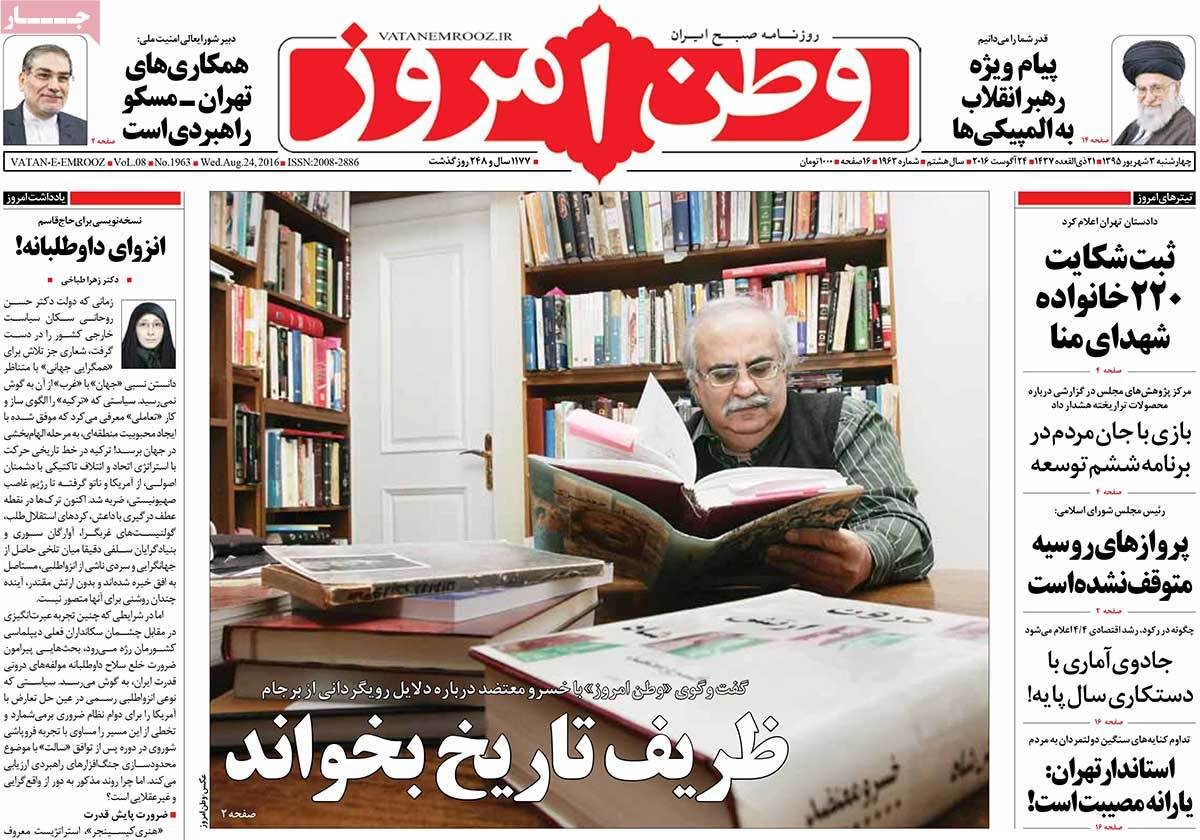 By Iran Front Page