IFP has taken a look at the front pages of Iranian newspapers on Tuesday and picked headlines from 18 of them. IFP has simply translated the headlines and does not vouch for their accuracy.
Many newspapers on Tuesday covered Ayatollah Akbar Hashemi Rafsanjani's remarks against the critics of the nuclear deal between Tehran and world powers, a warning by 103 Iranian lawmakers to the president on the nuclear deal, and the ongoing debate over controversial plan to transfer water from the Caspian Sea to deserts in central Iran.
Mohammad The current IRIB Chief, who has been under pressure
Another story was about the statements by Iranian Foreign Ministry Spokesman Hossein Jaberi Ansari on the recent US seizure of Iran's assets and the legal actions being taken to retrieve the money.
Abrar:
1- Gov't Legally Pursuing Return of Iranian Assets Seized by US: Deputy FM
2- Kidnapping and Hostage-Taking No Longer a Political Crime: Iran Parliament Passes Bill
3- Two Trailblazing Female Iranian Musicians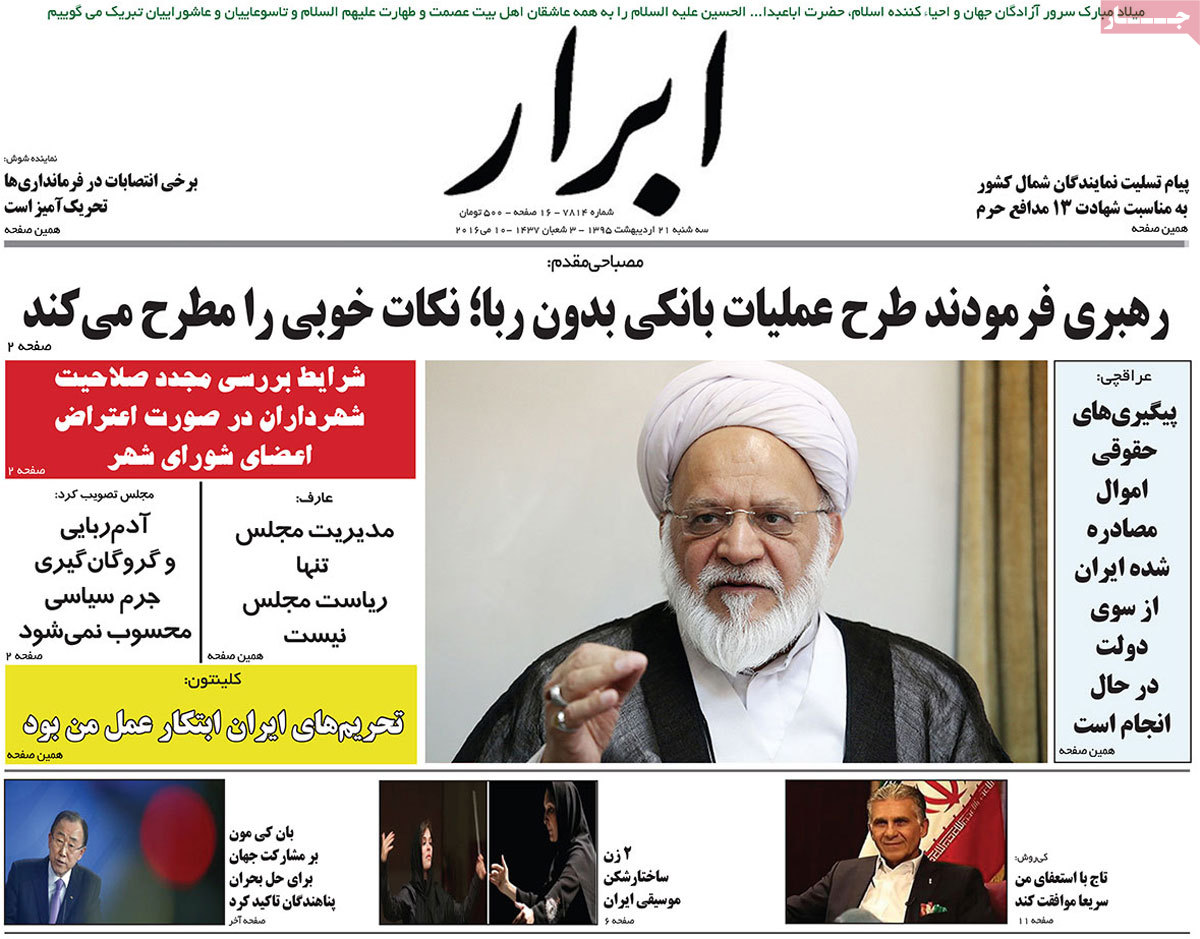 ---
Abrar-e Eqtesadi:
1- Iran's Airspace to Connect Europe to the East
2- Oman's $250m Investment in Mall Construction in Iran
3- Banking Deal between Iran and Germany to Finance Purchase of Airbus Planes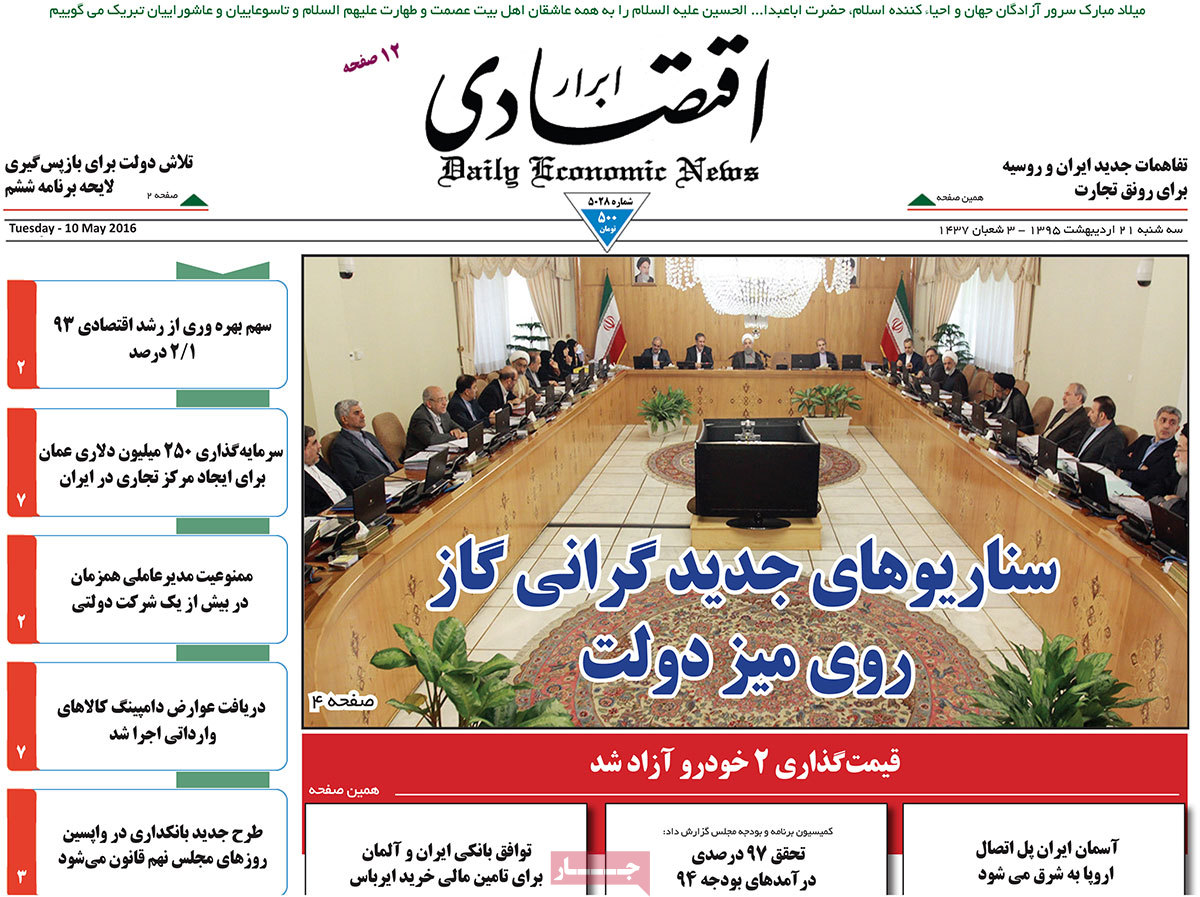 ---
Arman-e Emrooz:
1- Interior Minister: We Reinstated 1600 Candidates Initially Disqualified by the Guardian Council
2- 103 MPs Urge a Deadline to Be Set for Iran Nuclear Deal Cancellation
---
Asia:
1- Custom-Free and Duty-Free Export of Iranian Goods to US
---
Ebtekar:
1- JCPOA Opponents Don't Give Logical Reasons for Their Stance: Rafsanjani
2- Transfer of Caspian seawater to Central Iran Will Destroy All Ecosystems, Even Deserts
3- Tehran Book Fair Visitors Happy with Shahr-e Aftab, Capital's New Exhibition Centre
---
Etemad:
1- Corruption, Not Soft Revolution or Military Attack, Threatens Future of Islamic Establishment in Iran: MP Tavakoli
2- Iran's President to Start Plan of Water Transfer to Central Desert without Environment Department's Permission
3- Contradictory Reports on Change of IRIB Chief
---
Ettela'at:
1- Japanese PM to Visit Iran
2- Larijani: Resistance Economy Not Possible with $20bn of Smuggled Goods [Current Volume]
3- Panama Papers Reveal Saudi King's $80m Donation to Netanyahu
4- Tehran International Exhibition of Flowers and Plants Opens in Goftegu Park
---
Hemayat:
1- Iran and China to Cooperate in Extradition of Criminals
2- Judiciary Chief Urges Officials to Refrain from Expressing Views Opposed to Leader's
3- So-Called Advocates of Human Rights Created ISIS to Spread Islamophobia: Amoli Larijani
---
Ghanoon:
1- 1984 Beirut Bombing Happened 2 Years before Establishment of Hezbollah [stated in a legal meeting to investigate into US court ruling to seize $2bn of Iran's assets over alleged role in 1984 Bombing]
2- JCPOA for Hajj: Officials Still Trying to Resolve Pilgrims' Problems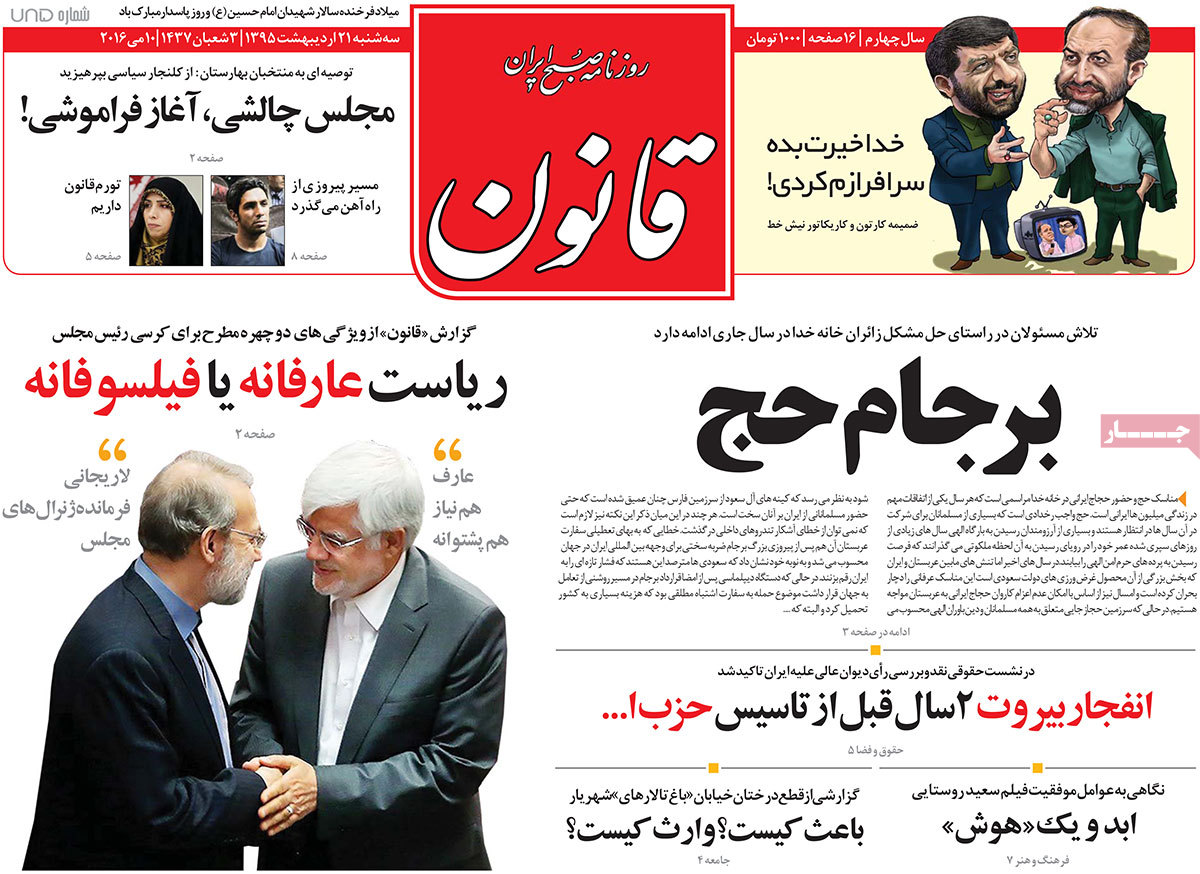 ---
Iran:
1- $6.5bn of Iran's Cash in Foreign Banks Released: Official
2- Japanese PM Shinzo Abe's Wife Plants Tree of Friendship in Tehran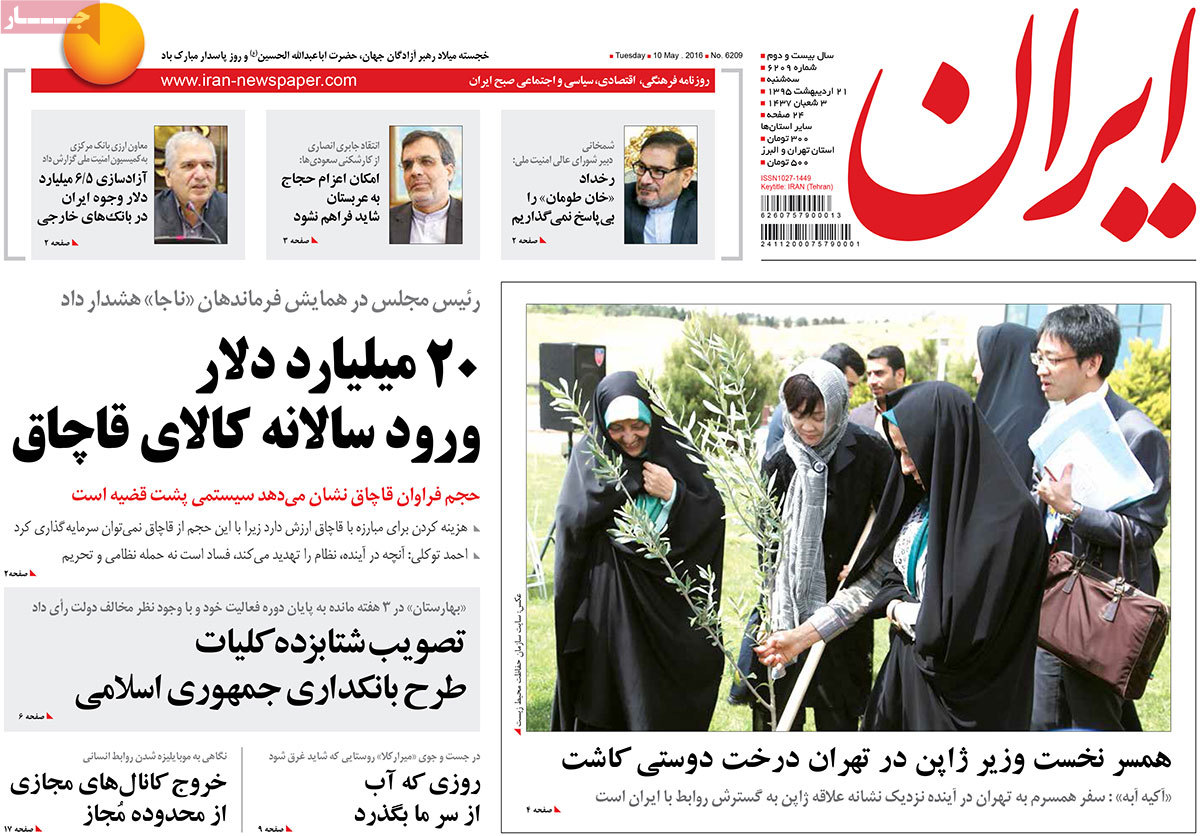 ---
Jam-e Jam:
1- Family Members Talk to Each Only 25 Minutes a Day: Experts Warn
2- Resistance Front Getting Prepared to Liberate Khan Touman
3- Man Holding Ph.D. [in Information Technology] Arrested over Money Counterfeiting
---
Javan:
1- US Seeking to Sell JCPOA Once Again
2- Americans Implementing Their Own Version of JCPOA: Ex-Minister
3- Huge Victory for Hezbollah in Lebanon's Local Council Elections
4- Change of Frequency: Speculations about Early Changes in IRIB Presidency
5- Parliament Urges President to Set Deadline for JCPOA
---
Jomhouri Eslami:
1- British Firms and Economic Institutions Ready for Active Presence in Iran's Market
2- Termination of Sanctions Not in Interest of JCPOA Opponents: Rafsanjani
3- Iran Didn't Test-Fire 2000km Missile: Defence Minister
4- Results of Legal Investigations into Seizure of Iran's Assets Given to National Security Council: Spokesman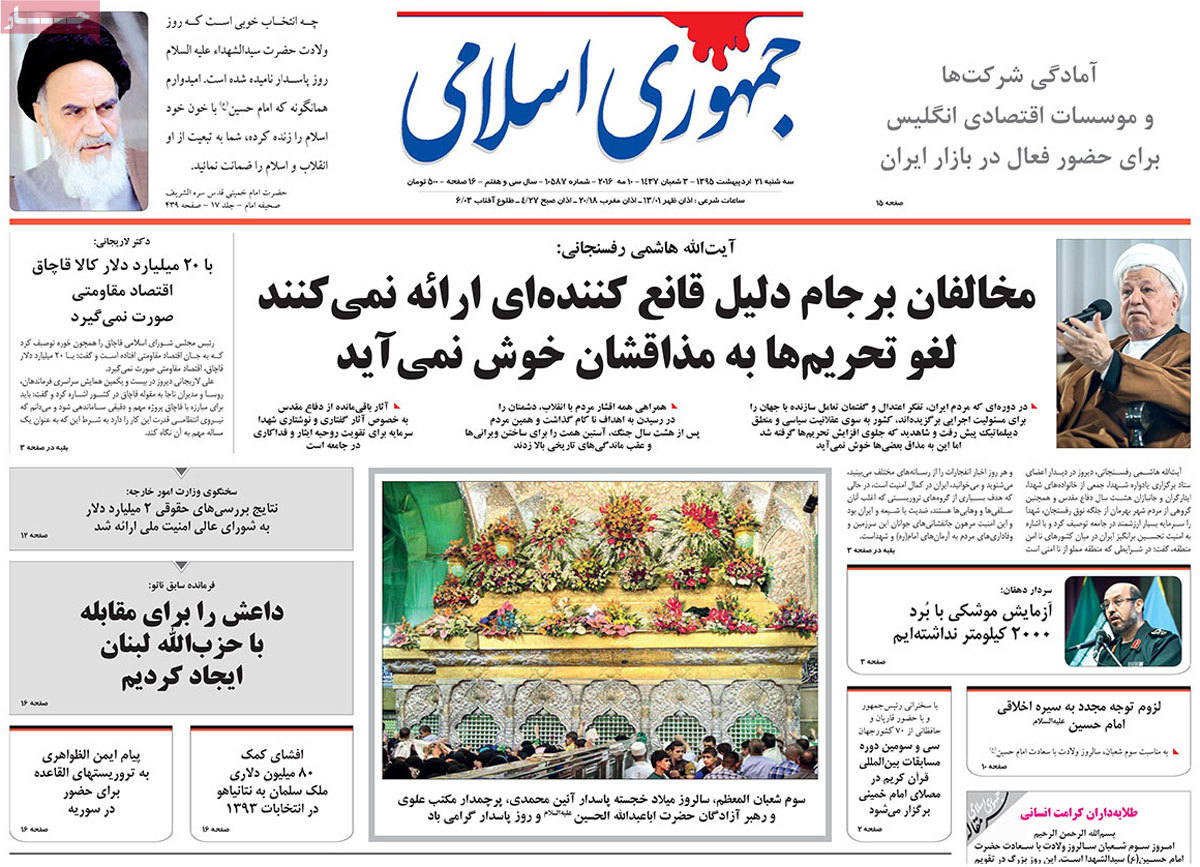 ---
Kayhan:
1- Foreign Luxury Goods Mocking Iran's National Products
2- Indifferent Cyber Officials as Responsible as Murderer of 6-Year-Old Afghan Girl [the teenage boy had reportedly watched pornographic content on Telegram messenger before raping and murdering Setayesh]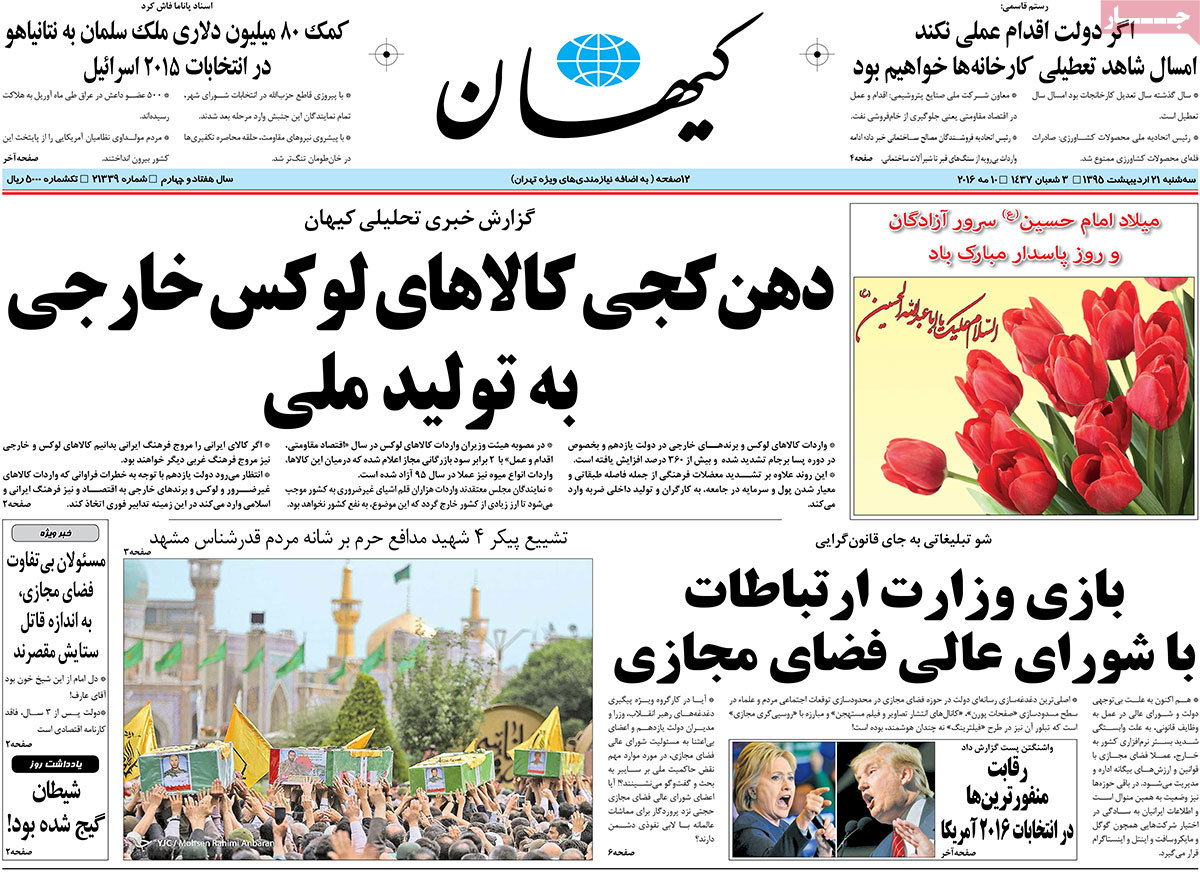 ---
Resalat:
1- Inflation Rate Decrease Not Tangible for People: Senior Cleric Makarem Shirazi
2- People Can Feel the Country's Security: Judiciary Chief Amoli Larijani
3- Opponents of Corbyn Angry about Results in Britain's Local Elections
---
Sayeh:
1- Opponents of JCPOA Serving Israel's Interests: Rafsanjani
2- 14-Fold Increase in Number of Female University Students in Past 2 Decades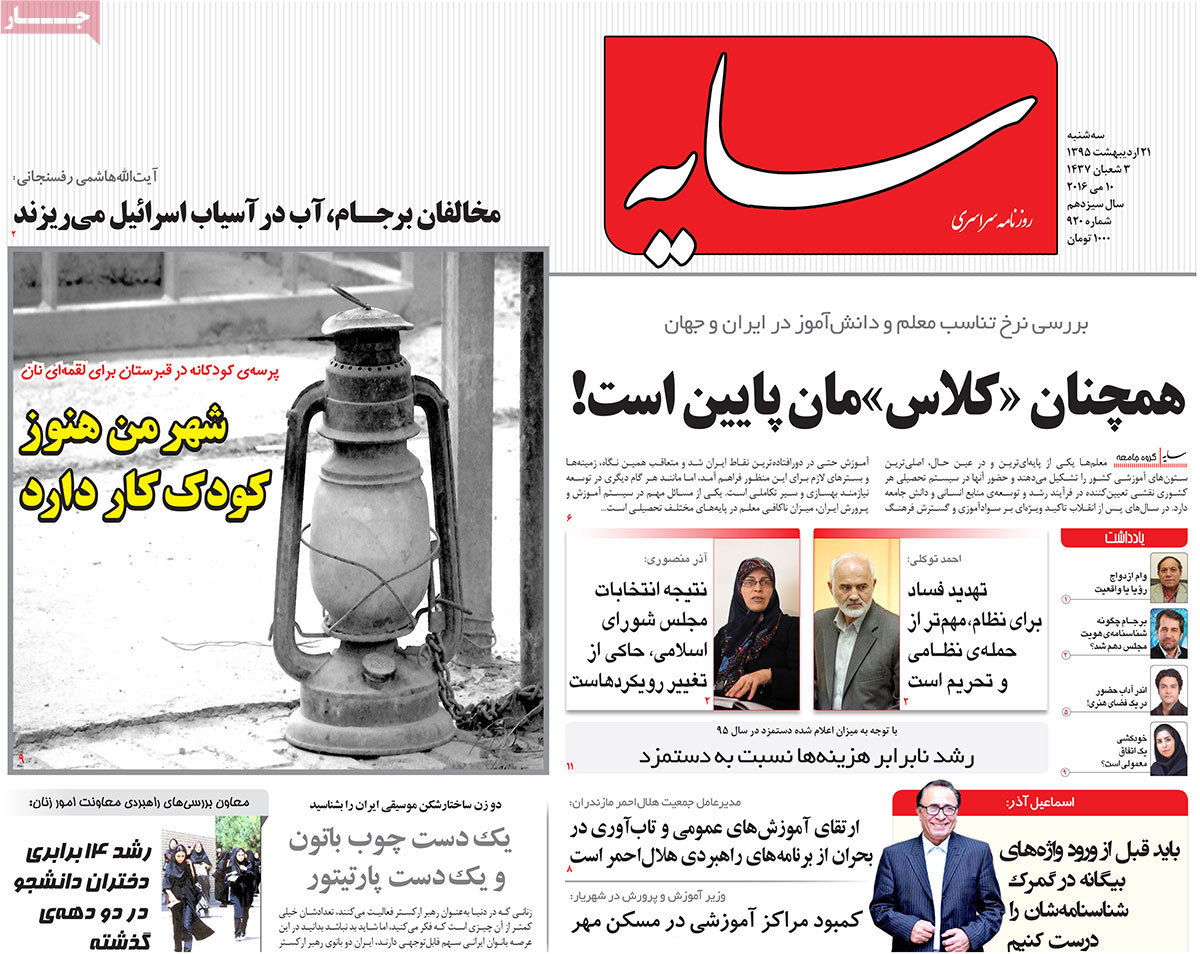 ---
Vaghaye Ettefaghieh:
1- Aftershocks of a Decline: 103 MPs Call for Stopping JCPOA Implementation
2- Caspian Sea in Danger: World's Largest Lake Shrinking
3- Iran's Security Result of Armed Forces' Sacrifice: Judiciary Chief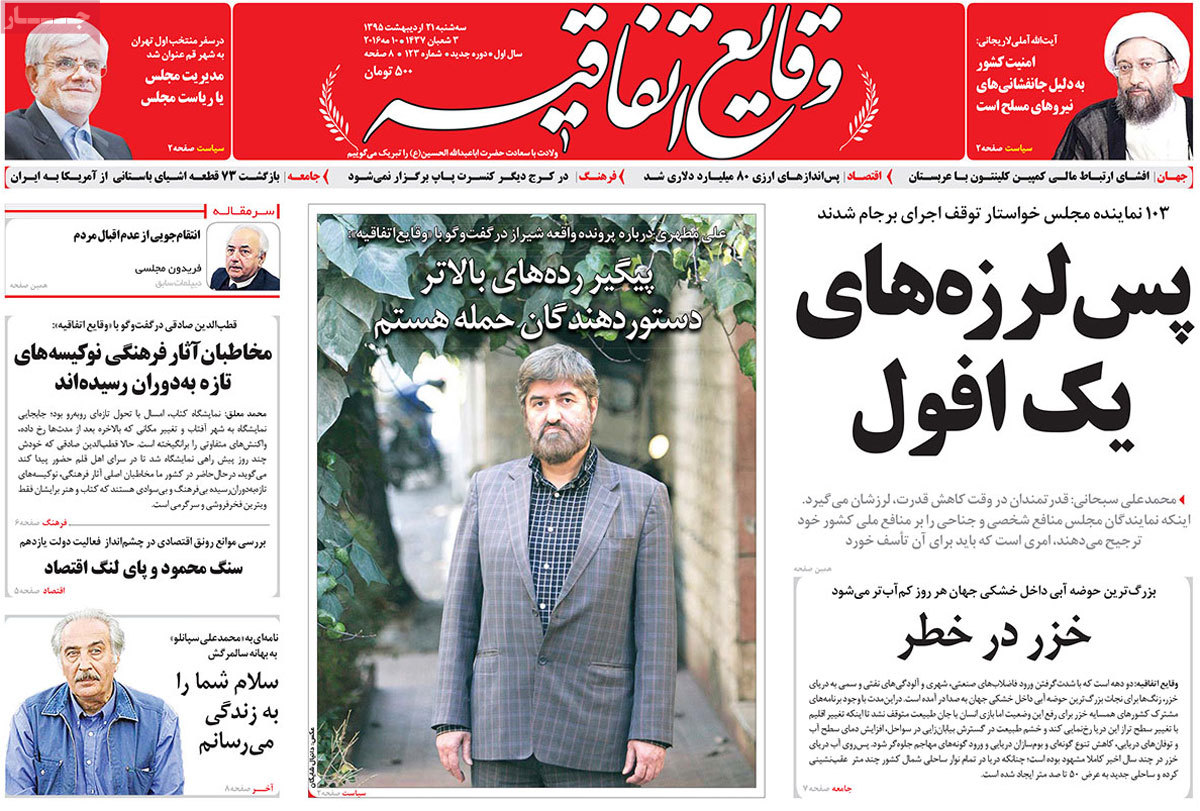 ---
Vatan-e Emrooz:
1- Spokesman Admits: No Guarantee for JCPOA Implementation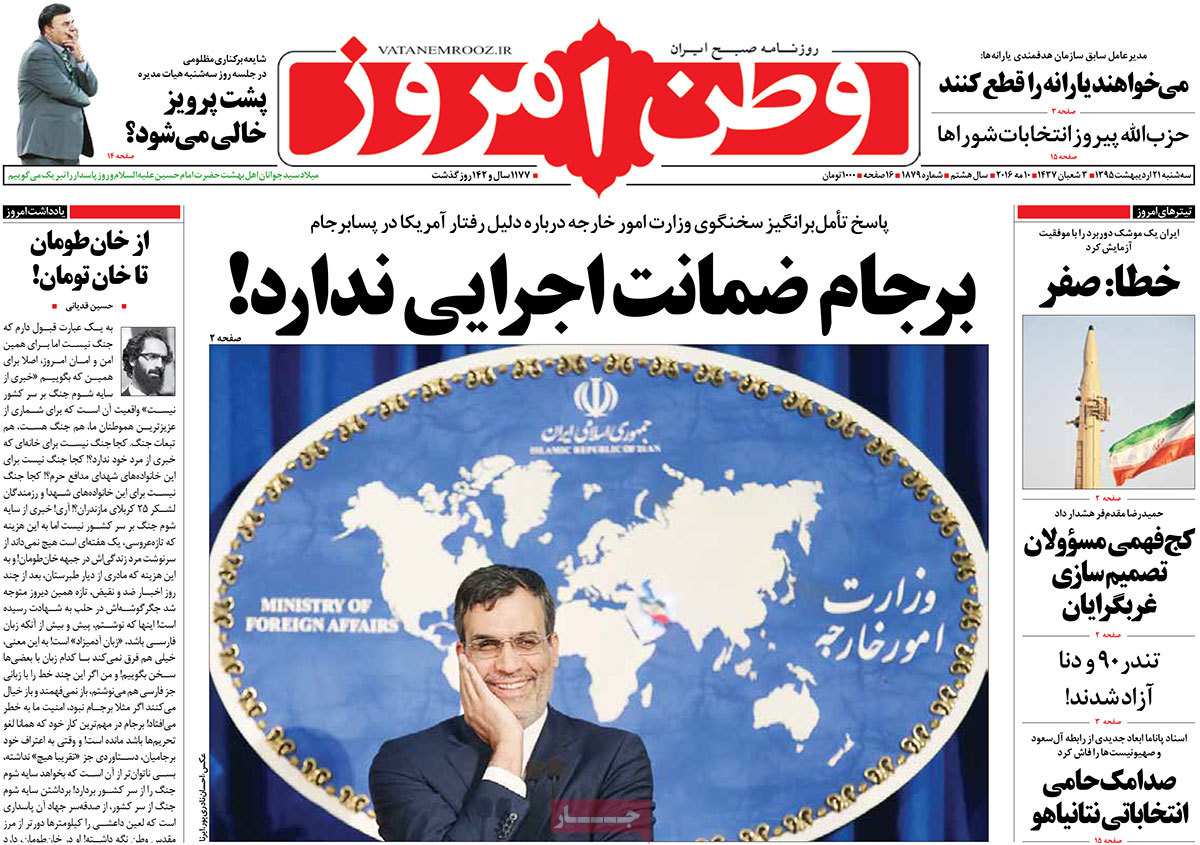 By Iran Front Page