Iranian envoy, Lebanese Cardinal stress peaceful settlement of regional crises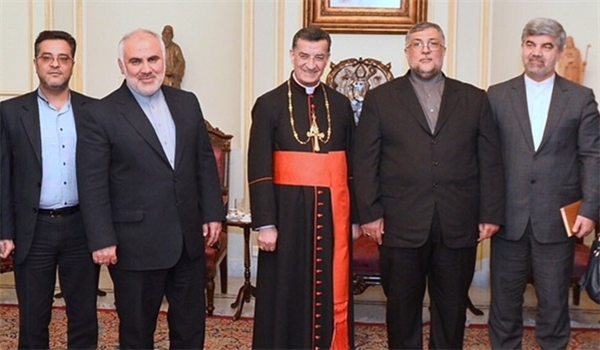 TEHRAN (FNA)- Iranian Ambassador to Beirut Mohammad Fathali and Lebanese Cardinal Patriarch Bechara Boutros al-Rahi voiced concern over security crises in the region, and called for international efforts to put an immediate end to the ongoing bloodshed in the Middle East.
In a meeting with the senior Lebanese cleric on Saturday, Fathali underscored Iran's efforts to promote convergence in the Middle-Eastern region.
Al-Rahi, for his part, stressed the sensitive situation in the Lebanon and the whole Middle-East area, and said it was necessary for all regional countries to converge to confront terrorist threats.
He also expressed the hope that the nuclear talks between Iran and the six major world powers would bear positive fruit soon, saying progress in talks would solve even some of the regional problems, including those in Lebanon.
In December, Supreme Leader's Senior Advisor Ali Akbar Velayati said Iran is bound by its Constitution to do its best to protect the friendly states against foreign aggressors.
Velayati said that based on Iran's Constitution, Tehran has the duty to support nations against occupation of foreign forces and foreign interference.
 "Based on this principle, we have supported the brave resistance of the Palestinian and Lebanese people," Velayati, who is also the president of the Center for Strategic Research of Iran's Expediency Council, pointed out.
"Iran, while not interfering in the affairs of countries, will make use of its capacity and capability to settle regional problems and maintain unity in the Muslim world," Velayati added at the time.