Jalili: Iran presents development minus US pattern to world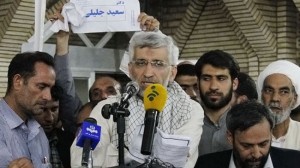 Shiraz, Dec 30, IRNA – Today Iran has presented a successful pattern for development without reliance on the United States and while opposing Washington's policies to world nation, a Supreme National Security Council (SNSC) member said here Tuesday.
  "Today this successful Iranian pattern is expanding around the globe, which is why the enemies try to raise suspicions among the nation aimed at blocking the path for the progress of this Islamic initiative, impose sanctions, threaten with military option, and resort to such plots as the 2009 seditions," said Sa'eid Jalili, addressing a crowd who had gathered on the occasion of the 5th anniversary of that sedition's defeat.
The former top Iranian nuclear negotiator referred to the 2008 presidential election as an era in which the Islamic system could have been presented to the world nations as a top model of democracy.
"Under those conditions some people resorted to various pretests, such as election fraud, accusing the system of torture, etc. which was doing great injustice against the sacred Islamic system," said Jalili.
On house arrest of two of the candidates in those elections, Mir Hossein Mousavi and Mahdi Karroubi, Jalili said that the December 30th people's upraising was the trial court of those heads of sedition in the streets and showed that the people's votes are respected in this Islamic system and no one is allowed to doubt this fact.
By IRNA
The Iran Project is not responsible for the content of quoted articles.