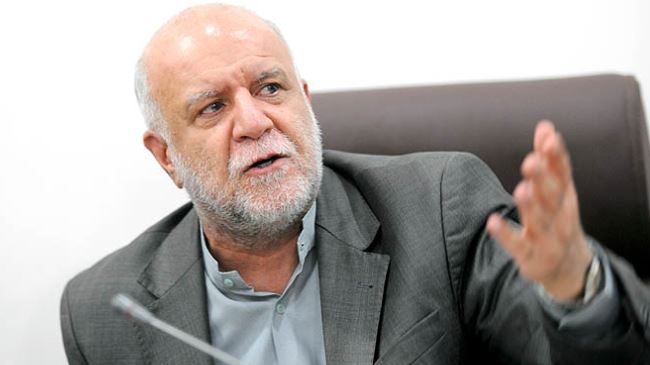 Iran's oil minister is scheduled to visit the United Arab Emirates to discuss ways for a rebound in oil prices following a recent plunge in its value.
Bijan Namdar Zanganeh is scheduled to arrive in Abu Dhabi on Tuesday, following similar tours to the oil-producing countries of Qatar and Kuwait.
The Iranian oil minister aims to forge a united stance among oil-producing countries ahead of a meeting of the Organization of the Petroleum Exporting Countries (OPEC).
The 166th OPEC ministerial meeting is scheduled to be held in the Austrian capital, Vienna, on November 27, to discuss the issue of sharp reduction in oil prices.
The Iranian minister on Sunday criticized certain oil-producing counties for oversupply of crude, which pushed down oil prices.
Zanganeh was referring to Saudi Arabia's recent decision to cut its oil prices to the lowest level since 2008.
During a meeting with Venezuelan Foreign Minister Rafael Ramirez in the Iranian capital, Tehran, on Saturday, the Iranian oil minister said it is difficult for the falling crude oil prices to rebound any time soon.
"Returning to previous oil prices is difficult, but we should modify prices as much as the new market situation allows," Zanganeh stated.
Zanganeh said every oil-producing country is obliged to fulfill its responsibilities with regard to the oil market and hoped for cooperation between the OPEC and non-OPEC oil producers to that effect.
OPEC members, including Saudi Arabia, are under pressure to cut production to stem the global oil glut.
OPEC members — Algeria, Angola, Ecuador, Iran, Iraq, Libya, Kuwait, Nigeria, Qatar, Saudi Arabia, the United Arab Emirates, and Venezuela — pump about 40 percent of the world's oil with Iran being currently the organization's third largest oil producer.
By Press TV
The Iran Project is not responsible for the content of quoted articles.