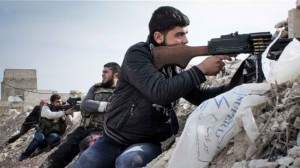 Foreign-backed Takfiri militants operating inside Syria have reportedly seized a town in the southern province of Dara'a.
The so-called Syrian Observatory for Human Rights reported that clashes erupted between the Syrian army and the militants in the town of Tafas on Saturday.
Militants took control of the town following weeks of heavy clashes with the Syrian army forces.
The town links the eastern and western parts of Dara'a along the Jordanian border.
The Syrian army continues its battle against Takfiris in other battlefields across the country.
The militants in Syria, including those belonging to the al-Qaeda-linked al-Nusra Front, have been receiving different forms of support from the West and certain Arab countries.
A very large number of the militants operating inside Syria are reportedly foreign nationals.
Nearly three years of turmoil in Syria has claimed the lives of many people including large numbers of Syrian security forces. Statistics compiled by the United Nations show that over 100,000 people have died and millions displaced due to the crisis.
By Press TV
The Iran Project is not responsible for the content of quoted articles.