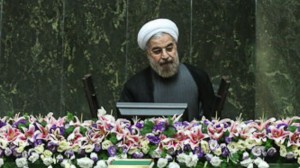 TEHRAN (Tasnim) – Iranian President Hassan Rouhani emphasized the necessity of constant interaction between the country's academic centers and the global ones, saying scientific growth would never materialize in isolation from the world.
"Scientific development would not be achieved in isolation… Scientific development is achievable in light of interaction with the world of science and knowledge all over the globe," the president said in the parliament, here in Tehran on Sunday.
Referring to the characteristics of an effectual academic system in Iran, President Rouhani said the country's universities should act in close coordination with other sectors dealing with industry, production, market and the society.
He made the remarks in a Sunday speech to the Iranian legislators in a bid to defend his proposed nominee to run the Sciences, Research, and Technology Ministry.
The lawmakers have started debating the qualifications of three ministerial nominees, proposed by President Rouhani to fill the remaining vacancies in his cabinet.
Last week, Rouhani proposed Seyyed Reza Salehi Amiri for the ministry of sports and youth, Ali Asghar Fani for education ministry and Reza Faraji Dana for the ministry of science, research and technology.
During the Sunday session, Rouhani will have one hour to defend his proposed ministers.
Of the total of 18 nominees in the president's proposed list in August, 15 got the vote of confidence from the lawmakers. However, three others failed to garner enough votes.
Rouhani had unveiled the list of his proposed cabinet members during his swearing-in ceremony on August 4.
He had a three-month time span to name replacements for those ministries that started the president's term with caretakers in the absence of ministers.
The Iran Project is not responsible for the content of quoted articles.