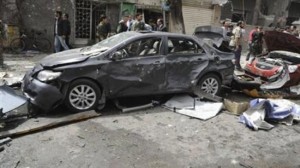 At least 21 people, including four children, have been killed in a car bomb blast in Syria's southern province of Daraa, as the Arab country continues to grapple with foreign-backed militancy.
"Twenty-one people were killed in the Nawa area (of Daraa), among them four children and six women, in a blast that detonated as their vehicle went past Tal al-Jumua," said the co-called Syrian Observatory for Human Rights on Wednesday.
On Tuesday, two Syrian civilians were killed and eleven people, including three children and two women, were injured after a mortar shell fired by foreign-backed militants hit the northwestern city of Idlib.
Syria has been gripped by deadly unrest since 2011. According to reports, the Western powers and their regional allies, especially Qatar, Saudi Arabia, and Turkey, are supporting the militants operating inside Syria.
According to the United Nations, more than 100,000 people have been killed and a total of 7.8 million others displaced due to the violence.
By Press TV
The Iran Project is not responsible for the content of quoted articles.