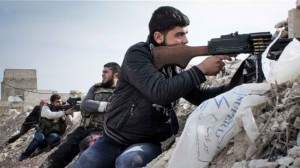 About 50 foreign-backed militants have been killed in three days of infighting among armed groups in the northern Syrian city of Aleppo.
The Britain-based Syrian Observatory for Human Rights said on Saturday that the fighting, which reportedly erupted on Thursday between the al-Qaeda-linked Islamic State of Iraq and the Levant (ISIL) and the militants of the Free Syrian Army (FSA), claimed around 50 lives, AFP reported.
"At least 30 fighters from the Ababil Brigade and 14 from ISIL have been killed in combat, and that toll could rise further," said the head of the Observatory, Rami Abdel Rahman.
He stated that the clashes took place in a number of districts in the country's former commercial hub and that the ISIL militants made gains in the fighting.
Meanwhile, battles continue in the northeastern city of Hasakah, where the Takfiri militants are fighting against Kurds.
Syria has been gripped by deadly unrest since 2011. According to reports, the Western powers and their regional allies — especially Qatar, Saudi Arabia, and Turkey — are supporting the militants operating inside Syria.
The United Nations said earlier that more than four million other Syrians will be forced out of their homes in 2014 by the escalating conflict in the country.
Two million Syrians are expected to take refuge outside the country while another 2.25 million are predicted to be internally displaced in the next year.
By Press TV
The Iran Project is not responsible for the content of quoted articles.