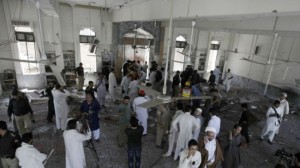 Islamabad, Oct 8, IRNA – Pakistan has presented a cheque of US$1 million to the Ambassador of Palestine, Walid Abu Ali for construction of Embassy of Palestine in Islamabad, the Foreign Ministry said.
The Government of Pakistan during the visit of President Mahmoud Abbas in February 2013 had pledged a grant of US$1 million for construction of the Palestinian Embassy.
Foreign Secretary, Jalil Aabbas Jilani, who presented the cheque said that Pakistan had always been morally and diplomatically supporting the Palestine cause and the granting the amount is a sincere gesture of the Government of Pakistan in order to express solidarity with the brotherly people of Palestine.
The Palestinian envoy thanked the people, government and leadership of Pakistan for the move.
He also lauded Pakistans principled position on the issue of Palestine, unwavering support to the Palestinian people in their struggle for the realization of their inalienable rights and the establishment of an independent state in accordance with the relevant resolutions of the United Nations.
By IRNA
The Iran Project is not responsible for the content of quoted articles.