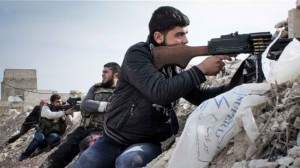 Al-Qaeda-linked militants in Syria have destroyed several Jewish mausoleums in the historical town of Tadouf in the northern city of Aleppo.
Militants reportedly demolished a number of the most ancient Jewish mausoleums in the town.
Foreign-backed militants have so far destroyed many religious sites in Syria since the unrest began in 2011.
Earlier this month, members of the al-Qaeda-affiliated al-Nusra Front attacked the historical Christian village of Ma'loula near the capital, Damascus, and destroyed parts of it, before Syrian security forces arrived to repel them.
Three of the seven historical churches in the village were burnt by the anti-Damascus militants.
A very large number of the militants operating inside Syria are reportedly foreign nationals.
By Press TV
The Iran Project is not responsible for the content of quoted articles.