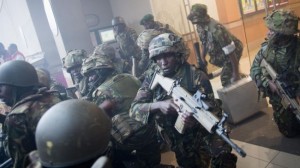 TEHRAN (Tasnim) – Kenyan authorities are searching the Westgate mall in Nairobi for militants from the Shabab. Civilian death toll is lowered to 62.
Authorities said they were going floor by floor through a darkened, smoldering mall early Tuesday as they searched for remnants of a team of attackers that had seized the building, and that they believed all those trapped or held hostage had been freed.
But after conflicting statements from Kenyan officials about the status of operations, and on-and-off volleys of heavy gunfire and explosions, much remained unclear, including how many hostages there might have been and how close the nearly three-day drama really was to being over.
The Shabab militant group, which claimed responsibility for the assault, is linked to Al Qaeda. It is known to have recruited Americans, Europeans and other foreigners, including Kenyans.
Officials, who reported Sunday that 68 people had been killed, lowered the toll to 62 on Monday, saying some of the dead had been counted twice. Among those killed were six British citizens; two French; two Canadians; and a well-known Ghanaian poet, Kofi Awoonor.
Kenyan President Uhuru Kenyatta said a nephew and his nephew's fiancee had been slain, but that more than 1,000 people escaped the upscale mall after the attack began midday Saturday.
Kenyan officials said three attackers had been killed and others wounded. Unconfirmed Kenyan media reports said six gunmen had died. Ten people had been arrested for questioning, officials said.
"Our forces are combing the mall floor by floor looking for anyone left behind. We believe all hostages have been released," the Interior Ministry said in a Twitter message early Tuesday morning.
It said an hour later that security forces "continue to secure the Westgate mall building. Official statement on status of the operation to be issued later."
A major assault by security forces began with gunfire ringing out at dawn Monday. The attack reached a crescendo in the early afternoon, with a volley of explosions and heavy arms fire. Black smoke poured out of the building, as a fire raged for many hours,
Kenyan armed forces chief Gen. Julius Karangi said the fire was started by the assailants as a diversion in a bid to flee the building, but provided no more detail.
Explosions and gunfire continued on and off throughout the day. Defense officials said the attackers were in one location in the mall, with no way to escape, the Los Angeles Times reported.
Earlier Monday, Interior Minister Joseph Ole Lenku said at a news conference that efforts to release the hostages had been "very, very successful" and those being held were "very few."
But it wasn't clear whether people had simply escaped the mall after hiding or whether they had been freed by security forces. There was also speculation that the attackers may have been holed up in a supermarket within the mall, without hostages.
As of late Monday, it appeared no one had come forward to say they had been held by the militants and freed by security forces. Several people described Sunday how they had hidden in the mall and later escaped.
The Shabab said it attacked Kenya's most prestigious shopping center to punish the country for sending soldiers into Somalia. The group had been warning for two years that it would mount a major terrorist assault in Nairobi, but to date its attacks have largely been small-scale shootings or grenade attacks.
The Iran Project is not responsible for the content of quoted articles.