TEHRAN, Mar. 2 (MNA) – During Iran and P5+1 talks in Kazakhstan, a British daily has said in a report in breaking news that Iran has a new plan for making nuclear weapon .
MNA: Hours after publication, the article in Daily Telegraph was being lampooned by Western media. The report by Daily Telegraph had satellite pictures claiming that Iran has been producing plutonium in Arak heavy water facilities. This report came while Iran and P5+1 talk were still underway in Almaty.
In an article entitled 'Iran's 'Plan B' for a nuclear bomb,' Daily Telegraph claimed that these satellite images revealed for the first time that Iran has operated a nuclear power plant capable of producing plutonium, has chosen a second path to nuclear weapons.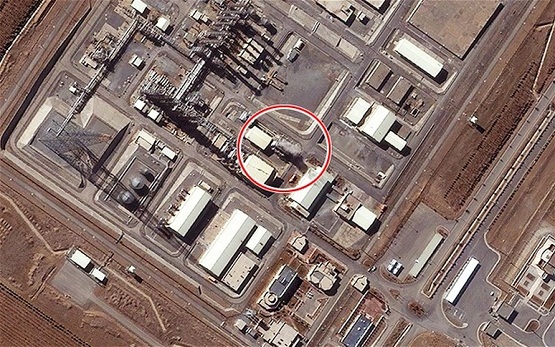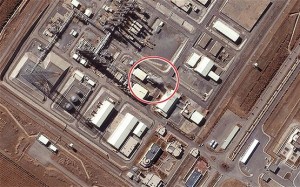 In this picture, claimed taken by satellite recently, is a satellite photo with a red ring superimposed on the middle which purports to show some steam escaping. Daily Telegraph writes that "Western governments and the IAEA have held information about activity at Arak for some time. But today's exclusive images are the first to put evidence of that activity into the public domain." But the report, excitingly finding reverberation in some western media, was deflated by experts who, are surprise about this great gaffe, and said that Arak heavy water facilities has been operating for years and the IAEA has known the fact about this facilities.
In a response to claims made by Telegraph, which deemed steam or smoke as starting operation by Arak plant, Guardian gives an image of the facilities taken in 2004, writes that "The picture above, dated October 2004, has some much better steam."
Borger writes about a part of the Telegraph's article that said that IAEA experts had not been able to investigate Arak facilities, writes that "but the Arak plant is not covered by Iran's safeguard's agreement. It does not produce radioactive material but heavy water."
This was not only Guardian who reacted to Telegraph. Global Post, a news website, blasted the Telegraph's report as obviously a political suspicious play, acting against Iran in media world and internationally. According to Global Post, Telegraph has disconcerted Israeli officials, and quoted Amus Gilad, the Strategic and Military policies of Israeli Ministry of War, who denounced it as "what hot news? It is hot when you are talking on a new thing. Only in this condition, you may publish a report and think that Iran had a nuclear bomb… this is not even news."
In any way, Telegraph's report indicated that Western media network attempt in large dimensions to sabotage Iran's nuclear program issue. The difference is that it is sometimes more cunning, and sometimes- just like the recent case- is done in a very amateurish fashion such that it incites the insiders.
By Mehr News
The Iran Project is not responsible for the content of quoted articles.