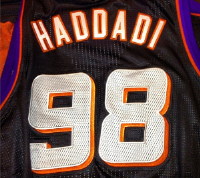 Hamed Haddadi won't forget how to call home any time soon.
The recently twice-traded center went with a number switch as he joined the Phoenix Suns. Haddadi, who wore No. 15 during his five seasons with the Memphis Grizzlies, now will wear No. 98. And, per ESPN's Arash Markazi, the number is a tribute to his homeland as 98 is Iran's country code required for phone calls from the USA.
Haddadi hasn't had much chance to show his wears in the NBA, but he is the only Iranian to reach the league. He played the key role in vaulting the Iran national team to prominence with 2007 and 2009 FIBA Asia championships.
Haddadi spent a lot of time on the Grizzlies' bench before being included in the Rudy Gay trade that landed him with the Toronto Raptors. He then was turned at the trade deadline for Suns backup point guard Sebastian Telfair. The move could help Haddadi, though, because the Suns are shaking up their rotation and could use his size.
For what it's worth, newly acquired forward Marcus Morris now wears No. 15 for the Suns. So Haddadi had to change his number, and he did it with a personal flair.
By USA Today
The Iran Project is not responsible for the content of quoted articles.