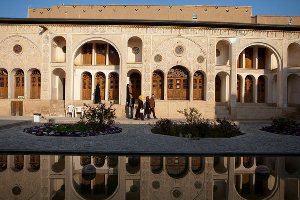 KASHAN, Iran — A petite woman in gray boots and a checkered scarf, Shanaz Nader had spent much of her adult life abroad, with long stretches in Tokyo, London and New York. But here she was braving a cold wind in this desert city three hours south of Tehran, making her way through a maze of high mud-brick walls.
Black-clad women waited at a small bakery as the rattling noise of a motorcycle in the distance echoed through the alleys. Finally, Mrs. Nader, an interior designer in Tehran, reached her destination: a large, two-panel wood door that opened up to her fully renovated weekend home, a majestic old Iranian house with four bedrooms, colored-glass windows, a separate office, two garden areas and a large rectangular marble fountain.
After boiling tea, Mrs. Nader, 68, sighed and sat down under an arched passageway. The sun reflected in the fountain, as the wind blew in faint sounds of the midday call to prayer.
"Whenever I dreamed of Iran while being in some faraway place, I dreamed of owning such a house," she said.
For thousands of years, houses with secluded gardens and courtyards have been a cornerstone of Iranian architecture, which strongly influenced structures like the Alhambra and the Taj Mahal. Similar dwellings are described in literature from Achaemenid times, around 700 B.C., and their old Persian name is the root for the word "paradise."
But in past decades the houses fell out of favor and were widely demolished to make way for glassed apartment blocks, especially in Tehran. The sprawling family gardens on the flanks of the Alborz Mountains in the capital have long since been demolished to make way for high rises, turning landowners into millionaires but wiping out Iran's architectural heritage.
But Mrs. Nader and some others are beginning to reverse that trend. In recent years, dozens of houses and palaces in Kashan, a city known for its carpets and traditional Iranian architecture, have been painstakingly renovated into holiday homes and hotels.
She was drawn to Kashan in 2008 when the owner of one of the palaces, Manoucheri House, built 200 years ago by a local merchant family, asked for her help in transforming it into a boutique hotel. Well known in Tehran for her basic but tasteful furniture and printed textiles that strike a delicate balance between the old and the new, Mrs. Nader was an obvious choice for the job, and she jumped at the opportunity.
Now, all across the old neighborhoods of Kashan, laborers are renovating houses that until recently were neglected by their owners.
At first the newcomers stirred opposition from local people, apparently upset that some of the renovations were being done with government money, which they wanted for building modern housing. "Hundreds of people signed a petition asking for the old houses to be flattened instead," said Akbar Arezugar, 54, a renovation supervisor from Kashan. "But when the renovation was done, the cleric who was leading the opposition personally called everybody involved, apologized and applauded the work we had done."
While many Iranian cities face unemployment and an economic downturn because of sanctions and mismanagement of the economy, the burst of renovations — most of them by individuals — is keeping Kashan bustling.
Mohsen Shahi, a 26-year-old architect, said he much preferred working on the renovations to designing apartment buildings, something that many of his university friends are doing. "If I had an unlimited budget I would buy old houses and rebuild them the way they were," he said.
Mr. Shahi was working on the Ameri House, a huge property with seven courtyards with fountains and dozens of rooms that is scheduled to open as a hotel in April. "For a long time it seemed as though our love for culture had diminished in our country," he said. "Those old families that once built these beautiful houses were not thinking of profits, but of their legacies. Thankfully, now we are starting to learn from them."
When her work on the boutique hotel was finished, Mrs. Nader looked for a place of her own. The first time she saw her house it was run-down and filled with dirt. Parts were even slated for demolition. "I bought it for $20,000 and people said I was crazy," she said, while giving a tour of the house. The restoration cost another $300,000, she said, and has been worth every penny.
She is planning to write a book on traditional Iranian architecture, and has also built an office where she wants to work with local architects.
For most people, it is a labor of love. For the hotels, renovation costs are high, without much prospect of making profits. There are almost no foreign tourists anymore making their way to Kashan, which lies 30 miles north of Iran's main uranium enrichment facility in Natanz. Many people fear the nuclear site could one day come under attack, with possibly deadly consequences for those living in its vicinity.
"Sometimes I worry about the future," she said, standing on one of the roofs of her house. In the distance, snow-capped mountain peaks basked in the sun. "But history shows that Iran always lands on its feet. I'm not abandoning ship."
The Iran Project is not responsible for the content of quoted articles.