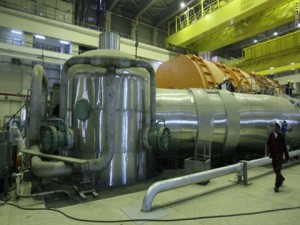 TEHRAN, Iran (AP) — Iran's nuclear chief says fuel was removed from the country's sole nuclear reactor in October because debris had been left behind during its construction.
The Sunday report by several Iranian newspapers quotes Fereidoun Abbasi as saying that bolts and welding material left inside the Russian-built Bushehr reactor had led to abnormal readings during operation.
Abbasi added that fuel removal and temporary plant shutdown is part of normal operating procedures.
On Wednesday, Iran said the power plant is ready to resume operations after refueling. Last week, the U.N. International Atomic Energy Agency reported the removal of the partly-used fuel in October. The plant reached its full 1000-megawatt capacity in September and is undergoing final technical assessments before Iranian engineers take over full responsibility from a Russian team in early 2013.
The Iran Project is not responsible for the content of quoted articles.