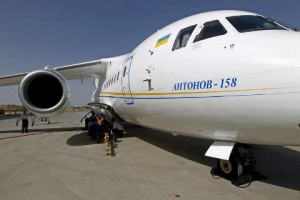 TEHRAN, Dec. 1 (Xinhua) — Iran and Ukraine are in the final stages of their talks to jointly produce Antonov-148 and Antonov- 158 passenger planes, semi-official Fars news agency reported Saturday.
Tehran and Kiev's negotiations on the joint production of Antonov-148 and Antonov-158 passenger planes have reached the final stages and it is expected that the operational preparations will be started by the end of the Iranian month of Azar (late December), Iranian Ambassador to Ukraine Akbar Qasemi told Fars Saturday.
"Based on the agreements, we will start the production of Antonov-148 with the capacity of 86 seats and Antonov-158 which will seat 96 passengers in the near future," Qasemi said, adding that "both planes have turbo engines."
In August, President of Tehran's Amir Kabir University Alireza Rahaei said Iranian experts had completed the feasibility studies of Iran's national plan to build 150 passenger airplanes and the project had entered the designing and manufacturing phase.
By 2021, the country needs 600 passenger planes out of which 270 aircraft should have the capacity for 100 to 150 passengers, said Rahaei.
Iran has seen several air disasters, involving both civil and military aircraft, in recent years.
Experts said the U.S.-imposed sanctions against Iran, which prevented its allies from selling aircraft or plane parts to the country, have undermined safety standards within Iran's civil and military aviation fleet.
By Xinhua
The Iran Project is not responsible for the content of quoted articles.