By Business Recorder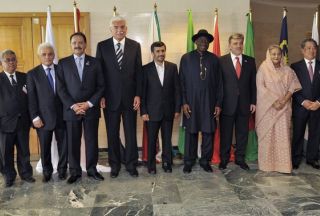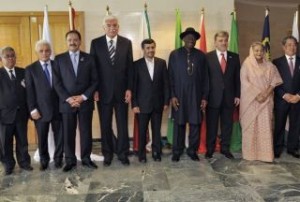 President of Iran Mahmoud Ahmadinejad Thursday proposed setting up of a Joint Investment Fund, barter transactions and operationalisation of the Preferential Trade Agreement (PTA) between the Developing-8 member states. Addressing the D-8 Summit here at the Aiwan-e-Sadr, the Iranian President called for a more serious effort towards creation of a fair and equitable economic system, particularly amongst the member states so as to counter the external influences.
He said barter trade between the member states would help them counter the impact of a "dominant currency", while enhanced co-operation between their private sectors would help intra D-8 trade. The Iranian President appreciated the arrangements made for the Summit and said the meeting would provide an opportunity to exchange ideas, share views and experiences for the mutual good of the around one billion population these countries represent.
Without naming, the Iranian president came down hard on the "hegemonic" designs of powers that were also violating the national sovereignty of Iraq, Afghanistan and Pakistan. He rejected a similar discrimination in international relations and the use of the United Nations Security Council for exploiting smaller states.
President Ahmadinejad also blamed the large powers for the environmental degradation that has led to climate change. He mentioned the illegal occupation of the Palestinian lands and displacement of its people and strongly condemned the barbaric attacks of the Zionist regime in Gaza. He said all human beings were entitled to justice, peace and security and said the world has to unite to put an end to all sorts of discrimination and hegemony. The Iranian President said the member states had rich natural resources, mineral deposits, energy and talented manpower and there was a need to exploit these resources for their mutual benefit.
The Iran Project is not responsible for the content of quoted articles.