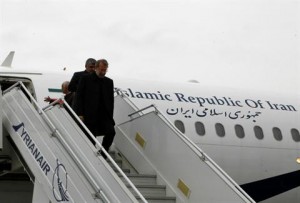 By AFP
TEHRAN: Iran's influential parliament speaker Ali Larijani headed to Damascus on Friday for talks with Syrian President Bashar al-Assad on what he said was a bid to end the 20-month conflict in his country's key ally.
Larijani said he would "try and find a solution to the Syrian problem," Iran's Mehr news agency said.
He also planned to hold talks in Syrian neighbours Lebanon and Turkey, the news agency added.
Tehran is Damascus's key regional ally. The two governments accuse Qatar and Saudi Arabia of funnelling weapons to Syrian rebels through Turkey with Western connivance.
"Some groups are taking risky actions in Syria and are looking for ways to disrupt the political situation, but they have failed," Larijani said.
"We support democracy and reform in Syria, but we are against all actions that bring negative consequences," he added.
Iran warned Western governments on Sunday against arming the rebels after France said it would consult its European partners on easing an embargo to clear the way for deliveries of "defensive" weapons.
The Syrian opposition accuses Iran of providing military support to Assad's regime, a charge it denies.
The Iran Project is not responsible for the content of quoted articles.