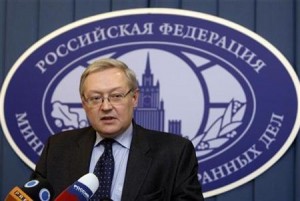 The Russian government has for the first time publicly encouraged the US and Iran to begin direct one-to-one negotiations over Tehran's nuclear programme, arguing that the creation of a negotiating channel between Washington and Tehran could help avert conflict.
As the US considers its next negotiating move over Iran, Sergei Ryabkov, Russia's deputy foreign minister, said Moscow would like to see Washington and Tehran enter direct diplomatic contact in order to avert an Israeli attack on the Iranian programme.
Until now, Moscow has been directly involved in negotiations with Iran because it is one of the six powers – the US, UK, France, Germany, Russia and China – that negotiate in a body called the E3 plus 3.
Asked in a Financial Times interview how Moscow would respond if the US and Iran were to focus on direct talks, Mr Ryabkov said: "We will not have a word against this. Of course, we would hope we would be informed on the content of these arrangements."
Mr Ryabkov, who is Russia's chief negotiator on the Iranian nuclear issue, added: "Informal contacts [between the US and Iran] are ongoing, but direct talks are possible. Such an arrangement will not create a problem for us, even if there is not a fully fledged E3 plus 3. We are down to earth – we want something that will bring everyone out of this morass."
Diplomats in a number of western states have said privately for some time that a direct US-Iran dialogue would be needed once the US presidential election was over. But it is unusual for one of the E3 plus 3 diplomats negotiating with Iran to say so in public.
A senior British official said he believed that direct dialogue between US and Iran could now be essential. That is in part because the US may need to reassure Iran that while it wants the Iranian nuclear programme scaled back, it does not seek regime change.
"I think the E3 plus 3 process needs to continue but there's a growing feeling that it will only end up giving the final blessing to a deal," the senior UK official told the FT. "The critical point is that the US may need to intensify direct dialogue with Iran to give them a wider range of security assurances they need."
In recent weeks, there has been speculation that the US has already set up a private channel of communication with Iran. The New York Times reported last month that the US and Iran had agreed in principle for the first time to one-on-one negotiations over Iran's nuclear programme and that Iranian officials had insisted that the talks wait until after the presidential election.
However, the White House denied that report and said a final agreement had not been reached. The Associated Press reported a US official at the weekend saying that the Obama administration would be open to direct talks with Iran but that there was no willingness on the Iranian side.
Mr Ryabkov said that E3 plus 3 dialogue with Iran should continue, whatever happened in bilateral relations between Washington and Tehran. He said the six powers had created some momentum at a meeting with Iran at Istanbul this year, but this had now been lost.
"Since everybody knows the name of the US president, it is no excuse not to enter into discussions. We are of the view that no more chances must be lost," he said.
Mr Ryabkov expressed hope that the conclusion of presidential elections in the US and Russia would allow the two countries to return to work on a number of areas where relations can be improved. However, he also highlighted differences on a range of diplomatic and defence issues.
Mr Ryabkov said he did not foresee much progress on Moscow's objections to US planned ballistic missile defence shield in Europe, which Washington says is aimed only at Iran and not at neutralising Russia's own nuclear deterrent.
Russia wants a US legal guarantee that the system, known as the "Phased Adaptive Approach", will not be used against it. It is also seeking an agreement on technical criteria for the programme.
"We need to agree on the ability of Russia to measure the actual velocities of interceptors, areas of deployment of platforms and sensors, and have a mechanism of consultations in case we believe something is happening contrary to the declared intention of this system," Mr Ryabkov said.
The Obama administration has resisted giving a legal guarantee that it will not target Russia, amid fears this would not get US Senate approval.
The Iran Project is not responsible for the content of quoted articles.