By Huffington Post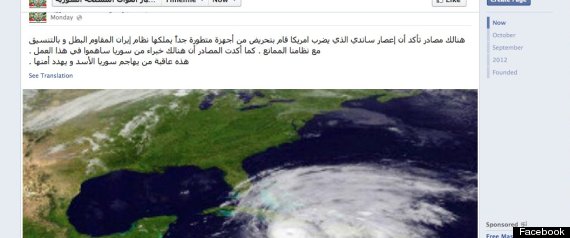 Weather experts said an unusual combination of natural factors would make Hurricane Sandy's landfall devastating, but a pro-Syrian government group's Facebook page listed a far more unusual cause for the superstorm: "highly advanced technology" developed by Iran.
"Sources confirmed to us that Hurricane Sandy that is slamming the U.S. was set off by highly advanced technologies developed by the heroic Iranian regime that supports the resistance, with coordination of our resistive Syrian regime," reads the Facebook post of the News Network of the Syrian Armed Forces, according to a CNN translation.
The message, which was posted Monday, went on to say the superstorm's damage was "punishment for whoever dares to attack Syria's (Bashar) al-Assad and threaten peace and stability."
The post, picked up yesterday by the Washington Post, was shared more than a 1,300 times on Facebook, garnering 300-plus likes and more than a thousand comments, although many did not seem to support the bizarre explanation.
As the Washington Post observes, "the most common comment was a simple string of 'haha.' Many made references to donkeys."
"This is complete baloney by the regime and its thugs," one of the comments read,according to CNN. "There is nothing worse than this nonsense. If you have such technologies, why doesn't your great sophisticated regime get the temperature to be a bit higher in Russia and make the skies rain in the dry lands in Syria?"
But Syrian government users also voiced their support for the post.
"Why are you surprised by such a heroic act that our special forces carried out with the help of the Iranian experts?," one wrote. "Yes this is the great work of the brave lions of Syria in retaliation to the evil conspiracy against our great nation. We will have our victory even if it will take some time."
As The Atlantic noted in August, President Bashar Assad's supporters are extremely active on social media sites. This "Syrian Electronic Army' moves aggressively to punish opponents, operates phishing and spamming attacks, and generally attempts to "force the online narrative in favor of the Assad regime," the magazine reported.
Hurricane Sandy, killed dozens across the Northeast and claimed the lives of at least69 people in the Caribbean. The storm left millions without power.
The Iran Project is not responsible for the content of quoted articles.