By Washington Post
TEHRAN, Iran — A news agency reports that Iran's top military commander is suing the U.S. for putting his name on its sanctions list.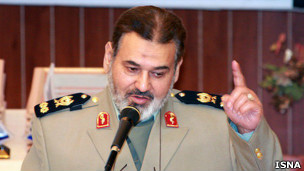 The semiofficial Fars news agency quoted Iran's chief of staff, Gen. Hassan Firouzabadi, as saying the U.S. opposes "security and independence" for Iran. He said he has spent his life serving Iran and humanity, and the U.S. should be made to pay for the "unwise" decision to list him.
The West has imposed sanctions on Iran and its leaders to press Tehran to stop enriching uranium, suspecting Iran is aiming to produce nuclear weapons. Iran denies that.
The U.S. put Firouzabadi's name on the sanctions list in 2011, charging he was involved in human rights abuses.
The Monday report did not say how he plans to pursue his case.
The Iran Project is not responsible for the content of quoted articles.