By Fox News
U.N. nuclear agency officials failed anew Friday to gain access to an Iranian site where they suspect nuclear arms work took place, and to secure Tehran's cooperation in a wider probe of alleged experiments meant to develop such weapons.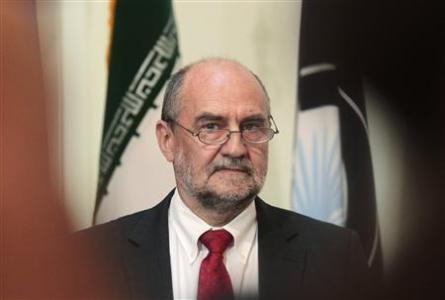 Speaking after the meeting — expectations for which had been modest from the outset — Iranian envoy Ali Asghar Soltanieh told reporters "there are still some differences… but I have to say we are moving forward."
Herman Nackaerts, a senior official at the International Atomic Energy Agency, was less enthusiastic about the outcome.
"The discussions were intensive, but important differences remain … that prevented agreement," he said.
The Islamic Republic vehemently denies any interest in wanting to develop nuclear weapons and says all its atomic activities are peaceful. But its long-standing refusal to cooperate with IAEA experts seeking to investigate the allegations fuel suspicions it may have something to hide. Tehran also refuses to give up uranium enrichment — which can make both reactor fuel and arm nuclear missile — despite offers of such fuel from abroad, adding to such suspicions.
With both the agency and international diplomatic efforts stalemated in attempts to engage the Islamic Republic on its nuclear program, fears are growing that tensions could spill over into armed conflict.
Israeli leaders have been loudly expressing impatience over Western diplomatic and economic moves to deter Iran and increasingly talk of attacking its nuclear facilities, though some analysts believe the saber-rattling is a bluff to increase pressure on Tehran. Iranian leaders have rejected Israel's warnings, threatening punishing retaliation.
While the IAEA insists it has to exploit every opportunity to seek Iran's cooperation, senior agency officials spoke of low expectations ahead of Friday's talks after years of failed efforts to persuade Iran to cooperate.
"I cannot say that I am optimistic about the outcome of the coming meeting," IAEA chief Yuiya Amano told reporters in Helsinki, Finland, on Wednesday. "I cannot say when we can reach agreement."
Nackaerts said ahead of Friday's meeting that a key agency focus was access to a site at Parchin, a military installation southeast of Tehran that the IAEA suspects was used for tests on how to explode a nuclear warhead — and which agency officials fear is now being cleaned up to remove all traces of such work. They cite satellite photos and other intelligence that apparently show such a major sanitization effort.
Tehran says a visit is possible only after extensive planning and a detailed outline of procedures. IAEA officials have described that caveat as a stalling tactic, allowing for removal of all traces of such suspected work.
The Iran Project is not responsible for the content of quoted articles.