By Trend
Iranian Supreme Leader Ayatollah Ali Khamenei during a meeting with top governmental officials advised them to pay more attention to the country's economy, Mehr news agency reported.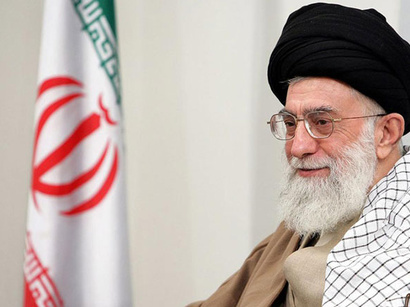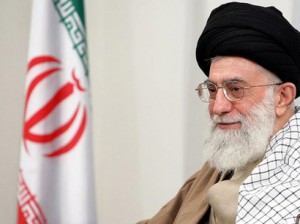 He  said one of the Iranian economy's problems is the high amount of liquidity in the country and therefore the government should take measures to control liquidity.
According to the latest statistics published by Iran's Central bank this month, the liquidity amount in Iran has increased to 3.740 trillion rials, and equals to some $296 billion based on USD's official rate until June 2012 in Iran.
Ayatollah Seyyed Ali Khamenei said the government should launch "resistance economy" campaign to achieve two goals: preventing the country's economy from the vulnerability against enemies' plans and achieving economic growth.
He said the government should use all of state and private sectors' capacity, try to resolve social problems, combat with economic frauds and corruption, and support national production.
"Enemies use all measures to force Iran to abandon its goals, but the government should pursue powerful policy to defeat their plans, especially in economic sphere," he stressed.
Ayatollah Seyyed Ali Khamenei  called on government to boost attempts in privatization sphere as well.
Iranian President Mahmoud Ahmadinejad who spoke after Khamenei said his government tries to defeat international pressure and noted that Iranian government succeeded to make progress despite sanctions.
Minister of Economic Affairs and Finance Shamseddin Hosseini said during the meeting that Iran's non-oil economy growth reached 5.1 percent in last solar year (ended on March 18).
Despite Hosseini's statement, according to International Monetary Fund statistics, Iran's GDP growth in 2011 was 2.5 percent. According to IMF, Iranian GDP growth is expected to fall to 0.4 percent in 2012.
Hosseini said that Iran ranks 17th in the world in terms of GDP volume, adding Iran's non-oil exports have increased 2.5 times since 2007.
Iran's economy is under increasing pressure because of the international sanctions levied against its oil industry and Central Bank because of the country's nuclear development program. The sanctions make it nearly impossible for Iran to conduct financial transactions and move money around the globe.
On 28 June, the United States sanctions over the Iranian Central Bank came to force. U.S. law penalises countries that do business with the Central Bank of Iran (CBI) by denying their banks access to the United States financial markets. Blacklisting the CBI which involves transferring payments for exported Iranian crude oil is leading to a decrease in Iran's oil exports by 50 per cent to 1.1 million barrels per day, costing more than $3 billion which the Iranian government lost per month. Its 50 per cent of revenues relies on oil exports.
EU has banned Iran's oil purchase since July 1 and stopped insurance covering for tankers which carry Iranian crude oil, as well.
 The Iran Project is not responsible for the content of quoted articles.