By Reuters
(Reuters) – Iran has rejected Afghan government claims that Tehran orchestrated a series of suicide bomb attacks earlier this week that killed at least 28 people in Afghanistan, Iran's English-language Press TV reported on Sunday.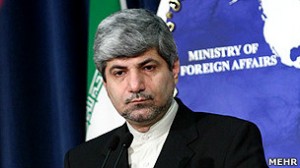 Afghanistan's spy agency, the National Directorate of Security (NDS), killed two alleged insurgents and detained three more this week for what they said was their involvement in the bombings this week in Afghanistan's Nimroz province.
The NDS said the five were Iranian citizens, and that they had trained for suicide bomb missions in Iran, which borders Afghanistan to its west.
"Stressing the friendly relations between Iran and Afghanistan, (Foreign Ministry spokesman Ramin) Mehmanparast on Saturday denied any meddling by Iran," state-funded Press TV wrote on its site.
"(He) rejected the allegation that Iran was involved in the recent explosions in the Afghan province of Nimroz," it said.
Afghan officials routinely blame Iran and Pakistan, its neighbour to the east, for interfering in its affairs and providing weapons and training to insurgents, claims that Tehran and Islamabad deny.
In a speech marking Eid al-Fitr on Sunday, the main Muslim feast at the end of Ramadan, President Hamid Karzai said the Afghan people would settle the score with the Taliban if they are to blame for a string of bloody civilian attacks in recent days, including Nimroz.
But hinting at foreign aggression, Karzai said: "If you (Taliban) are not to blame and someone else has carried this out using your name then as a Muslim and as an Afghan raise your voice and tell the people".
Attention is turning towards Afghanistan's neighbors and what role they could play in the country's future as NATO and its foreign partners prepare to end their combat role by the end of 2014.
Though Afghan-Iranian ties have improved since the Taliban was ousted just over a decade ago with Washington even saying Tehran could help stabilize and rebuild Afghanistan. But the relationship remains fragile.
Iran rejected Afghanistan's long-term strategic agreement with the United States, sealed in May, and Afghan officials have accused Iran of meddling in its media.
Bombers in largely rural Nimroz province on Tuesday targeted crowded outdoor markets where shoppers were preparing for the end of Ramadan and a hospital in the provincial capital of Zaranj, about an hour's drive from the Iranian border.
The Iran Project is not responsible for the content of quoted articles.