By Information-Analytic Agency NEWS.am
YEREVAN. – The Government of Armenia has adopted a decision to provide humanitarian assistance to victims of the devastating earthquake that hit Iran on August 11.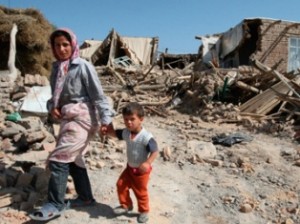 Relief equipment worth close to AMD 37 million (approx. $ 89,950) has been allocated for this purpose. Armenia's humanitarian assistance to Iran comprises 26,000 boxes of canned food, about 40,000 liters of drinking water, 81 tents—which can house around 700 people—1,000 blankets, 6,000 sheets, 300 mattresses, 460 sleeping bags, and 100 portable beds, the Emergency Situations Ministry press service informs.
The trucks loaded with Armenia's earthquake relief to Iran will head to the latter on Friday at 7pm.
As Armenian News-NEWS.am informed earlier, a major earthquake struck northwestern Iran on August 11 killing 300 people and injuring over 3,000. The tremors were felt in Armenia, too, specifically in the country's southern regions.
The Iran Project is not responsible for the content of quoted articles.