The U.S. will take on Iran in the final of the men's 74-kilogram freestyle wrestling later Friday.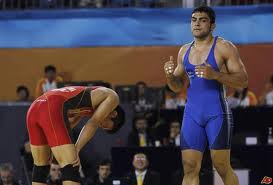 The poster boy of American wrestling, Jordan Burroughs, will lock horns with Iranian Sadegh Goudarzi in tonight's showdown after he put on an exemplary display of power and speed in London earlier in the day.
Burroughs crushed Francisco Daniel Soler Tanco of Puerto Rico 6-0, 4-0 and edged past Matthew Gentry before defeating his biggest rival, Denis Tsargush, in the semifinal.
The 24-year-old from New Jersey only started competing in international tournaments two years ago, but is already world champion in his weight division and has been promised a $250,000 check by USA Wrestling if he tops the podium in London.
He will have to fight hard to beat Goudarzi tonight, not least because the nation he represents has endured fraught relations with the U.S. for over 30 years.
Goudarzi looked strong in his four fights en route to the final and Burroughs will also have to contend with a cut above his left eye, which has worsened throughout the day.
The Iran Project is not responsible for the content of quoted articles.