Tehran will host a consultative meeting on Syria crisis on Thursday with the participation of 12 or 13 countries from Asia, Africa and Latin America, Iran's foreign minister Ali Akbar Salehi said on Wednesday.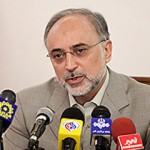 The topic on the agenda of the meeting will be denouncing violence and holding national dialogue to resolve disputes in Syria, IRNA quoted Salehi as saying.
Violence has claimed lives of many Syrian civilians, he said, adding that national dialogue in the country should be resumed to stop violence and extremism.
Iran's Deputy Foreign Minister for Arab and African Affairs Hossein Amir-Abdollahian also said on Monday that the Islamic Republic of Iran believes that putting complete end to violence and holding broad-based national dialogues are solutions to control the Syrian crisis, Press TV reported.
According to Amir-Abdollahian, Iran will hold the consultation meeting in line with these goals: finding ways of helping the Syrian people, resolving the current crisis, restoring stability and peace to the country, and supporting all constructive regional and international efforts.