Omid Norouzi of Iran won Olympic gold medal in men's 60-kilogram Greco-Roman wrestling beating his Georgian opponent Revaz Lashkhi.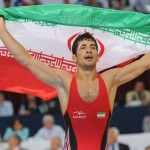 Haji-Norouzi defeated his  Georgian  opponent 1-0 in both the first and second 2 minutes of the match held at the London's ExCeL to claim the gold.
The 26-year-old Iranian athlete had overcome his Chinese, Bulgarian, Kazakh and Japanese rivals in his march to the final bout on Monday, Press TV reported.
Haji-Norouzi's victory came after another Iranian Greco-Roman wrestler Hamid Sourian who claimed the gold medal of men's 55kg Greco-Roman by defeating Rovshan Bayramov (25) from Azerbaijan.on Sunday.
The Iranians also have  a pair of Greco-Roman world champions in Saeid Morad Abdvali at 66 kilograms and Ghasem Rezaei at 96 kg.