One of Mitt Romney's top foreign policy advisors said Sunday that as president, Romney would respect Israel's right to strike Iran  to unilaterally prevent that nation from obtaining a nuclear weapon.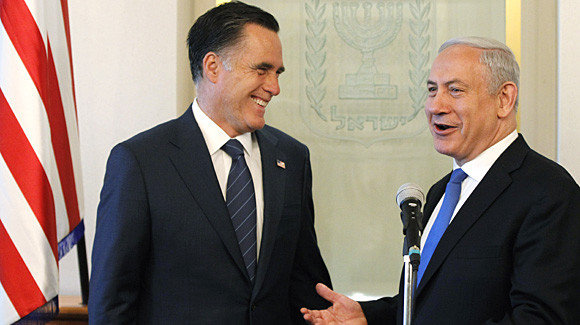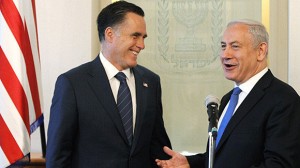 Dan Senor told reporters that Western nations partnering with Israel should "do everything we can" to stop Iran from developing weapons capability.
"And if Israel has to take action on its own, in order to stop Iran from developing that capability the governor would respect that decision."
It was unclear what Senor meant by the word "respect" — and what role Romney envisions for the U.S. military  if Israel were to preemptively strike Iran.
Both Romney and Obama have said a strike is the option of last resort, but that a military option is on the table to halt Iran's progress toward a nuclear weapon.
When asked how Romney would decide that Israel had arrived at a point where military force was necessary, Senor noted that as president he would have access to additional intelligence that would help him make that decision.
"But certainly based on the public pronouncements of both American officials and Israeli officials, they all agree that the clock is ticking," Senor told reporters Sunday before Romney set out for a round of meetings with Israeli leaders. "There are disagreements among different intelligence agencies, between Israeli, the United States, the French, the U.K. They all have different estimates, they all have different clocks, but very few of them are saying it is far into the future when Iran will have this capability."
Senor said there would be a point at which Israeli defense technology and weapons capabilities are not capable of penetrating the fortification that is protecting the Iranian nuclear program.
"So there are really two clocks — there is the clock determining the speed at which Iran is developing the capability and there is the clock that would preclude Israel from taking action. And so there is a range of these estimates around, but I think everyone understands — us officials and officials around the world — that we are dealing with an inevitability at the pace we're going which is not far off."
Senor said that in a speech in Jerusalem tonight, Romney would also argue that those who say "talking about military action is irresponsible are actually those that are making a peaceful solution, a peaceful outcome, less likely."
"The governor believes that at this point the only thing that could focus and force the minds of the Iranian leadership on ending their nuclear weapons, their path to a nuclear weapons capability, is the belief that the alternative is far worse."
Romney met Sunday with Prime Minister Benjamin Netanyahu, whom he worked with in the 1970s at the Boston Consulting Group.
"Gov. Romney, Mitt, I wanted to welcome you to Jerusalem. We've known each other for many decades, since you were a young man, but for some reason, you still look young." Netanyahu said, as Romney laughed. "You've been a personal friend of mine and a strong friend of the state of Israel, and that's why it's a pleasure to welcome you here."
Netanyahu told Romney that he looked forward to talking with the unofficial Republican presidential nominee.
"We have to be honest and say that all the sanctions and diplomacy so far have not set back the Iranian program by one iota," the prime minister said.
Romney called the meeting an honor.
"We have a friendship that spans the years," the former Massachusetts governor said. "At a critical time like this, I come to learn of your perspectives and your ideas for grasping the challenges facing the region and the challenges facing the world."
The Iran Project is not responsible for the content of quoted articles.