An Ottawa-based Iranian-Canadian translator's wickedness in translating the interview of Hamid Mohammadi, Iran's cultural affairs counselor at the embassy in Ottawa, causes the Iran-Canada relationship be strained and Canadian government adopts aggressive stance against Iran.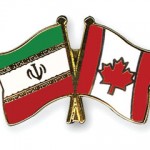 In an interview with an Iran-based website named Iranians Residing Abroad, Hamid Mohammadi, Iran's cultural counselor in Ottawa raised several issues but the final part of the interview has been the top news in many news agencies in Canada and around the world.
According to BBC Persian, an Ottawa-based Iranian-Canadian citizen named Shabnam Assadollahi, who helped translate the Mohammadi interview, has had a serious role in making the interview controversial.
In the contact the BBC Persian has had with Shabnam Assadollahi, an Iranian-Canadian human rights activist, she mentioned her goal of translating and pursuing this interview as closing the Iranian Embassy in Canada and expelling those whom she named as the Basij and the Guards of Iran in Canada.
Estimating the Iranian population in Canada to be 500,000, Mohammadi said that "we need to put into effect very concentrated cultural programs in order to enhance and nurture the culture in this fast-growing population. It is obvious that this large Iranian population can be of service to our beloved Iran through these programs and gatherings."
But Canadian Foreign Ministry described Mohammad's statement as Iran's effort to recruit expatriates, and warned Iran's embassy that it should not interfere in their choices, adding that Canadian security organizations "will act to prevent threats and intimidation of Canadians," AFP reported.
In response, Kambiz Sheikh-Hassani, the head of mission at the embassy, denied the reported allegations.
"We strongly dismiss baseless allegations by few medias that 'Iranian embassy has been recruiting ethnic Iranians in Canada to be of service to Iran,'" he told AFP in a statement condemning the "ridiculous" terror allegations.
It seems that Canada's Foreign Ministry is seeking a pretext for conflict with Iran.