Iran's Fars news agency fabricated interview with newly elected Egyptian President Mohammed Morsi has reflected extensively in the domestic and foreign media.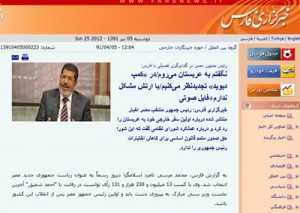 One day after the Supreme Presidential Electoral Commission (SPEC) has announced the Muslim Brotherhood's Mohamed Morsi as the winner of the Egypt historic Presidential vote, Iran's semi-official news agency, Fars issued an interview with him in which the president-elect speaks about a range of hot button topics, from the Camp David treaty with Israel to ties between Egypt and Iran.

The interview, published on FNA website, quoted Morsi saying he planned to renew Egypt's ties with Iran and "reconsider" the 1979 Camp David accords establishing peace with Israel.
"Strengthening ties between Iran and Egypt will create a strategic balance in the region," Morsi reportedly told FNA.
Fars even provided an audiotape of the interview.
The Fars' featured article was quickly picked up by major news outlets, including Reuters, "The Christian Science Monitor," and the Israeli daily "Haaretz,"
But, the veracity of the interview was questioned by several news organizations, including BBC Arabic and Al-Arabiyah, which quoted a Morsi spokesman as denying that he spoke with Fars. Egypt's official MENA news agency would later also report that the interview was false.
More significantly, Iran's official state-run news agency, IRNA, was also quick to cast doubt on the interview.
IRNA reported that Morsi's spokesman, Yasir Ali, said in a statement that the president-elect had not conducted any interview with Fars before or after his victory. IRNA also claimed that an audio file of the alleged interview made available by Fars on its website was not Morsi's voice at all.
Egypt's state news agency MENA quoted Mr. Morsi's spokesman as saying "the interview was entirely made up and everything published under Mr. Morsi's name by Fars was baseless."
Fars, meanwhile, refused to back down, linking on its website to the extensive coverage the story received in regional and international media.
The office of Newly elected Egyptian President Mohammed Morsi is to take legal action against the Iranian Fars news agency for fabricating an interview with him, BBC quoted the official Mena news agency as reporting.