Iran IAEA envoy, Ali Asghar Soltanieh, dismissed accusations about "ground scraping activities" at the Parchin military site by Western officials, saying that "this kind of noise and allegations are baseless".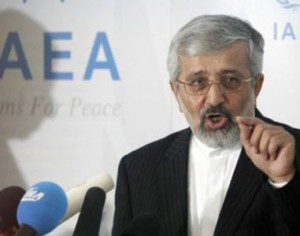 U.N. atomic watchdog displayed new satellite imagery on Wednesday at a closed-door briefing in Vienna claiming that some small buildings had been dismantled and other possible clean-up work undertaken at an Iranian military site they want to visit.
And, the Institute for Science and International Security (ISIS) posted them on its website.
According to ISIS, Digital Globe satellite imagery from May 25, 2012 shows that two small buildings at the same site as the suspected testing chamber have been razed. There are visible tracks made by heavy machinery used in the demolition process. Heavy machinery tracks and extensive evidence of earth displacement are also visible throughout the interior as well as the exterior of the site's perimeter.
The UN International Atomic Energy Agency (IAEA) has repeatedly asked Iran for access to Parchin but Iran has so far refused to let inspectors visit the facility, saying that the IAEA had not yet given good enough reasons to visit Parchin.
"The reasons and documents have still not been presented by the agency to convince us to give permission for this visit," the head of the Atomic Energy Organization of Iran, Fereydoun Abbasi-Davani said.
Moreover, Ali Asghar Soltanieh made clear that the IAEA could only gain access to Parchin once a broader agreement had been reached on how to address the agency's questions about possible military aspects to Iran's nuclear program.
The Parchin complex is at the centre of Western allegations that Iran has been conducting research and experiments that could serve a nuclear weapons development programme. The Islamic Republic has repeatedly denied any such ambition.