Rejecting the country's alleged role in plotting to topple the regime in Bahrain, Iranian Foreign Ministry Spokesman Ramin Mehman-Parast said on Monday "Iran does not meddle in Bahrain's internal affairs."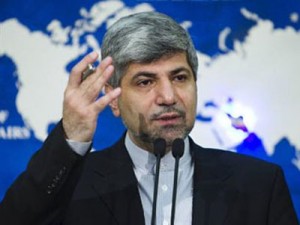 Mehmanparast urged Bahrain to consider its "people's demands" rather than accuse other countries like Iran.
According to FNA, a Bahrain court sentenced eight people to prison terms of up to 15 years Sunday after they were accused of conspiring with suspected Iranian agents to overthrow the Saudi-Backed Al-Khalifa regime.
The group was accused of plotting with a "foreign country" to bring down Bahrain's Western-allied monarchy.
They also were suspected of planning possible attacks on high-profile targets such as the Interior Ministry headquarters and the causeway connecting Bahrain with Saudi Arabia.
Gulf Arab states claim Iran has links to the 15-month-old uprising demanding more rights for Bahrain's Shiite majority but Iran denies any role in the protests.
Sources: Washington Post