The chief of the UN nuclear agency Yukiya Amano left Tehran hopefully on Teusday, saying he expected to sign a deal with Iran soon over probing Iranian sites, including the Parchin military complex where the agency has reported suspicious activities in the past.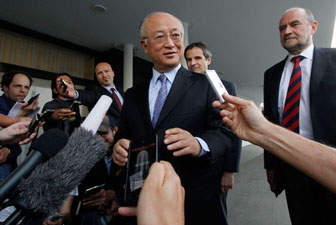 The U.N. nuclear chief also referred to some differences, but expressed hope that chief Iranian nuclear negotiator Saeed Jalili had assured him that these "will not be an obstacle to reach agreement."
Amano added that "we understand each other's position better."
The outcome of the meetings in Iran was an "important development" which potentially brightens prospects for big-power talks with Tehran to stop a drift towards conflict, the veteran Japanese diplomat told reporters at Vienna airport after his one-day trip to Tehran.
The news from International Atomic Energy Agency chief Yukiya Amano, who returned from Tehran on Tuesday, comes just a day before Iran and six world powers meet in Baghdad for negotiations and could present a significant turning point in the heated dispute over Iran's nuclear intentions.
According to RT, Amano's one-day trip acted as a mood-setter for talks between Iran and the 5+1 group which is to be held in Baghdad on May 23.
"We had very good talks with Yukiya Amano today and we will have good cooperation in the future," Jalili also told reporters after his meeting with the visiting director general of the International Atomic Energy Agency (IAEA) in Tehran on Monday.