IAEA Director General Yukiya Amano visits Tehran ahead of Baghdad talks to discuss the issue of modality and a new framework to remove the IAEA's ambiguities and questions.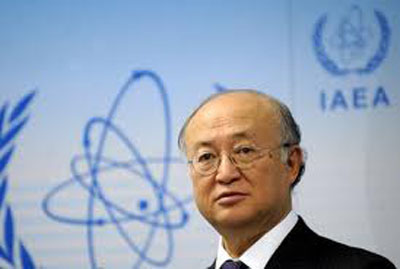 Iranian Foreign Minister Ali Akbar Salehi expressed hope that Iran and the IAEA could reach an agreement on designing a new modality.
According to Reuters, Iran says such an agreement is needed before it can consider a request by U.N. inspectors to visit the Parchin military site.
Two previous rounds of talks in Tehran early this year failed to make any notable progress. But both sides were more upbeat after the May 14-15 meeting in the Vienna, raising hopes of a possible outcome when talks resume on Monday (May 21).
Iranian Foreign Minister reiterated that the IAEA delegation does not seek inspection in the trip and only is after dialogues with Iranian officials including Supreme National Security Council Secretary Saeed Jalili and the Atomic Energy Organization of Iran (AEOI) Chief Fereydoun Abbasi.
Amano is accompanied by the IAEA Deputy Director General for Safeguards Herman Nackaerts and Assistant Director General for Policy Rafael Mariano Grossi during his trip to Iran.
As Amano's trip to Iran comes ahead of negotiations between Tehran and P5+1, it is hoped that cooperation with the IAEA will put Iran one step ahead of the six powers in the Iraqi capital.
Source: ISNA