Keyhan's editor in chief, a hardline newspaper close to IRGC, Hossein Shariatmadari said Westerns are trying to create divisions among officials by making people disappointed of authorities' efficiency. Since Iran elections news has gone beyond its borders, it is crucial for MPs to observe the news.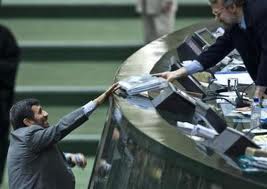 Answering this question, who would benefit from the electoral disputes, he said according to a report from a strategic center in America that works for the White House, we found that they claim to create a gap in social and political body of the Islamic revolution of Iran by monitoring Iran's news in detail. They have suggested that American officials should not make statements that cause less difference emerged, Fars news agency reported.
ISNA noted in a circular to all executive agencies in the country, Ahmadinejad called Parliament's correspondence with the executive agencies concerning the abolition of some legislations relating to the government, government officials and authorities, against the letter of the Constitution and having no legal validation.
Responding to President's remarks yesterday over lawmen right to enforce their interpretation of the law, Iran's parliament speaker, Ali Larijani said the problem is not interpreting the law but its enforcing. Some lawmen want to bypass the law, according to Mehr.
Fars said the 1st Conference of Prosecutors General of the Economic Cooperation Organization (ECO) Member States started to work in Tehran on Monday. Senior judicial officials of the ECO member states are present in the event to discuss regional cooperation in fighting extraterritorial crimes. The two-day meeting reviewed effective judicial and legal avenues for prosecuting the Israeli regime for its crimes and genocide of the Palestinians during the war on Gaza.