Iranian political factions on Thursday have started electoral campaign for the second round of 9th parliamentary polls.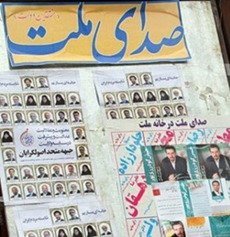 130 candidates from 33 constituencies will run for parliament on May 4. Only 65 of them will be elected.
The candidates found their way into the second phase of elections allowed by law one week to introduce their plans and perspectives to people.
The first round of Iran's 9th parliamentary elections was carried out on March 2 in which a total of 225 candidates succeeded in securing the required majority of votes to win parliamentary seats.
While the fever of the 2nd round of parliamentary elections is heating up across the country, Reuters says Iranian parliamentary elections will be held in the conditions that Iran president Mahmoud Ahmadinejad grapples with economy.
According to this News Agency, in recent months the current parliament has given the president a tough time, mainly over his handling of the economy and the new parliament will make the conditions more difficult for him.
Mahmoud Ahmadinejad was the first president in the history of the Islamic Republic to be summoned to parliament to answer the question of MPs on the reasons behind irregularities by the administration.
Source: FNA, entiran